Planetary Systems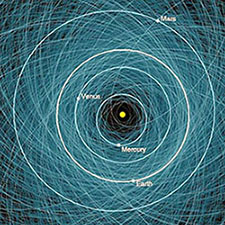 We use observations of populations of solar system objects and their orbits to study the formation and evolution of planetary and satellite systems to understand how our Solar System and others developed through time.
Planetary Surfaces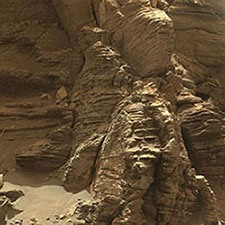 We study the mineralogic, climatic, and tectonic evolution of planetary surfaces to understand how these environments have developed over time, and the potential for past and future habitability on and beneath planetary surfaces.
Asteroid Impacts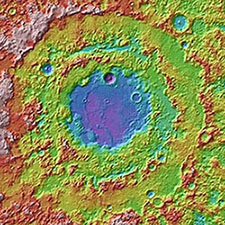 We study the complete evolution of impact craters, from excavation to transient crater collapse, through cooling and viscoelastic relaxation. We also study the hazards produced by impacts and how we might prevent them.
Spacecraft Missions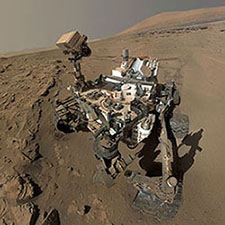 Our group has been and continues to be involved with a number of spacecraft missions, including GRAIL, MESSENGER, Deep Impact, NExT, EPOCH, EPOXI, Mars Odyssey, Mars Science Laboratory, and the Mars2020 rover.
Planetary Science News
Professor Mike Sori discusses his latest research about Triton, one of the moons of Neptune
04-06-2021
Dr. Mike Sori, Professor of Planetary Geophysics, speaks about his recent publication in AGU titled, "Can Triton's Internal Heat Be Inferred From Its Ice Cap?" He discusses Triton (a moon of Neptune), its nitrogen ice cap, the "ocean world" moon's youthful surface, and the need for future spacecraft to further explore this part of our solar system.
Mars scientist examining the landscape through rover camera she helped design for NASA Perseverance mission
04-05-2021
Briony Horgan raised her arms in triumph as the Mars rover Perseverance landed on Feb. 18, a symbolic declaration of mission success. That electric moment was just the beginning for the Purdue University scientist. With Perseverance on the ground and moving, Horgan is now focused on analyzing data from the instrument she works with: Mastcam-Z.
We're starting to answer some big questions about Mars
03-31-2021
The rovers and orbiters studying Mars are being tasked with answering the persistent questions that remain about the Red Planet, decades after NASA sent its first missions to the world. EAPS professor Dr. Briony Horgan is quoted in this article from Axios.
Geochemist Marissa Tremblay's Noble and Versatile Toolbox
03-26-2021
AAAS Spotlight: Don't underestimate the value of a spring break field trip. For noble gas geochemist Marissa Tremblay, a geology field trip to Death Valley when she was a freshman at Barnard College set her scientific career in motion. While other students slept in the van on the long drives through the desert, she sat up front asking her professor questions, mesmerized by geological time scales.
Where did Mars's liquid water go? A new theory holds fresh clues.
03-18-2021
By plugging observations of the red planet into new models, a team of geologists and atmospheric scientists, including Purdue EAPS Briony Horgan, has come up with a new picture of Mars's past: Much of the planet's ancient water could have been trapped within minerals in the crust, where it remains to this day.