Astrobiology
We study habitability and potential biosignatures across a wide variety of bodies in the Universe, ranging from early Earth to exoplanets.  Our work includes learning about the evolution of Earth's atmosphere and oceans, biosignature preservation in the geologic record, astronomical life detection techniques, the history of habitable environments across the Solar System, and the relationship between planetary habitability and stellar properties.  Faculty: Horgan, Olson
Planetary Atmospheres and Climate
We use laboratory experiments and computer simulations to study cloud formation and atmospheric evolution on a range of planets.  We also analyze geological records in order to understand what they teach us about climate history on Earth, Mars, and beyond.  Faculty:  A. Johnson, Olson, Tremblay
Planetary Geophysics
We study the interiors, geodynamics, tectonics, thermal evolution, and impact processes across the solid bodies of the Solar System using data returned from spacecraft missions and sophisticated numerical models.  Faculty: Bramson, Freed, B. Johnson, Sori
Planetary Surfaces
We study the mineralogical, morphological, and tectonic evolution of planetary surfaces using remote sensing analysis, field and laboratory analog studies, and computational methods to understand the processes and environments that shape the landscapes of planets.  Faculty: Bramson, Horgan, B. Johnson, Minton, Sori, Thompson, Tremblay
Sample Analysis
We use state-of-the-art laboratory experiments to analyze extraterrestrial samples, including meteorites, Moon rocks returned by Apollo astronauts, and materials collected from asteroids.  Our techniques allow us to study the physical and chemical evolution of the surface of the Earth and other planets and moons.  Faculty: Thompson, Tremblay
Solar System Dynamics
We use observations of populations of Solar System objects and their orbits, combined with computer simulations, to study the formation and evolution of planetary and satellite systems to understand how our Solar System and others developed through time.  Faculty: Minton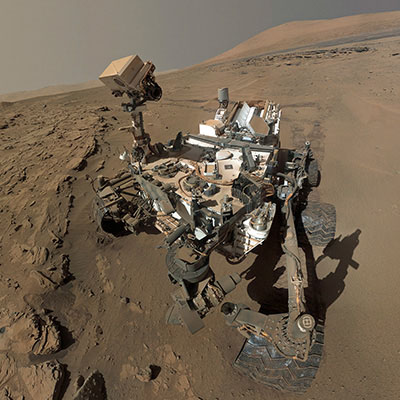 Spacecraft Missions
We have been and are continuing to be involved with NASA and international spacecraft missions, including MESSENGER, Hayabusa2, OSIRIS-REx, GRAIL, the Lunar Reconnaissance Orbiter, the Mars Reconnaissance Orbiter, the Curiosity and Perseverance Mars rovers, Mars Odyssey, Dawn, and more.  We are also active in planning the next generation of robotic spacecraft missions, human exploration, and astronomical observatories.  Faculty: all
Planetary Science News
Cloud computing and blue-sky thinking: An atmospheric scientist illuminates the science of clouds in Earth's sky and beyond
05-30-2023
Dr. Alexandria Johnson, of Purdue EAPS, does hard science on the most nebulous of subjects: clouds. As an atmospheric scientist and assistant professor of practice in Purdue University's College of Science, she studies clouds wherever they are: in her lab, on Earth, throughout the solar system and into the galaxy.
Life on Mars: Purdue students at the Mars Desert Research Station
05-01-2023
The SEARCH (Space & Earth Analogs Research Chapter of Purdue) team is a group of students who live in "on Mars" for two weeks at the Mars Desert Research Station. Purdue EAPS student Adriana Brown is one of the crew commanders for Purdue SEARCH. Purdue University Mechanical Engineering wrote about their mission.
Faculty promotions at Purdue approved by board
04-14-2023
PURDUE UNIVERSITY — Purdue University's Board of Trustees on Friday (April 14) approved faculty promotions. These Earth, Atmospheric, and Planetary faculty were granted promotions which are effective with the 2023-24 academic year: Daniel Dawson, Michelle Thompson, Saad Haq, Alexandria Johnson, and Briony Horgan.
Bramson honored for Outstanding Teaching
04-14-2023
Eyes glittering with excitement, Dr. Ali Bramson, assistant professor in Earth, Atmospheric, and Planetary Sciences at Purdue University, explains how radar can be used to analyze a planet's surface and what that could mean for the next mission to Mars. It's easy to see why her students find her classes so engaging and why she was chosen as the College of Science Faculty Awardee for Outstanding Contributions to Undergraduate Teaching by an Assistant Professor.
Jupiter's moons hide giant subsurface oceans – two upcoming missions are sending spacecraft to see if these moons could support life
04-10-2023
THE CONVERSATION — On April 13, 2023, the European Space Agency is scheduled to launch a rocket carrying a spacecraft destined for Jupiter. The Jupiter Icy Moons Explorer – or JUICE – will spend at least three years on Jupiter's moons after it arrives in 2031. In October 2024, NASA is also planning to launch a robotic spacecraft named Europa Clipper to the Jovian moons, highlighting an increased interest in these distant, but fascinating, places in the solar system. Dr. Mike Sori, of Purdue EAPS, is a planetary scientist who studies the structure and evolution of solid planets and moons in the solar system and wrote this article for The Conversation.
Prof. Andrew Freed awarded Outstanding Teacher Award
03-28-2023
The Purdue Science Student Council (PSSC) has awarded Andrew Freed, Professor with the Purdue Department of Earth, Atmospheric, and Planetary Sciences (EAPS), the 2023 College of Science Outstanding Teacher Award. Freed will be presented with the award on April 13, 2023 at the Purdue University Honors Convocation by Mahesh Gupta, PSSC president and Cell, Molecular, and Developmental Biology student at Purdue University. Freed's name will be added to a plaque of Outstanding Teachers which hangs in the corridor leading to the College of Science Dean suite.
Rare isotopes help unlock mysteries in the Argentine Andes
03-20-2023
EUREKALERT — Scientists studying the variations in concentrations of cosmogenic nuclides can estimate how long rocks have been exposed at the Earth's surface. This allows researchers to gain a better understanding of planetary processes, such as rates of erosion—from nothing more than a kilogram of river sand. The work of Dr. Nat Lifton, of Purdue EAPS, PRIME Lab, and Purdue Physics and Astronomy is discussed in this EurekAlert article.
The 8 best hidden impact craters on Earth
03-15-2023
BIG THINK — Many impact craters on Earth have been erased thanks to wind, water, and plate tectonics. But scientists have clever ways to find them. Dr. Brandon Johnson, of Purdue EAPS, is cited in this Big Think article about how to classify craters and where they can be found on Earth.