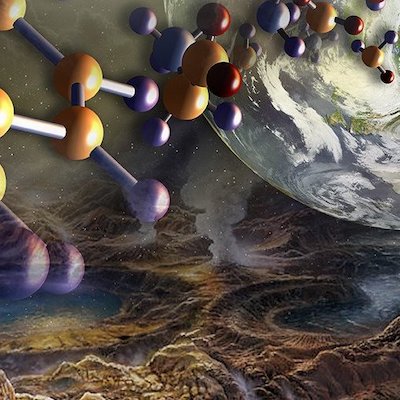 Astrobiology
We study habitability and potential biosignatures across a wide variety of bodies in the Universe, ranging from early Earth to exoplanets.  Our work includes learning about the evolution of Earth's atmosphere and oceans, biosignature preservation in the geologic record, astronomical life detection techniques, the history of habitable environments across the Solar System, and the relationship between planetary habitability and stellar properties.  Faculty: Borlina, Horgan, Olson, Pearce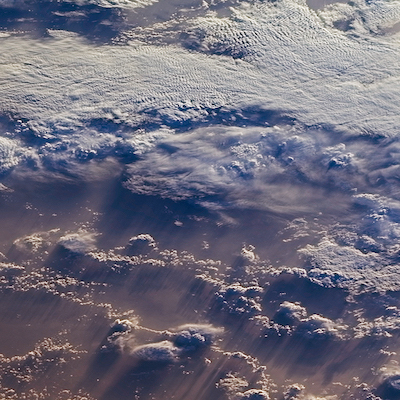 Planetary Atmospheres and Climate
We use laboratory experiments and computer simulations to study cloud formation and atmospheric evolution on a range of planets.  We also analyze geological records in order to understand what they teach us about climate history on Earth, Mars, and beyond.  Faculty:  A. Johnson, Olson, Pearce, Tremblay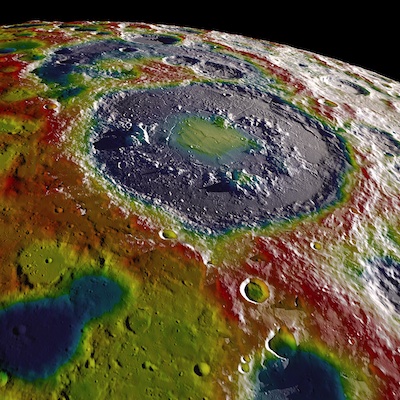 Planetary Geophysics
We study the interiors, geodynamics, tectonics, thermal evolution, and impact processes across the solid bodies of the Solar System using data returned from spacecraft missions and sophisticated numerical models.  Faculty: Borlina, Bramson, Freed, B. Johnson, Sori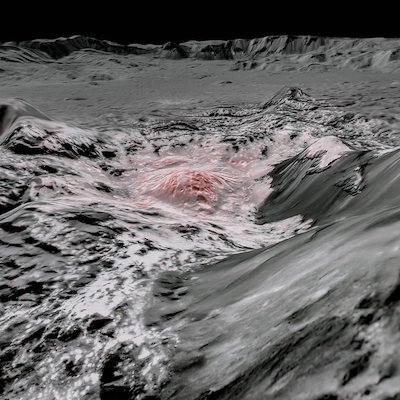 Planetary Surfaces
We study the mineralogical, morphological, and tectonic evolution of planetary surfaces using remote sensing analysis, field and laboratory analog studies, and computational methods to understand the processes and environments that shape the landscapes of planets.  Faculty: Bramson, Horgan, B. Johnson, Minton, Sori, Thompson, Tremblay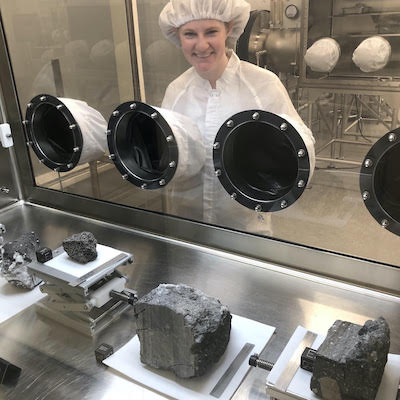 Sample Analysis
We use state-of-the-art laboratory experiments to analyze extraterrestrial samples, including meteorites, Moon rocks returned by Apollo astronauts, and materials collected from asteroids.  Our techniques allow us to study the physical and chemical evolution of the surface of the Earth and other planets and moons.  Faculty: Borlina, Thompson, Tremblay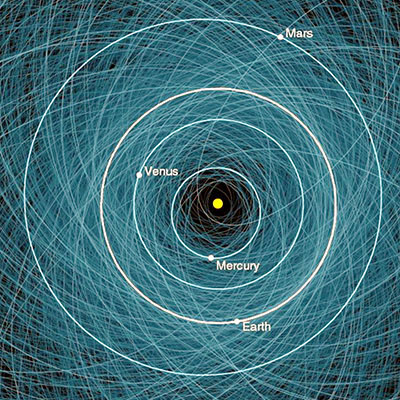 Solar System Dynamics
We use observations of populations of Solar System objects and their orbits, combined with computer simulations, to study the formation and evolution of planetary and satellite systems to understand how our Solar System and others developed through time.  Faculty: Minton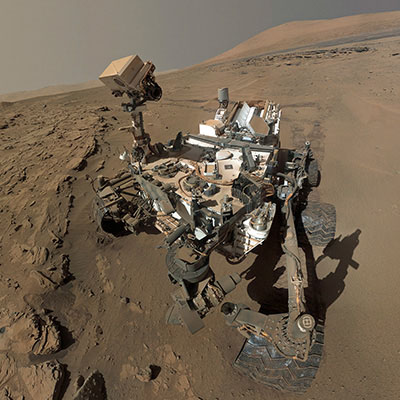 Spacecraft Missions
We have been and are continuing to be involved with NASA and international spacecraft missions, including MESSENGER, Hayabusa2, OSIRIS-REx, GRAIL, the Lunar Reconnaissance Orbiter, the Mars Reconnaissance Orbiter, the Curiosity and Perseverance Mars rovers, Mars Odyssey, Dawn, and more.  We are also active in planning the next generation of robotic spacecraft missions, human exploration, and astronomical observatories.  Faculty: All
Planetary Science News
Optimizing Carbonate Classification on Mars
09-07-2023
EOS — Combining data from several of Perseverance rover's spectroscopic sensors offers a more accurate means to classify carbonate minerals that may hold hints of ancient life. This EOS article is sourced from a recent AGU publication in which Dr. Roger Wiens of Purdue EAPS is an author.
Purdue research: Ice caps on Mars may reveal planet's climate history
08-30-2023
PURDUE NEWS — A team of scientists, led by Purdue University's Department of Earth, Atmospheric, and Planetary Sciences professors Ali Bramson and Michael Sori, set out to unlock the hidden, historic secrets within ice caps on Mars and published their findings in the Journal of Geophysical Research: Planets.
Four EAPS professors chosen by NASA to study lunar science
07-07-2023
NASA has recently selected five new research teams to collaborate on lunar science and sample analysis. The Solar System Exploration Research Virtual Institute (SSERVI) from NASA will use this research to support future exploration of the Moon. From a pool of highly competitive proposals, only five SSERVI teams were selected. Four faculty members from EAPS were selected to be Co-Investigators on three of the five selected teams.
NASA's OSIRIS-REx Asteroid Sample Will Have New Home in Houston
06-26-2023
NASA — If everything goes according to plan, OSIRIS-REx's sample return capsule will separate from the spacecraft, enter the Earth's atmosphere and parachute safely to Earth for recovery at the Department of Defense's Utah Test and Training Range, located about 70 miles west of Salt Lake City. The asteroid samples, which will be examined and stored in a new curation facility managed by NASA's Astromaterials Research and Exploration Science division, or ARES, at Johnson. The division is home to the world's most extensive collection of extraterrestrial materials - including lunar rocks, solar wind particles, meteorites, and comet samples. Dr. Michelle Thompson, of Purdue EAPS, is highlighted in this article by NASA.
NASA's Perseverance Makes New Discoveries in Mars' Jezero Crater – NASA Jet Propulsion Laboratory
06-26-2023
INFERSE — Scientists got a surprise when NASA's Perseverance Mars rover began examining rocks on the floor of Jezero Crater in spring of 2021: Because the crater held a lake billions of years ago, they had expected to find sedimentary rock, which would have formed when sand and mud settled in a once-watery environment. Instead, they discovered the floor was made of two types of igneous rock – one that formed deep underground from magma, the other from volcanic activity at the surface. Dr. Roger Wiens of Purdue EAPS is cited in this article.
Zonta International announces Amelia Earhart Fellowship
06-22-2023
The Amelia Earhart Fellowship from Zonta International was established in 1938 in honor of famed pilot and Zontian, Amelia Earhart. The US Fellowship is awarded annually to up to 30 women pursuing Ph.D./doctoral degrees in aerospace engineering and space sciences. Riley McGlasson of Purdue EAPS was awarded an Amelia Earhart Fellowship this year.
Pebbles from an Asteroid Are about to Be Delivered to Earth, and It's Totally Awesome
06-15-2023
SCIENTIFIC AMERICAN — What would it be like to hold a piece of outer space in your hand? Some lucky scientists, like Dr. Michelle Thompson of Purdue EAPS, will find out soon when NASA's OSIRIS-REx spacecraft (shorthand for Origins, Spectral Interpretation, Resource Identification, Security-Regolith Explorer) returns from its seven-year mission. The probe will drop off a canister holding about a cup of pebbles and dust from the surface of the near-Earth asteroid Bennu.
Cloud computing and blue-sky thinking: An atmospheric scientist illuminates the science of clouds in Earth's sky and beyond
05-30-2023
Dr. Alexandria Johnson, of Purdue EAPS, does hard science on the most nebulous of subjects: clouds. As an atmospheric scientist and assistant professor of practice in Purdue University's College of Science, she studies clouds wherever they are: in her lab, on Earth, throughout the solar system and into the galaxy.