Planetary Systems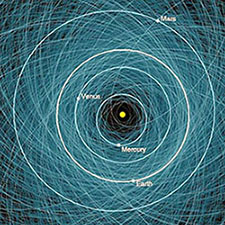 We use observations of populations of solar system objects and their orbits to study the formation and evolution of planetary and satellite systems to understand how our Solar System and others developed through time.
Planetary Surfaces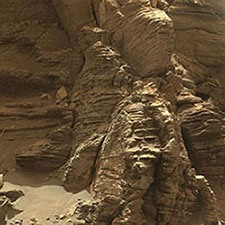 We study the mineralogic, climatic, and tectonic evolution of planetary surfaces to understand how these environments have developed over time, and the potential for past and future habitability on and beneath planetary surfaces.
Asteroid Impacts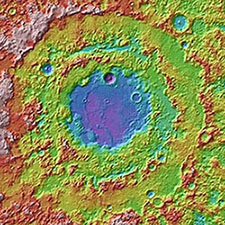 We study the complete evolution of impact craters, from excavation to transient crater collapse, through cooling and viscoelastic relaxation. We also study the hazards produced by impacts and how we might prevent them.
Spacecraft Missions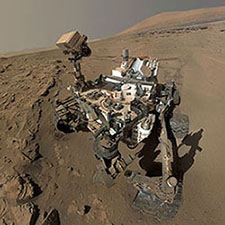 Our group has been and continues to be involved with a number of spacecraft missions, including GRAIL, MESSENGER, Deep Impact, NExT, EPOCH, EPOXI, Mars Odyssey, Mars Science Laboratory, and the Mars2020 rover.
Planetary Science News
Ancient Impact's Seismic Waves Reveal Pluto's Ocean, Core
04-06-2020
Adeene Denton discusses unlocking the secrets of Pluto with EOS.org
Briony H. Horgan is named Associate Professor of Earth, Atmospheric, and Planetary Sciences
04-03-2020
Briony Horgan, Purdue Earth, Atmospheric, and Planetary Sciences professor, is promoted to Associate Professor of the Purdue University College of Science.
The Role of a Turkish Lake in an EAPS Student's Mars Research
09-12-2019
Not all research happens in a lab. Particularly in the geosciences, scientists frequently travel to field locations to aid their research. Such was the experience of EAPS graduate student Bradley Garczynski, taking an eight-hour car ride after landing in Istanbul, Turkey.
EAPS Graduate Student Awarded NASA Fellowship for Mars Polar Research
09-12-2019
Prakhar Sinha didn't begin his career as a geologist. He was originally an engineer, receiving his degree in mechanical engineering from the Ramaiah Institute of Technology in India, then received his Master's degree in Aeronautics and Astronautics from Purdue in 2018. During that process, however, his interest moved from engineering to planetary science.
EAPS Graduate Student Investigating Gale Crater on Mars
09-04-2019
Amanda Rudolph didn't always know she would be a planetary geologist. Despite her current work – researching the geological history of Mars using remote sensing – she took a few years off following high school, then entered Community College. It was there that, in her words, she stumbled into a geology class.