Planetary Systems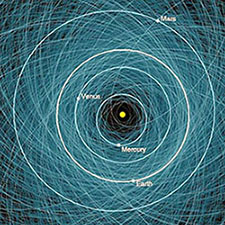 We use observations of populations of solar system objects and their orbits to study the formation and evolution of planetary and satellite systems to understand how our Solar System and others developed through time.
Planetary Surfaces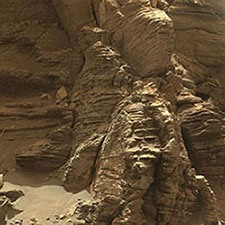 We study the mineralogic, climatic, and tectonic evolution of planetary surfaces to understand how these environments have developed over time, and the potential for past and future habitability on and beneath planetary surfaces.
Asteroid Impacts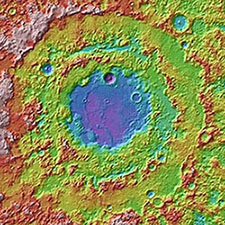 We study the complete evolution of impact craters, from excavation to transient crater collapse, through cooling and viscoelastic relaxation. We also study the hazards produced by impacts and how we might prevent them.
Spacecraft Missions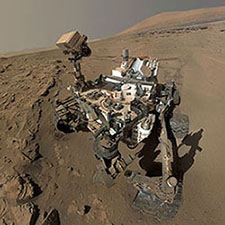 Our group has been and continues to be involved with a number of spacecraft missions, including GRAIL, MESSENGER, Deep Impact, NExT, EPOCH, EPOXI, Mars Odyssey, Mars Science Laboratory, and the Mars2020 rover.
Planetary Science News
Purdue scientist reflects on her passion for studying Mars' geology, landscape
11-04-2020
As NASA's rover clears the halfway point to the red planet, Purdue News discusses Briony Horgan's role in the Rover Perseverance's Journey. She grew up in Portland, Oregon, where, enjoying the mountains and volcanoes that surrounded the region, she developed a love of geology. A long-standing interest in space made Horgan realize she wasn't confined to study rocks simply on Earth.
EAPS PhD student using earthly examples to explore Mars earns two awards
10-23-2020
In the far reaches of the Earth, Brad Garczynski searches for answers to the questions of Mars.  Garczynski is a PhD Student studying planetary science at the Department of Earth, Atmospheric, and Planetary Sciences at Purdue University.  His research takes him to places like Lake Salda in southwestern Turkey which scientists are using as an analog for the Jezero crater on Mars.  He is also a student collaborator on the Mastcam-Z instrument and Mars 2020 science team.  Because of Garczynski's work with planetary science at Purdue, he has recently been awarded both the Indiana Space Grant Consortium (INSGC) Fellowship and the NASA Astrobiology Early Career Collaboration Award.
Full Steam Ahead Podcast Episode 74 – Purdue's Connection to NASA's Perseverance Mars Rover Mission
10-16-2020
Associate Professor of Planetary Science Briony Horgan knew she loved rocks and space while in college, but it was after reading some books by astronomer Carl Sagan that really inspired her to pursue a career in planetary science. Following her arrival at Purdue University in 2014, Horgan joined the Curiosity rover mission team in 2016 exploring the environment on Mars. And following a presentation by Horgan on the Jezero crater on Mars, NASA selected this location as a landing spot for the Perseverance rover mission to search for possible signs of life in this region on Mars. On the latest episode of Full Steam Ahead: A Podcast About Purdue, FOX59's Adam Bartels talks to Horgan about her passion for space exploration, her involvement in the NASA Mars rover missions, her hopes for these explorations, and more!
Water on Mars: Discovery of Three Buried Lakes Intrigues Scientists
09-30-2020
Two years ago, planetary scientists reported the discovery of a large saltwater lake under the ice at Mars's south pole, a finding that was met with excitement and some skepticism. Now, researchers say they've confirmed the presence of that lake—and found three more. Dr. Mike Sori is a contributor to this Scientific American article.
Purdue planetary scientists may have solved the mystery of our Moon's South Pole-Aitkin Impact Basin
09-25-2020
One of the mysteries our Earth's moon has held is that some of the giant impact-generated basins we see do not behave the way scientists expected.  It was once expected that impact basins should all be mass deficits as they are large holes in the ground; however, some of the larger lunar impact basins are instead mass concentrations, or mascons.   Further adding to the mystery, all the largest impact basins except the largest and oldest basin, the South Pole-Aitken, are mascons.  The formation of mascons and their apparent size dependence baffled scientists.  That is, until now.