Astrobiology
We study habitability and potential biosignatures across a wide variety of bodies in the Universe, ranging from early Earth to exoplanets.  Our work includes learning about the evolution of Earth's atmosphere and oceans, biosignature preservation in the geologic record, astronomical life detection techniques, the history of habitable environments across the Solar System, and the relationship between planetary habitability and stellar properties.  Faculty: Horgan, Olson
Planetary Atmospheres and Climate
We use laboratory experiments and computer simulations to study cloud formation and atmospheric evolution on a range of planets.  We also analyze geological records in order to understand what they teach us about climate history on Earth, Mars, and beyond.  Faculty:  A. Johnson, Olson, Tremblay
Planetary Geophysics
We study the interiors, geodynamics, tectonics, thermal evolution, and impact processes across the solid bodies of the Solar System using data returned from spacecraft missions and sophisticated numerical models.  Faculty: Bramson, Freed, B. Johnson, Sori
Planetary Surfaces
We study the mineralogical, morphological, and tectonic evolution of planetary surfaces using remote sensing analysis, field and laboratory analog studies, and computational methods to understand the processes and environments that shape the landscapes of planets.  Faculty: Bramson, Horgan, B. Johnson, Minton, Sori, Thompson, Tremblay
Sample Analysis
We use state-of-the-art laboratory experiments to analyze extraterrestrial samples, including meteorites, Moon rocks returned by Apollo astronauts, and materials collected from asteroids.  Our techniques allow us to study the physical and chemical evolution of the surface of the Earth and other planets and moons.  Faculty: Thompson, Tremblay
Solar System Dynamics
We use observations of populations of Solar System objects and their orbits, combined with computer simulations, to study the formation and evolution of planetary and satellite systems to understand how our Solar System and others developed through time.  Faculty: Minton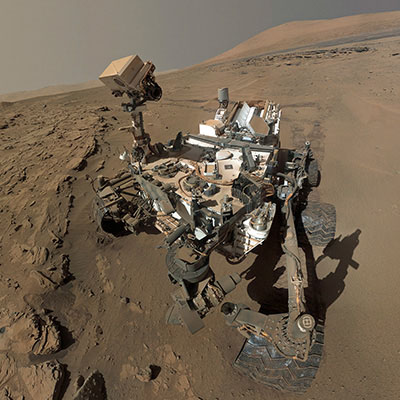 Spacecraft Missions
We have been and are continuing to be involved with NASA and international spacecraft missions, including MESSENGER, Hayabusa2, OSIRIS-REx, GRAIL, the Lunar Reconnaissance Orbiter, the Mars Reconnaissance Orbiter, the Curiosity and Perseverance Mars rovers, Mars Odyssey, Dawn, and more.  We are also active in planning the next generation of robotic spacecraft missions, human exploration, and astronomical observatories.  Faculty: all
Planetary Science News
Perseverance: Nasa rover begins key drive to find life on Mars
05-19-2022
Nasa's Perseverance rover has reached a big moment in its mission on Mars. Tuesday, the six-wheeled robot began the climb up an ancient delta feature in the crater where it landed. Dr. Briony Horgan, of Purdue EAPS, is cited in this article by BBC.
Purdue professor helps put 'ears' on Mars Perseverance rover
05-05-2022
For more than 20 years, one Purdue University professor has worked to give us a better understanding of the planet Mars. Now, he is leading a team that accomplished something you might have to hear to believe. Purdue Planetary Science professor Roger Wiens just arrived on campus a couple of months ago, but he says the development of this technology began back in 2014. After almost five years of development, Wiens and his team have found a way to put ears on a Mars rover for the very first time.
NASA discovery earns Eagle 'full ride' National Science Foundation Fellowship
05-02-2022
Purdue EAPS welcome graduate student Giovanni Bacon. He has recently been awarded a National Science Foundation Graduate Research Fellowship and will attend Purdue EAPS to begin his doctoral program. His dream is to become an astronaut scientist, studying planetary and exoplanetary atmospheres and/or astrobiology.
10 Years of Planetary Science Special Seminar: Dr. Bill McKinnon
04-22-2022
Ten years ago, Purdue EAPS added planetary to our sciences with the hiring of Dr. Jay Melosh. Today we honor Jay's memory with a special seminar featuring his first graduate student at Purdue University: Dr. Bill McKinnon of Washington University in St. Louis. His talk was titled, "What has NASA's New Horizons mission taught us about planet formation and evolution?"
In its visit to Psyche, NASA hopes to glimpse the center of the Earth
04-20-2022
NASA's mission to the solar system's largest metallic asteroid promises to show us the iron-nickel core of a dead planet. New research, however, hints that this asteroid is much more. Dr. Brandon Johnson of Purdue EAPS is cited in this article by Popular Science.
Scientists come up with fresh take on moon mystery
04-18-2022
The far side of the moon, which we can never see from our vantage point on Earth, looks surprisingly different than the orb we're used to seeing in the night sky. The near side we are so familiar with appears darker in places -- the result of the vast ancient lava flows, called lunar mare -- while the far side is covered in pock marks and craters but no mare. Why the two sides of the moon are so different has long puzzled space scientists. However, a study published last week in the journal Science Advances has come up with a new explanation for this lunar mystery. CNN reports on this study which includes a Science.org publication including Purdue EAPS Professor, Dr. Brandon Johnson.
Purdue professor: Meteor caused explosion-like noise
04-05-2022
INDIANAPOLIS (WISH) — The explosion many people across Indiana heard on Wednesday afternoon was caused by meteor entering the earth's atmosphere, a Purdue University professor believes. Brandon Johnson, an associate professor in the Department of Earth, Atmospheric and Planetary Sciences, says that an event like Wednesday's is not the norm for Indiana. For that fact, he added, it's rare when we get to hear or see a meteor make such a spectacular entrance.
Planetary scientist helps equip rover Perseverance with 4 of the 5 human senses
04-05-2022
For two decades, Roger Wiens has built instruments to give humans eyes and a nose on Mars – and now he's helping add ears as well. Wiens, a professor of Earth, Atmospheric, and Planetary Sciences in the College of Science at Purdue University, and an expert in Mars robotics technology, led the team that built SuperCam, a device on the Perseverance Mars rover that includes a laser for zapping rocks as well as the microphone that brought the first recordings of Mars to Earth.