Hydrology and Ecohydrology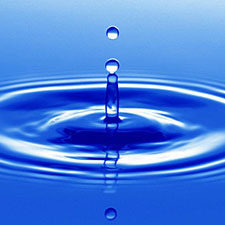 Studying how groundwater responds to the effects of climate and landscape change and how these perturbations propagate through aquifers impacting surface water ecosystems is an important focus of our faculty.
Environmental Chemistry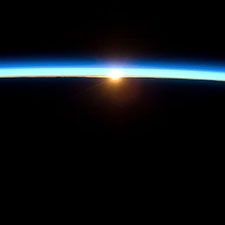 Studying the chemical processes that couple the lithosphere, hydrosphere, biosphere, and atmosphere, and their impacts on human activities and the environment, is the focus of select EAPS faculty and students.
Soils and Sediments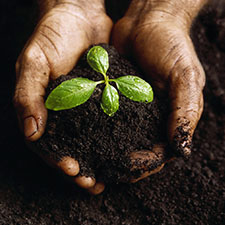 The weathering and erosion of soils, and how these processes support and change life on Earth, is a key research theme for our environmental geoscience faculty. 
Environmental Biogeochemistry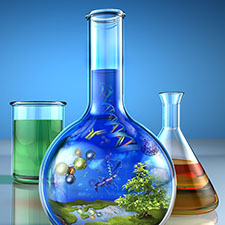 Environmental geoscience faculty and students conduct various experiments that help further the study of the chemical, physical, geological, and biological processes and reactions that govern the composition of the natural environment.
Environmental Geoscience News
Purdue professor: Mauna Loa lava flows could threaten populated areas
12-02-2022
INDIANAPOLIS (WISH) — Lava flows from the Mauna Loa volcano on the island of Hawaii could threaten people living there, according to a professor from Purdue University. Mauna Loa, one of the five volcanoes that form the island of Hawaii — also called the "Big Island" — erupted on Sunday for the first time since 1984 and has been shooting lava fountains of magma up to 100 feet in the air. Dr. Jonathan Delph, an assistant professor of seismology at Purdue's department of Earth, atmospheric, and planetary sciences, says the biggest threat to the island of Hawaii is lava flows reaching homes and businesses.
New study to examine how plants transport water from soil to atmosphere
11-08-2022
WEST LAFAYETTE, Ind. — Purdue University's Elin Jacobs has received a three-year, $911,000 grant from the U.S. Department of Energy to explore how tree roots help redistribute water in the soil. She will study how water flows from soils through plants and into the atmosphere and the impact of increasingly occurring droughts on that process. Collaborating with Jacobs on the project are Zoe Cardon, Marine Biological Laboratory, Woods Hole, Massachusetts; Jeff Dukes, Carnegie Institution for Science, Stanford, California.; Lisa Welp, Earth, Atmospheric, and Planetary Sciences, Purdue; and Yilin Fang, Pacific Northwest National Laboratory, Richland, Washington.
Purdue EAPS welcomes new faculty member Yuan Wang
10-27-2022
The Department of Earth, Atmospheric, and Planetary Sciences (EAPS) welcomes Dr. Yuan Wang to the faculty as an Associate Professor beginning the Fall semester of 2022. He has background in both atmospheric sciences and computer sciences, so computer models are his major research tools. He will put those skills to use in his research and in training the next generation of Boilermakers about the effects of humans on weather systems and climate.
Rainwater collected in the Andes Mountains contains fingerprints of atmospheric processes
10-03-2022
The Andes Mountains of Peru hold key evidence of the world's most precious resource: water. Ice cores on the mountains reveal stable isotope signatures of warm and cold spells in the past and even cave stalactites store information about the water that has poured down over this region for thousands of years. Records from these regions are critical to helping produce climate models. Every piece of this ever-evolving research inches mankind closer to predicting weather patterns world-wide under a changing climate. A team of researchers from Purdue University and the Universidad Nacional de San Augustín de Arequipa in southern Peru teamed up to study rains captured during the wet monsoon season and measure the oxygen and hydrogen stable isotopic ratios of the rainwater. This study of isotopic signatures of different rain generating atmospheric patterns was recently published in the American Geophysical Union's (AGU) Geophysical Research Letters (GRL).
Learn why the 2022 hurricane season has taken off
09-27-2022
ACROSS THE SKY PODCAST — The second half of hurricane season has exploded, making up for its slow start. Purdue University's Jhordanne Jones, a native of Jamaica whose research focuses on seasonal hurricane forecasting, joins us to talk about why the season started slowly, why it's picking up so rapidly now.