Atmospheric and Climate Sciences

Extreme
Weather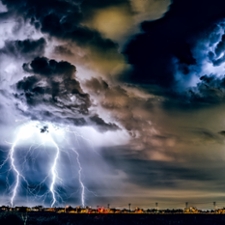 EAPS faculty and students use observations and numerical modeling to better understand the physics, predictability and impacts of extreme weather systems, including thunderstorms, tornadoes, and tropical cyclones, and their variability within the climate system.

Climate
Dynamics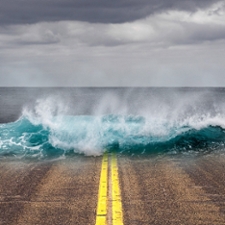 The fundamental physics and processes of the regional and large-scale climate system and its variability (such as monsoons, El Niño, and the jet stream), and intraseasonal variability are topics of research by our faculty and students.

Surface-ATMS Interactions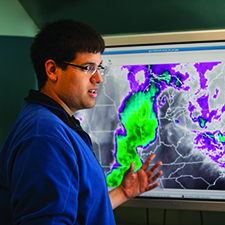 Select EAPS faculty and students study the exchange of energy and matter between the atmosphere and the Earth's surface, including sea, land, and vegetation.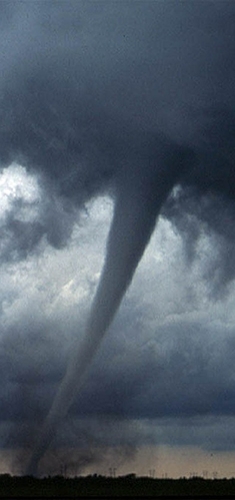 Atmospheric Science News
'Every hurricane is different': Why experts are still estimating Idalia's impact
09-08-2023
USA TODAY — Hurricanes can be deceiving and capricious. You hear ominous warnings. You see a buzzsaw-like storm coming right for your neighborhood. Then one community escapes unscathed while another gets slammed. What makes the difference? The size and strength of the hurricane and its wind fields, especially the inner core with the most destructive winds. Dr. Daniel Chavas, of Purdue EAPS, is a contributor in this article by USA Today.
Cloud data collected in-situ will be evaluated on the ground at Purdue
08-03-2023
This summer, the skies were abuzz with planes conducting atmospheric research. Dr. Lisa Welp participated in an airborne field campaign studying clouds off the coast of San Diego in June. She is an Associate Professor in the Purdue University Department of Earth, Atmospheric, and Planetary Sciences (EAPS) and co-lead of the Water Challenges research community in Purdue's Institute for a Sustainable Future (ISF). Her atmospheric research data collection and analysis has been awarded funding by the United States Department of Energy (DOE).
Experts at Purdue University explain why it's so hot
07-31-2023
WTHI — With the heat there comes a lot of questions as to why it's happening? Experts at Purdue University may have some answers. Experts say there are two main reasons: regular seasonal changes and human caused changes. Greenhouse gases like carbon dioxide and methane blanket the earth. That keeps heat from escaping the atmosphere. Dr. Daniel Cziczo is head of the Department of Earth, Atmospheric and Planetary Sciences at Purdue. He says this combination makes for an extra hot summer.
Is air quality getting worse?
07-31-2023
NEWS-JOURNAL — Daniel Cziczo is a professor and head of the Department of Earth, Atmospheric and Planetary Sciences in Purdue University's College of Science. In this video, he explains the causes of low air quality, the impact that it can have on the world and what people can do to protect themselves.
Purdue trustees ratify faculty and staff positions, approve resolutions of appreciation and namings
06-09-2023
WEST LAFAYETTE, Ind. – The Purdue University Board of Trustees on Friday (June 9) ratified faculty and staff appointments and approved resolutions of appreciation and namings. Matthew Huber, of Purdue EAPS, was appointed the David E. Ross Director of the Purdue Institute for a Sustainable Future.