Atmospheric and Climate Sciences

Extreme
Weather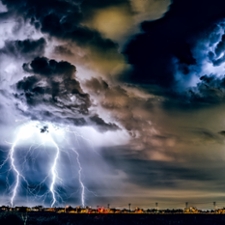 EAPS faculty and students use observations and numerical modeling to better understand the physics, predictability and impacts of extreme weather systems, including thunderstorms, tornadoes, and tropical cyclones, and their variability within the climate system.

Climate
Dynamics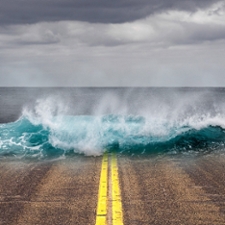 The fundamental physics and processes of the regional and large-scale climate system and its variability (such as monsoons, El Niño, and the jet stream), and intraseasonal variability are topics of research by our faculty and students.

Surface-ATMS Interactions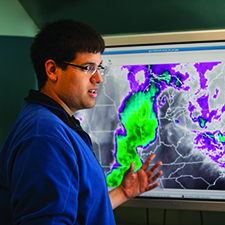 Select EAPS faculty and students study the exchange of energy and matter between the atmosphere and the Earth's surface, including sea, land, and vegetation.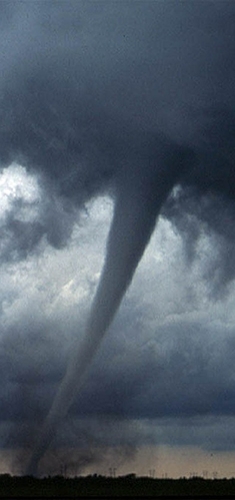 Atmospheric Science News
Chasing the storm
02-27-2023
PURDUE EXPONENT — Sandwiched between Indianapolis, Chicago and Fort Wayne is a gap. Not a physical one, but important nonetheless. Until recently, the Greater Lafayette area was in a radar gap, hurting the ability of local meteorologists to accurately predict and observe the weather. The three nearest radars in Indianapolis, Chicago and Fort Wayne don't quite reach this far, said Dan Cziczo, the Earth, Atmospheric, and Planetary Sciences Department head.
Lifting the Veil
01-17-2023
SCIENCE — Alien planets are shrouded in hazes that hide clues to their makeup. Lab experiments could help clear the view. Dr. Alexandria Johnson, of Purdue EAPS, is cited in this article by science.org. Some researchers, like Johnson, are focused on exoplanet clouds, who grows and studies clouds in a chamber. She wonders how clouds and hazes might interact on an exoplanet—whether, for example, haze particles might promote cloud formation by providing "nucleation sites" for gases to condense.
Tempted to joke about global warming amid a blizzard? Here's what experts say about that.
12-19-2022
USAToday — Winter storms are pummeling the United States, snow is piling up, temperatures are dropping, traffic is snarling and there's always the threat of thunderstorms and thundersnow. Just like clockwork, the emails, tweets and Facebook jokes start flowing. Scientists likely don't think that joke is as funny as another familiar climate change quip: Never argue about climate change – it always turns into a heated debate. Dr. Dan Chavas, of Purdue EAPS, looks at this as an opportunity to engage.
Purdue EAPS Student Spotlight: Emma Miller
11-14-2022
Emma Miller is a Purdue EAPS senior undergraduate student studying atmospheric science. This summer, she attended the NCAR Undergraduate Leadership Workshop in Boulder, CO. In this video, she discusses her experiences with NCAR's Undergraduate Leadership Workshop and as a student within Purdue EAPS.
New study to examine how plants transport water from soil to atmosphere
11-08-2022
WEST LAFAYETTE, Ind. — Purdue University's Elin Jacobs has received a three-year, $911,000 grant from the U.S. Department of Energy to explore how tree roots help redistribute water in the soil. She will study how water flows from soils through plants and into the atmosphere and the impact of increasingly occurring droughts on that process. Collaborating with Jacobs on the project are Zoe Cardon, Marine Biological Laboratory, Woods Hole, Massachusetts; Jeff Dukes, Carnegie Institution for Science, Stanford, California.; Lisa Welp, Earth, Atmospheric, and Planetary Sciences, Purdue; and Yilin Fang, Pacific Northwest National Laboratory, Richland, Washington.