Atmospheric and Climate Sciences

Extreme
Weather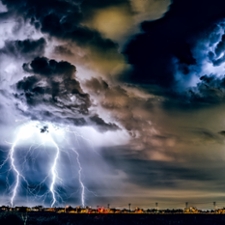 EAPS faculty and students use observations and numerical modeling to better understand the physics, predictability and impacts of extreme weather systems, including thunderstorms, tornadoes, and tropical cyclones, and their variability within the climate system.

Climate
Dynamics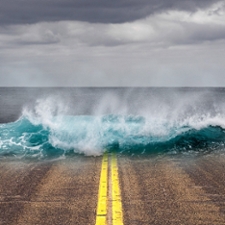 The fundamental physics and processes of the regional and large-scale climate system and its variability (such as monsoons, El Nino, the jet stream), and intraseasonal variability are topics of research by our faculty and students.

Surface-ATMS Interactions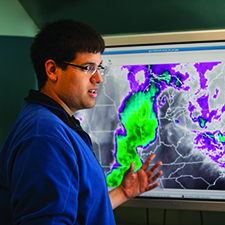 Select EAPS faculty and students study the exchange of energy and matter between the atmosphere and the Earth's surface, including sea, land, and vegetation.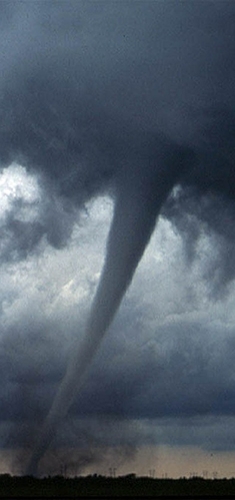 Atmospheric Science News
How Do Aerosols Impact Cloud Formation?
12-14-2021
New NSF-funded research led by Texas A&M's Dr. Yue Zhang will examine aerosol and cloud interactions, which have major implications for climate models and predictions. Zhang is examining the climate effects of organosulfate-containing secondary organic aerosols, also known as SOA. He will be working with research teams led by Dr. Daniel Cziczo, professor and department Head of Earth, Atmospheric, and Planetary Sciences at Purdue University, and Dr. Jason Surratt, professor of chemistry and environmental sciences and engineering at the University of North Carolina at Chapel Hill.
The Science of Wet Bulb Temperature
08-25-2021
Nearly 50 million Americans are under heat alerts as hot and humid weather grips the Midwest and south central U.S. But it's not just the number on the thermometer that counts. Purdue EAPS Prof. Matthew Huber explains on pattrn why researchers use wet bulb temperatures to measure just how unbearable heat can be.
NASA's new mission studies how intense thunderstorms may influence climate change
07-28-2021
NASA recently began new research to investigate how extreme summer weather may be affecting the upper layers of earth's atmosphere. Dan Cziczo, Ph.D., a professor and head of the Department of Earth, Atmospheric and Planetary Sciences at Purdue University, is cited in this article from ABC News.
Purdue team flying miles above Earth with NASA, gathering data on North American monsoon season
07-15-2021
During the summer, North America's monsoon season creates massive storms across the Midwest. These storms can cause a phenomenon where the lowest atmospheric layers, the troposphere and stratosphere, mix. Though rare and difficult to study — the stratosphere hovers from 6.2 to 31 miles above Earth's surface — this mixing needs study because, as climate change happens, the world's monsoons may change. To study these layers and the barrier between them, NASA has created the DCOTSS (Dynamics and Chemistry of the Summer Stratosphere) project. Dr. Daniel Cziczo, head of the Purdue EAPS, works with DCOTSS on the PALMS-NG portion of this atmospheric research.
EAPS student, Qin Jiang, awarded NASA FINESST fellowship for work with tornadoes and their environments in a changing climate
07-09-2021
Qin Jiang was awarded a NASA FINESST fellowship for 2021. The Future Investigators in NASA Earth and Space Science and Technology (FINESST) Program provides research grants to graduate students who are designing and performing research projects relevant to interests of the NASA Science Mission Directorate (SMD) in Earth Sciences. Jiang is a Ph.D. student in Purdue University Department of Earth, Atmospheric, and Planetary Sciences (EAPS).