PhD Candidate Laura Chaves named in "Top 100 Most Influential Latinos" list
01-31-2023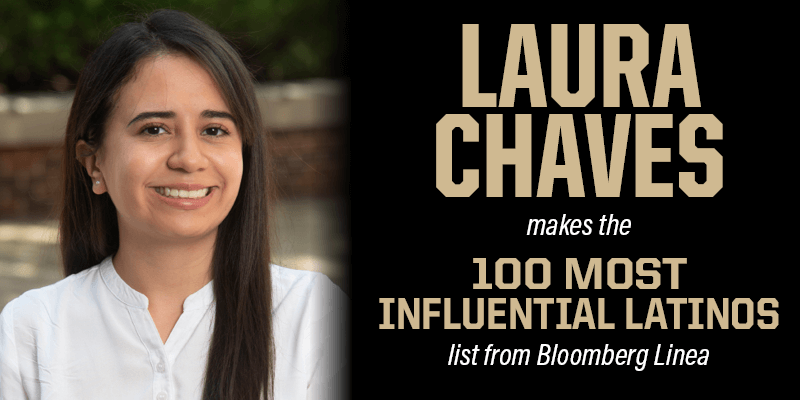 Sophia Vergara, Sonia Sotomayor, A-Rod, Selena Gomez, Ellen Ochoa… and Laura Chaves!  PhD Candidate Laura Chaves of the Purdue Department of Earth, Atmospheric, and Planetary Sciences (EAPS) was added to a jaw-dropping list of the most influential Latinos according to Bloomberg Linea. 
To choose the names for the list, the editorial teams of each of the countries in which Bloomberg Linea operates pointed to Latin American benchmarks with successful performance in the world.
The list tries to outline the path take by each of the members who also managed to transcend beyond their region. Chaves is originally from Colombia and was entered on the Colombian category of the 100 most influential Latinos.
According to the article, she was chosen because, "she is dedicated to investigating how minerals on the surface of planetary bodies without atmosphere are altered by micrometeroids and the solar wind. She is currently investigating the first particles collected from an asteroid brought to Earth by the Japan Aerospace Exploration Agency (JAXA)."
Chaves was told that she would be included in this list when a Bloomberg Linea reporter contacted her requesting a high resolution photo for the article. To her delight, the reporter let her know that she had been selected as one of the five people to represent Colombia. 
"I am happy to represent the Latin American planetary scientists," says Chaves. "With my research and my participation in outreach, I want to promote the interest and involvement of the Latin American community in the field. I feel fortunate and optimistic seeing that the media is now more interested in highlighting the profiles of women and Latina scientists."
The list includes household names recognized all over the world. The top 100 Latinos of 2022 included names such as:
Sophia Vergara, actress (also from Colombia)
Ellen Ochoa, astronaut and 11th director of the Johnson Space Center
Alejandro González Iñárritu, director and four-time Oscar winner
Alex Rodriguez, Major League Yankees baseball player and famed businessman
Selena Gomez, actress, artist, and singer
Victor Casalino, CFO of Microsoft for the Americas
Sonia Sotomayor, US Supreme Court Justice
Chaves has a B.S. in Geology from Universidad Nacional de Colombia, and is currently a Ph.D. candidate working under the supervision of Dr. Michelle Thompson, assistant professor. They both conduct research in the Laboratory Studies of the Evolution of Airless Planetary Surfaces (LEAPS) at Purdue University.
Chaves was presented with a bottle of Cognac with her name on it as well as a card of congratulations from Bloomberg Linea.  There appears to be no limit to Chaves aspirations and it is clear why she would make it onto this list. Once she graduates from Purdue, she plans to transition to a postdoctoral position and eventually move on to a research/faculty position so that she can further her work in the planetary materials field.
"My research focuses on studying space weathering processes that refer to the optical, physical, and chemical alterations of minerals on the surfaces of planetary bodies that lack atmospheres," she says. "Space weathering is caused by high-velocity micrometeoroid impacts and irradiation from solar wind ions. Studying space weathering is important because it allows us to properly characterize those surfaces and understand their evolution."
Chaves is also a recipient of the NASA FINESST grant in 2020 and was once featured in Forbes Magazine in an article titled, "What's it like to work with space dust?  Ask this Colombian!"  She really enjoys working with outreach and is instrumental in the annual EAPS Passport Day where k-12 students can earn stamps on their "EAPS Scientist" passports by taking lessons from graduate students and the EAPS outreach coordinator, Steven Smith.
"I have been part of the Space Ambassador program organized by graduate students from the aerospace department and the annual EAPS Passport Day since 2017 when I was an internship student in the department," she says. "Last year, I was part of the organizing committee for the online version of Passport Day."
Her passion for outreach extends beyond the West Lafayette campus though as she has been part of outreach programs outside of Purdue University as well. She has participated in community outreach for the Greater Lafayette area by participating in an annual event at Imagination Station where she inspires students with her experience as a Latina in a STEM field. Last summer, she and her fellow grad students from LEAPS ran an outreach program with the local Boys and Girls club. She has also participated in other science communication activities around the U.S. and was involved with Letters for a Pre-Scientist where she exchanged letters with student from low-income schools to encourage them to pursue a career in STEM. Her outreach portfolio also extends outside the U.S.
"I have been involved in virtual science communication events in my home country of Colombia by participating in different activities, including newspaper and radio, online talks, and YouTube videos," says Chaves. "In addition to my collaboration with the media, I have also been interviewed by governmental institutions, organizations of women scientists, and academic student chapters. I have also participated in short courses to improve my science communication skills for different audiences, including the Planetary Scientist Engagement Institute workshop by the Lunar and Planetary Institute (LPI), and a science communication class from Universidad de Los Andes in Colombia."
Whether it is steps toward planetary research or outreach with students, it is clear that Chaves is making giant leaps in her field and has truly earned her place on this list. 
About the Department of Earth, Atmospheric, and Planetary Sciences at Purdue University
The Department of Earth, Atmospheric, and Planetary Sciences (EAPS) combines four of Purdue's most interdisciplinary programs: Geology & Geophysics, Environmental Sciences, Atmospheric Sciences, and Planetary Sciences. EAPS conducts world-class research, educates undergraduate and graduate students, and provides our college, university, state and country with the information necessary to understand the world and universe around us. Our research is globally recognized, our students are highly valued by graduate schools, employers, and our alumni continue to make significant contributions in academia, industry, and federal and state government.
Writer: Cheryl Pierce, Communications Specialist