Rare deep earth diamond reveals trapped secrets of the Earth's interior
09-28-2022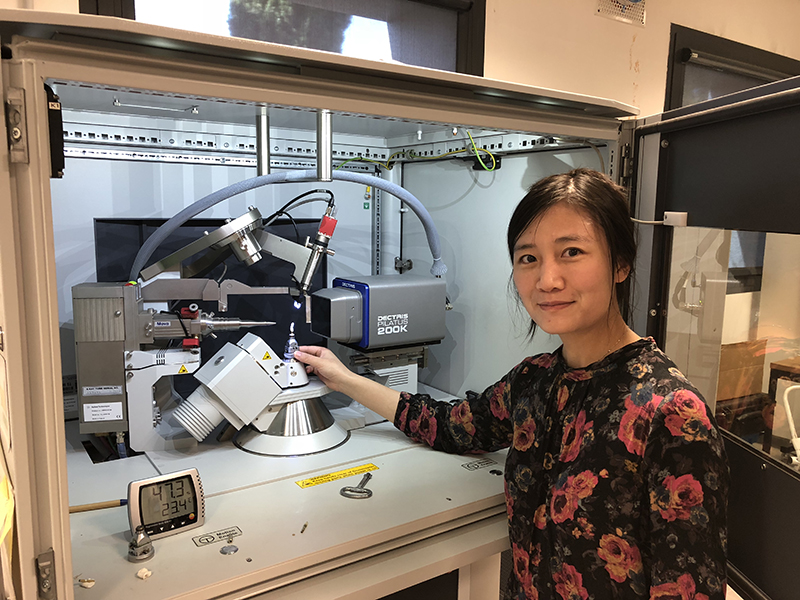 Deep in the ground of Botswana, a rare deep earth diamond was unearthed from the Karowe mine.  It was buried 660 kilometers beneath the surface of the Earth.  Trapped inside this diamond are secrets of our Earth's history.  The inclusions found inside this diamond prove that, even at such an incredible depth, the environment can still be wet.
This discovery was published by Dr. Tingting Gu, adjunct assistant professor of Purdue Earth, Atmospheric, and Planetary Sciences (EAPS) and a team of scientists in Nature Geoscience on September 26, 2022.
"The Karowe mine is one of the most valuable diamond mines in the world and many large, high-quality diamonds have been discovered there including the second largest diamond that is 1758 carat," explains Gu. "Super deep diamonds are relatively rare, but in additional to the area of Botswana (near Zimbabwe craton), super deep diamonds can also be found in Canada and Brazil."
Gu studied gemology as an undergrad and mineral physics during graduate school. Her area of research in graduate school was simulating high-pressure conditions to recreate the environment that is equivalent with Earth and planetary interior as well as the impact scenario. She has carried this research forward while researching diamond inclusions in Gemological institute of America before becoming faculty with Purdue EAPS.  She has collaborated with Dr. Doug Schmitt,  to study kimberlites (the host rock for diamonds).  Schmitt is the Associate Head, Professor, and Stephen and Karen Brand Endowed Chair of Unconventional Energy for Purdue EAPS.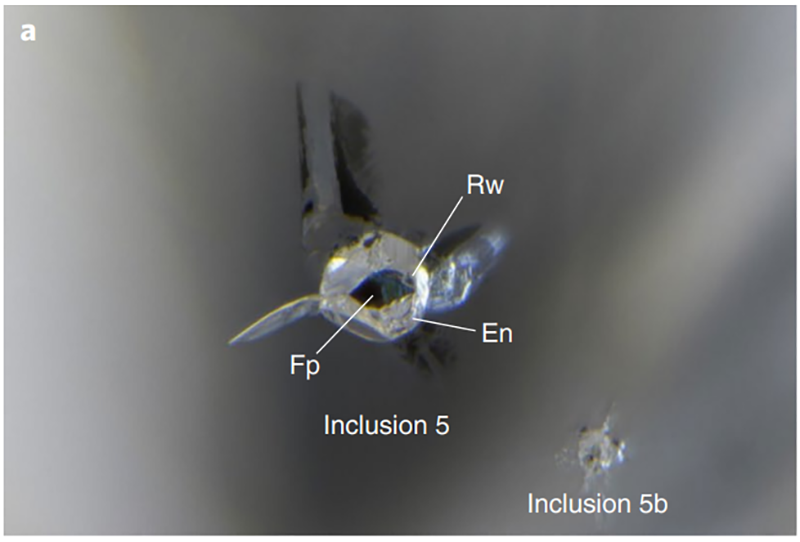 "The diamond inclusions provide me the opportunity to confirm our laboratory petrological observations in the real samples," she says.
The deep earth diamond had ringwoodite in the mineral assemblage.  The presence of this polymorph is typically rare in terrestrial samples.  The presence of the mineral assemblage with ringwoodite helps provide a precise depth of where the diamond was discovered.
"Ringwoodite is the high pressure polymorph of olivine. Olivine is a quite common rock-forming mineral, while ringwoodite has the same composition with olivine, but its structure is squeezed, which can only be formed at a high pressure," Gu explains. "Therefore, ringwoodite can be found in a meteorite. However, it's quite rare in terrestrial sample, and the first ringwoodite found in an Earth sample in 2014 is also from a diamond. While this time, ringwoodite occurred together with another two mantle minerals, so we were able to precisely determine the depth where it came from based on their phase equilibrium, and we also retrieved the chemical composition of ringwoodite for the first time."
This discovery will of course be important to gemstone industry, but its importance ripples beyond gemology.  Because humanity doesn't have direct samples from the Earth's interior, these deep earth diamonds can assist in sample return missions from extreme depths.  They also provide factual evidence about the water cycle and convection of Earth's lower mantle.  This helps build better geological modeling.
"It is such a great privilege to study nature samples in a geology department, as they were created by Earth millions of years ago, and the wisdom of the Nature is beyond our imagination," says Gu.  "This piece of work is only a start. With the diamonds that I studied and currently work on, I hope to have collaboration with my colleagues who can be involved in geochemical and crystallographic studies. I'm also interested in synthesizing the pieces of rocks found in the diamond in the lab to study their properties and petrology patterns."
About the Department of Earth, Atmospheric, and Planetary Sciences at Purdue University
The Department of Earth, Atmospheric, and Planetary Sciences (EAPS) combines four of Purdue's most interdisciplinary programs: Geology & Geophysics, Environmental Sciences, Atmospheric Sciences, and Planetary Sciences. EAPS conducts world-class research, educates undergraduate and graduate students, and provides our college, university, state and country with the information necessary to understand the world and universe around us. Our research is globally recognized, our students are highly valued by graduate schools, employers, and our alumni continue to make significant contributions in academia, industry, and federal and state government.
Writer: Cheryl Pierce, Communications Specialist
Contributors: Dr. Tingting Gu, Adjunct Assistant Professor
Photos provided by Dr. Tingting Gu