EAPS undergrad received hands-on experience at ACRE with DURI internship
09-03-2021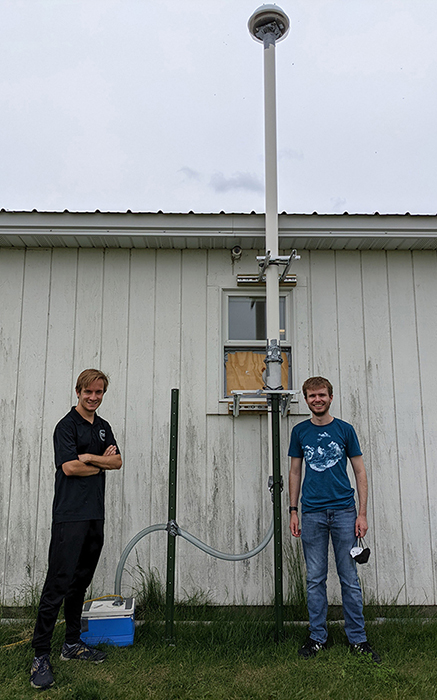 Purdue University offers many opportunities for students to get involved with research.  One such opportunity is the Discovery Park Undergraduate Research Internship Program (DURI) which offers year-round opprtunity for undergraduate students.  Purdue University senior Matthew Graber, an Atmospheric and Chemistry student, accepted a DURI internship this summer to work with field characterization of agricultural aerosols at Purdue's Agronomy Center for Research and Education (ACRE). 
Graber participated in a research project at ACRE led by Purdue faculty Dr. Gouri Prabhakar, Assistant Professor of Practice, with collaborators Dr. Daniel Cziczo, Professor and Head, of the Department of Earth, Atmospheric, and Planetary Sciences (EAPS), and Dr. Alex Laskin, Professor of Analytical Chemistry.  Graber's work involved operating a Cloud Condensation Nuclei Counter (CCNC), an instrument used to measure the of ambient particles to take up water. The larger aim of this research is to characterize the particles emitted in an agricultural environment through the various agricultural processes such as application of pesticides and fertilizers, tilling, and harvest.
Graber learned about the DURI program from his academic advisor.  He had been working with atmospheric aerosols for three semesters so he felt this internship was a great opportunity to have a productive summer.  Many internships and in-person plans had fallen through during the pandemic, so DURI was an opportunity to still get work experience in the field.
"I chose Purdue because it was convenient for me being from Indiana," says Graber, "and I wanted to be at a large, research university that presented many opportunities both in and out of the classroom. The EAPS department is like a family and I love that atmosphere. I additionally appreciate that the Atmospheric Science program does not just focus on meteorology but also heavily on climate change and atmospheric chemistry. This program has opened other doors for me that would not have opened had I gone elsewhere."
When not measuring aerosols, this senior from Valparaiso, IN can be seen all over campus in various leadership positions including student supervisor at the Windsor Dining Court and a Team Supervisor for Boiler Gold Rush 2021.  He's also involved in the Purdue Running Club as a competitive cross country running.
Research internships, like DURI, are great opportunities for students to learn and hone their scientific research skills, while supporting themselves financially," says Prabhakar. "Students can explore and learn about research being conducted across the University, and use this experience to decide their career paths. In addition, for students interested in research, internships provide the opportunity to build their professional network with individuals in the field."
 Photo information: EAPS undergraduate, Matthew Graber, performs work in the field for his DURI internship at Purdue ACRE.  Pictured are Graber (right) and Dameto de Espana, EAPS post-doc (left).