Environmental Geosciences
About the Major
The EAPS Environmental Geoscience major offers an interdisciplinary curriculum that immerses students in the fundamentals of geology, chemistry, atmospheric science, biology, and physics. This coursework prepares our students so they can help solve challenging environmental problems such as climate change, emerging pollutants, shrinking and shifting energy resources, and food production ecology.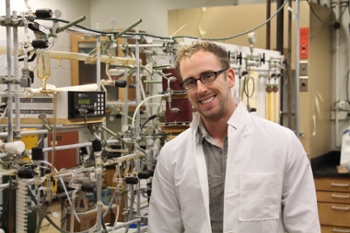 The Environmental Geoscience major at Purdue is flexible, allowing students to create their own coursework focus based of their particular scientific passion: air quality, soil and sediments, or hydrology. Our graduates develop quantitative problem-solving skills that make them highly competitive for careers or further graduate school studies related to water quality and availability, air pollution and climate, and soil and sediment geochemistry.
Highlighted information about the Environmental Geosciences undergraduate degree, as well as general career information, can be found here.
---
Careers
Environmental scientists and specialist use their knowledge of the natural sciences to protect the environment and human health. Their expertise is varied, and could include any of the following areas:
Determine data collection methods for research projects, investigations, and surveys
Collect and compile environmental data from samples of air, soil, water, food, and other materials for scientific analysis
Analyze samples, surveys, and other information to identify and assess threats to the environment
Develop plans to prevent, control, or correct environmental problems, such as land or water pollution
Provide information and guidance to government officials, businesses, and the general public on possible environmental hazards and health risks
Prepare technical reports and presentations that explain their research and findings
According to the US Department of Labor in 2022, environmental scientists make up the largest job sector in the Geosciences, and growth in the field is faster than average.
Quick Facts
Environmental Scientists and Specialists
2022 Median Pay
$76,480 per year
$36.77 per hour
Entry-Level Education
Bachelor's degree
Work Experience in a 
Related Occupation
None
On-the-job Training
None
Number of Jobs, 2022
80,500
Job Outlook, 2022-32
6% (Faster than average)
Employment Change, 
2022-32
4,900
Environmental Scientists often specialize in one of three fields of expertise: Air, Water, and Soil/Sediments. The EAPS Environmental Geosciences program is designed for students to specialize in one of these fields. During the student's freshman and sophomore years, Environmental Geosciences majors complete a four-core sequence of classes in Environmental Geosciences, plus their general science and liberal art requirements. During their junior and senior years, students select a focus area Air, Water, or Soil/Sediments, based on their interests. A fourth custom curriculum track is available for student targeting graduate school or that desire a policy focus.
What does an air quality scientist do? 
(
back to top
)
Air quality specialists must be technically adept, but also good at speaking, listening, writing and presenting. A knowledge of physics, chemistry, and meteorology is fundamental to success in the field. Graduates moving forward in this profession gain additional technical knowledge of modeling, data interpretation, program evaluation, planning techniques, and laws and regulations.
Pollution control agencies at federal, state, and local levels and other government bodies, such as transportation departments, employ air quality specialists. So do private companies responsible for preventing or controlling pollution, as well as engineering firms that work on air quality planning and pollution prevention and control. To prepare EAPS graduates for these work environments, the Environmental Air Quality track focuses on analytical chemistry, public health, air pollution control, computer science, chemistry, meteorology, and hands-on lab courses.
What does an environmental water scientist do? (back to top)
The largest employers of water quality professionals are government agencies such as (in the United States) the Environmental Protection Agency, the Fish and Wildlife Service, the National Park Service, and the Army Corps of Engineers. State agencies in the United States are responsible for inventorying state waters, managing waters for fishing and other recreation purposes, administering state laws to protect the waters, and formulating policy.
Municipal agencies manage urban water supplies and wastewater treatment. International agencies like the United Nations and World Bank also employ water quality specialists. The private sector is also a growing job market for water quality specialists. Engineering firms, hydrology consulting firms, and manufacturers of water quality control supplies and equipment all employ such specialists. Many industrial firms employ water quality researchers.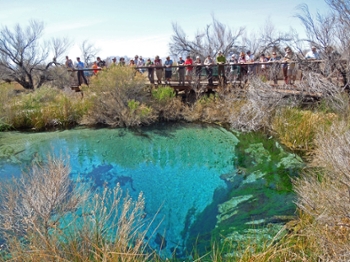 In all aspects of their jobs, three priorities are increasingly important to water quality professionals: pollution prevention, ecosystem protection, and sustainable development.
A subset of water scientists are called Hydrologists. They examine the physical characteristics, distribution, and circulation of water above and below the earth's surface. They study precipitation, the paths precipitation takes through the soil and rocks underground, and its return to the oceans and air. Hydrologists are often hired with a Master's degree.
The Environmental Water Quality track focuses students on analytical chemistry, public health, water chemistry, planning, computer science, chemistry, hydrology, and emphasis hands on lab courses to uniquely position Purdue undergraduates for success in this field.
What does an environmental soil scientist do? (back to top)
A soil scientist needs good observation skills to be able to analyze and determine the characteristics of different types of soils. Soil types are complex and the geographical areas a soil scientist may survey are varied. Aerial photos or various satellite images are often used to research the areas. Computer skills and geographic information systems help the scientist to analyze the multiple facets of geomorphology, topography, vegetation, and climate to discover the patterns left on the landscape.
Soil scientists work for federal and state governments, universities, and the private sector. The job of a soil scientist includes collection of soil data, consultation, investigation, evaluation, interpretation, planning or inspection relating to soil science. In preparation for this, the Environmental Soil Quality track focuses students on analytical chemistry, public health, planning, computer science, chemistry, and emphasizes hands-on lab courses in order to uniquely position Purdue undergraduates for success in this field.
A soil scientist's job may involve:
Recommending soil management programs
Designing hydrologic plans in suburban areas
Monitoring the effects of farm, ranch, or forest activities on soil productivity
Giving technical advice used to help plan land management programs
Preparing reports describing land and soil characteristics
Managing soils for crop production, forest products, and erosion control management
Evaluating nutrient and water availability to crops
Investigating forest soils, wetlands, environmental endangerment, ecological status, and archeological sites
Assessing application of wastes including non-hazardous process wastes (residue and sludge management)