Dr. Wen-Wen Tung
Associate Professor and Director of Geodata Science for Professionals MS Program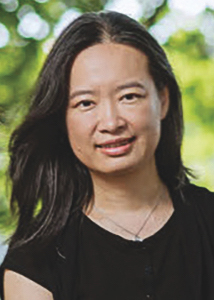 wwtung@purdue.edu
Curriculum Vitae
Associated website(s):

Google Scholar , Atmospheric Science , Data Science Initiative , Geodata Science Initiative ,
Purdue Institute for a Sustainable Future (ISF) , Personal Website
---
Education

Ph.D., Atmospheric Sciences, University of California, Los Angeles, 2002

Research Interests

Dynamical predictability
Multiscale convective systems
Tropical dynamics (Monsoons, Waves, Intraseasonal oscillation, etc.)
Observational data reduction in geophysics and bioinformatics
Multiscale signal processing utilizing spectral analysis, wavelet analysis, principal component analysis, chaos and fractal theories, and other statistical methods.
Teaching Interests
EAS309: Computer-Aided Analysis For Geosciences
EAS534: Tropical Meteorology
EAS536: Introduction to Atmospheric General Circulation
EAS591Y: From Hot Towers to Hurricanes - An intro. to multiscale tropical convective systems
EAS637: Geophysical Fluid Dynamics in A Rotating System
Professional Experience
Assistant Professor, Earth and Atmospheric Sciences, Prudue University January 2005–present
Visiting Scientist, Mesoscale and Microscale Meteorology Division, NCAR August–December 2004
Postdoctoral Fellow, Advanced Study Program, NCAR August 2002–July 2004
Selected Publications - Google Scholar Page for a complete list of publications
Gao, J. B., J. Hu, W.-w. Tung, and Y.-C. Wang, 2008: Global cooling span amidst a century-long global warming trend, submitted to Geophys. Res. Let..
Ashfaq, M.*., S. Ying, W.-w. Tung, R. J. Trapp, X. Gao, J. S. Pal, N. S. Diffenbaugh, 2008: Suppression of South Asian summer monsoon precipitation in 21st century, submitted to Geophys. Res. Let..
Hu J., W.-w. Tung, and J.B. Gao, 2008: A new way to model non-stationary sea clutter, IEEE Signal Processing Letters (accepted).
Tung, W.-w. , J. Hu, J.B. Gao, and V.J. Billock, 2008: Diffusion, intermittency, and noise-sustained metastable chaos in the Lorenz equations: effects of noise on multistability. Int. J. Bifurcations & Chaos (theme issue Multistability in Dynamical Systems), 18, No. 6, 1749–1758.
Tung, W.-w., J.B. Gao, J. Hu, and Y.H. Cao, 2007: Quantifying dynamical prediction utility by relative entropy: the role of Kolmogorov-Sinai entropy, submitted to J. Atmos. Sci.
Tung, W.-w., Y. Qi, J.B. Gao, Y.H. Cao, and L. Billings, 2005: Direct characterization of chaotic and stochastic dynamics in a population model with strong periodicity. Chaos, Solitons, and Fractals, 24, 645-652.
Tung,W.-w., M.W. Moncrieff, and J. B. Gao, 2004: A systematic view of the multiscale tropical deep convective variability over the tropical western- Pacific warm pool. J. Climate, 17, 2736-2751.
Tung, W.-w., and M. Yanai, 2002: Convective momentum transport Observed during the TOGA COARE IOP. Part I: General features. J. Atmos. Sci., 59, 1857? 1871.
Tung, W.-w., and M. Yanai, 2002: Convective momentum transport observed during the TOGA COARE IOP. Part II: Case studies. J. Atmos. Sci., 59, 2535?2549.