Dr. Alexandria Johnson
Assistant Professor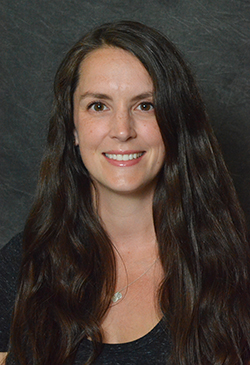 avjohns@purdue.edu
Curriculum Vitae
Associated website(s):

Atmospheric Science , Planetary Sciences , Personal Website , Geology and Geophysics
---
Education
2014  PhD, Atmospheric Science, Purdue University
2009  BS, Physics, Cum Laude, Michigan Technological University
Research Interests
Dr. Johnson's work has tackled a wide range of topics and scientific methods including airborne measurements of water vapor in pre-depression areas over the Atlantic, laboratory studies of water ice nucleation in the atmospheres of Earth and Mars, and high-resolution single cloud models for comparison with maritime cumulus observations. Her current research interests span clouds in atmospheres on Earth, Mars and Exoplanets, the formation, presence, and properties of clouds in the early Lunar atmosphere, and Titan Methane-Ethane-Nitrogen cloud microphysics. Most recently she has developed a novel single particle light scattering instrument to directly measure how atmospheric particulates (clouds and aerosols) interact with radiation across diverse planetary atmospheres.

Selected Honors
2016  Simons Foundation Collaboration on the Origins of Life Instrument Grant
2016  MIT Postdocs Share their Science - 2

nd

Place
2015  Simons Foundation Collaboration on the Origins of Life Prize Postdoctoral Fellowship
Publications
Fortney et al., 2019: The Need for Laboratory Measurements and Ab Initio Studies to Aid Understanding of Exoplanetary Atmospheres. Astro2020 Science White Paper.
Lasher-Trapp, S., D. Leon, P. DeMott, C. Villanueva-Birrel, A. Johnson , D. Moser, C. Tulley, and W. Wu, 2016: Multi-Senor Investigation of Rime-Splintering in Tropical Maritime Cumuli. J. Atmos. Sci. , 73 , 2547-2564.
Johnson, A. , S. Lasher-Trapp, A. Bansemer, Z. Ulanowski, and A. Heymsfield, 2014: Difficulties in Early Ice Detection with the Small Ice Detector 2 HIAPER (SID-2H). J. Atmos. Oceanic Technol. , 31 , 1263-75.
Haase, J.S., J. Maldonado-Vargas, F. Rabier, P. Cocquerez, M. Minois, V. Guidard, P. Wyss, and A.V. Johnson , 2012: A Proof-of-concept Balloon-borne Global Positioning System Radio Occultation Profiling Instrument for Polar Studies. Geophys. Res. Lett. , 39 .
Evans et al, 2012: The PRE-Depression Investigation of Cloud-systems in the Tropics (PREDICT) Field Campaign: Perspectives of Early Career Scientists. Bull. Amer. Meteor. Soc. , 93 , 173-87.
Phebus, B.D., A.V. Johnson , B. Mar, B.M. Stone, A. Colaprete, and L.T. Iraci, 2011: Water ice nucleation characteristics of JSC Mars-1 regolith simulant under simulated Martian atmospheric conditions. J. Geophys. Res. , 116 .
Cantrell, W., A. Kostinski, A. Szedlak, and A. Johnson , 2011: Heat of Freezing for Supercooled Water: Measurements at Atmospheric Pressure. J. Phys. Chem. A , 115 , 5729-34.