Mike Sori receives NASA Planetary Science Early Career Award to pursue planetary geophysics
05-18-2023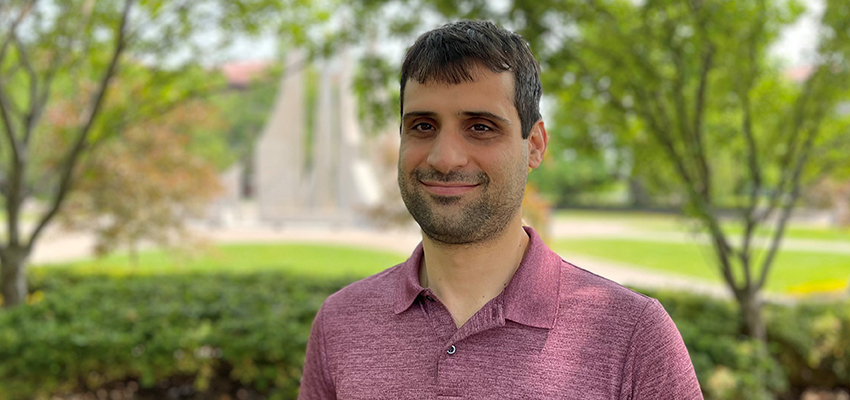 Big dreams of exploring the planets in our Solar System with spacecrafts led Dr. Mike Sori to a career in planetary geophysics. He is an Assistant Professor of the Department of Earth, Atmospheric and Planetary Sciences (EAPS). NASA has rewarded his determination to study the geophysics of our planets with a Planetary Science Early Career Award.
Sori will be using this award to establish an undergraduate research program in planetary geophysics at Purdue University's College of Science.
"The goals of my program will be to conduct research in planetary science using gravity and topography data, but also to strengthen the future of planetary geophysics by introducing new undergraduate students into the field with paid research experiences," he says. "The award will help me accomplish my long-term career goal of advocating planetary geophysics spacecraft missions and research. The award will also support my development as a manager and as a mentor, which will help me accomplish my goal of being a leader in the planetary science community."
The Sori group applies geophysics to the large, solid planets and moons across our Solar System to learn about their interiors, thermal evolution, and surfaces. He has been a professor at Purdue University since Fall 2020. Previous to this, he studied at Duke University where he double majored in math and physics, received his PhD at MIT in planetary science, and was a postdoc at the University of Arizona. Since arriving at Purdue, Sori has expanded the planetary curriculum for undergraduate students and teaches graduate level courses in addition to his research.
"The classes I teach are related to planetary geophysics. The most frequent class I teach is called 'Earth and Planetary Geophysics', which I've co-developed with Professor Jon Delph. We integrate lessons learned from Earth and other planets in our Solar System, which I think makes the course especially valuable for both our Geology & Geophysics and Planetary Science undergraduate majors," he says. "The graduate level courses I've taught are 'Geodynamics' and 'Inner Planets: Mercury and Venus,' which are focused on exploring geophysical concepts for our PhD students at a more advanced level."
Sori says he recognizes that it isn't possible to get these types of high-level awards without the excellent students and postdocs in his research group. He is grateful to his team for helping him achieve this NASA Planetary Science Early Career Award and looks forward to watching the team grow and thrive.
When it comes to next steps for Sori, the sky is the limit. He currently has ongoing research on multiple planets and moons while persistently pursuing additions to this already robust catalogue of planetary endeavors.
"I really love the concept of exploration, and planetary science in our Solar System strikes me as one of the next big areas in humanity's exploration of the Universe," he says. "I'm one of those people who have always liked 'outer space' since I was a little kid and it took me until college to narrow that to planetary science as my desired field of study. I love that we can come up with ideas, and then actually send a spacecraft to another planet to test those ideas on the timescale of a human lifetime."
Sori and other recipients of the NASA Planetary Science Early Career Award will be officially recognized during the 2024 Lunar and Planetary Sciences Conference.
About the Department of Earth, Atmospheric, and Planetary Sciences at Purdue University
The Department of Earth, Atmospheric, and Planetary Sciences (EAPS) combines four of Purdue's most interdisciplinary programs: Geology & Geophysics, Environmental Sciences, Atmospheric Sciences, and Planetary Sciences. EAPS conducts world-class research, educates undergraduate and graduate students, and provides our college, university, state and country with the information necessary to understand the world and universe around us. Our research is globally recognized, our students are highly valued by graduate schools, employers, and our alumni continue to make significant contributions in academia, industry, and federal and state government.
Writer/photo: Cheryl Pierce, Communications Specialist
Contributors: Dr. Mike Sori, Assistant Professor of the Department of Earth, Atmospheric and Planetary Sciences (EAPS)