Researchers from Purdue and Peru team up to study impacts of melting alpine glaciers on mountain groundwater systems
04-27-2023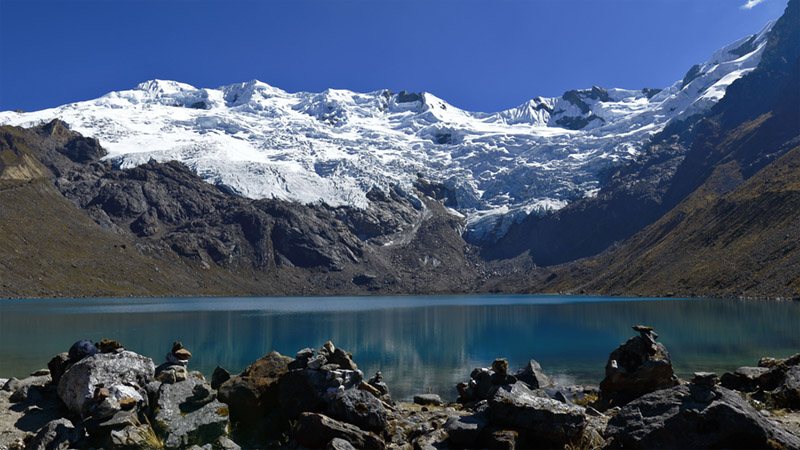 Mountains serve as natural water towers on every continent. Mountains accumulate seasonal snowpack, they host groundwater systems that support mountain communities and ecosystems, and they are home to alpine glaciers. Alpine glaciers around the world are in rapid retreat; however, we do not know how much of the meltwater from the glaciers remains in the mountain groundwater system. 
Some meltwater runs off the land surface and flows down the mountain through streams and rivers where it helps sustain aquatic ecosystems, alpine communities, and even hydropower facilities in places like the Pacific Northwest USA. According to mountain.org, half of humanity relies on water sources that originate from mountains and all the major rivers of the world have some connection to mountains. Studying how these mountain systems are changing in response to glacial retreat is critical to future sustainability for the planet.
Dr. Marty Frisbee, Associate Professor of Purdue Earth, Atmospheric, and Planetary Science (EAPS) signed a commitment letter to collaborate with the Instituto Nacional de Investigación en Glaciares y Ecosistemas de Montaña (National Institute of Glacier and Mountain Ecosystem Research or INAIGEM) to investigate the impacts of alpine glacier retreat on mountain groundwater systems in Peru. He will work closely with INAIGEM scientists.
"INAIGEM is a research institute of the Peruvian Environmental ministry that has the goal of generating technology and applied scientific information on glaciers and mountain ecosystems, taking preventive measures in the context of climate change, with quality and relevance for the population well-being," says Albert Johan Mamani Larico, Environmental Engineer. "Through our regional office in Lima, we are focusing our activities in the central Andes including the Huaytapallana Cordillera, near to Huancayo city, and the Central Cordillera, near to Lima city. These activities involve hydrologic analysis, glacier mass balance and isotope sampling campaigns to track groundwater flow."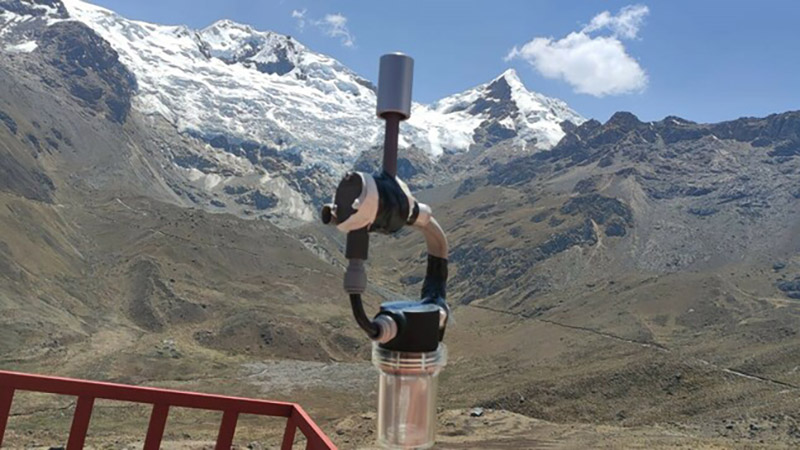 In 2018, Frisbee traveled to Arequipa, Peru to give a presentation on research that he, his students, and Trinity Hamilton, Associate Professor at the University of Minnesota, were completing on glaciers in Glacier National Park, Montana and Mount Hood, Oregon. The event was hosted and organized by undergraduate students at the Universidad Nacional de San Augustín de Arequipa (UNSA) in Arequipa, Peru. Dr. Frisbee met Albert Johan Mamani Larico and other exceptional undergraduate students at the seminar.
 "I was amazed by all the hard work and effort that the undergraduates put into the seminar," says Frisbee. "They brought together a diverse group of researchers and the seminar was very informative. It was a great opportunity to see southern Peru and the hospitality of the people was amazing. Albert and I shared a common interest in alpine glaciers and mountain ecosystems. He and the other students were concerned about the loss of glaciers and what impact it would have on the alpine communities and future water resources in southern Peru. That connection developed into this collaboration. I'm excited to continue to work with Albert, INAIGEM, and the students in Peru."  
Frisbee, who hopes to travel to Peru again in 2024, will provide support on the application of different isotopic techniques to trace glacial meltwater through the mountains, collaborate in the writing of the research articles, support groundwater flow analysis, and review the reliability of the final outputs. In addition, Frisbee, Hamilton, and their students in the U.S. are working with the Peruvian collaborators to organize a future international outreach event on the impacts of melting alpine glaciers on mountain groundwater systems and more broadly to mountainous systems.
"My duties will include helping advise students, providing technical support on groundwater flow models, and supporting isotopic interpretations of data the team will collect in Peru," says Frisbee. "The work is important to livelihoods in Peru. Lima and Arequipa are large cities. Lima has a population of over 8 million people and Arequipa has over 1 million people. Huancayo has over 400,000 people. These cities are located in semiarid to arid settings with short wet seasons. The amounts of groundwater, sources of groundwater recharge, and seasonality of groundwater recharge are poorly quantified. Recharge is how aquifers are replenished. So, if mountain aquifers depended on glacial meltwater as a source of recharge in the past, then what will happen to alpine communities in Peru as we transition to an ice-free future? They want to provide the data that is needed to better manage their alpine water resources today and prepare for changing conditions in the future."
About the Department of Earth, Atmospheric, and Planetary Sciences at Purdue University
The Department of Earth, Atmospheric, and Planetary Sciences (EAPS) combines four of Purdue's most interdisciplinary programs: Geology & Geophysics, Environmental Sciences, Atmospheric Sciences, and Planetary Sciences. EAPS conducts world-class research, educates undergraduate and graduate students, and provides our college, university, state and country with the information necessary to understand the world and universe around us. Our research is globally recognized, our students are highly valued by graduate schools, employers, and our alumni continue to make significant contributions in academia, industry, and federal and state government.
Writer/photo: Cheryl Pierce, Communications Specialist
Contributors: Dr. Marty Frisbee, Associate Professor of Purdue Earth, Atmospheric, and Planetary Science