Prof. Andrew Freed awarded Outstanding Teacher Award
03-28-2023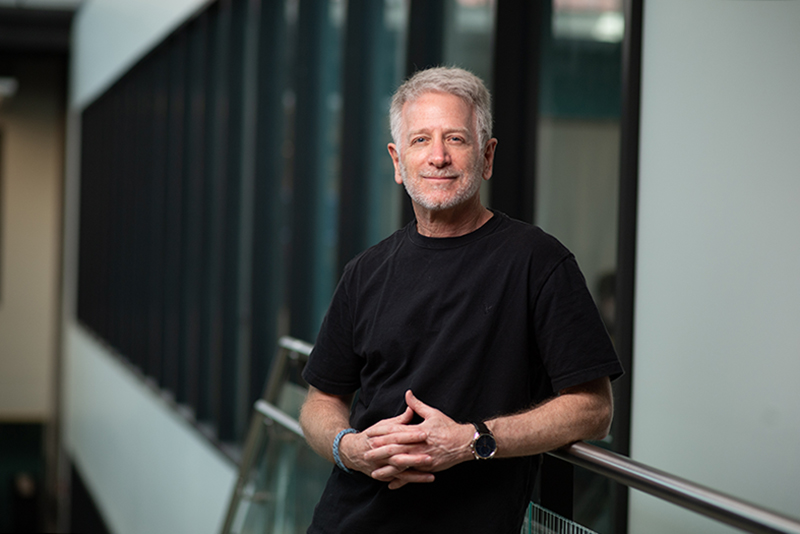 The Purdue Science Student Council (PSSC) has awarded Andrew Freed, Professor with the Purdue Department of Earth, Atmospheric, and Planetary Sciences (EAPS), the 2023 College of Science Outstanding Teacher Award. Freed will be presented with the award on April 13, 2023 at the Purdue University Honors Convocation by Mahesh Gupta, PSSC president and Cell, Molecular, and Developmental Biology student at Purdue University. Freed's name will be added to a plaque of Outstanding Teachers which hangs in the corridor leading to the College of Science Dean suite.
According to the PSSC, the annual College of Science Outstanding Teacher Award is awarded to a professor or lecturer who has shown excellence in teaching through a passion for their field, for the advancement of knowledge, and for the academic growth of their students. Each year students vote for whom they believe is most deserving of the award.
Freed is humble about accepting the award, noting that it tends to go to professors who teach in large lecture halls. But because the award is selected by students, he says the award holds extra meaning.
"I am lucky to come from a department with a wealth of great educators," says Freed. "But my classes are by orders of magnitude the largest, and thus I have much more exposure in these popularity contests than my peers. Thus, the recognition is very meaningful to me, but I have to keep things in perspective. My career has evolved from concentrating on research to emphasizing teaching, where I feel I can have a more lasting impact. I find it a privilege to be part of the most formidable years of these young people's lives. So, for students to tell me that I am making a difference to their education, well that is just a bullseye to my most important career objective."
The awardee is chosen by polling students in the College of Science. The poll is emailed to students in the College of Science newsletter and it was posted to the PSSC Instagram. The poll is very simple; it asks students to nominate a professor from the College of Science for the Outstanding Teacher Award.
"Winners of this award tend to be professors who teach large lecture courses since this is a way to receive the largest number of votes," says Gupta. "I know that Dr. Freed is a recent recipient of Purdue's Murphy Award, the highest undergraduate teaching honor, so I am sure that the Outstanding Teacher Award is well deserved."
About the Department of Earth, Atmospheric, and Planetary Sciences at Purdue University
The Department of Earth, Atmospheric, and Planetary Sciences (EAPS) combines four of Purdue's most interdisciplinary programs: Geology & Geophysics, Environmental Sciences, Atmospheric Sciences, and Planetary Sciences. EAPS conducts world-class research, educates undergraduate and graduate students, and provides our college, university, state and country with the information necessary to understand the world and universe around us. Our research is globally recognized, our students are highly valued by graduate schools, employers, and our alumni continue to make significant contributions in academia, industry, and federal and state government.
Writer: Cheryl Pierce, Communications Specialist
Photo by Purdue Marketing and Communications