Michalski selected as University Faculty Scholar
11-15-2022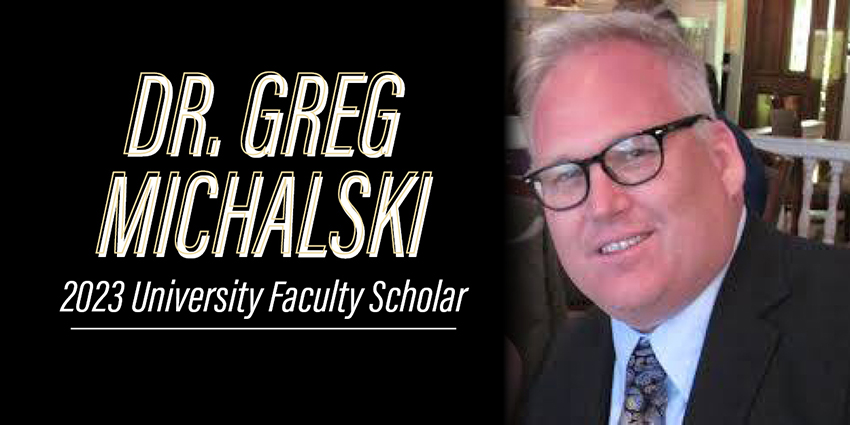 Greg Michalski has been selected as a 2023 University Faculty Scholar by the Office of the Provost.  Michalski is a professor with the Department of Earth, Atmospheric, and Planetary Sciences (EAPS) at Purdue University's College of Science.
The University Faculty Scholars Program recognizes outstanding faculty members who are on an accelerated path for academic distinction. Recipients of this honor have the rank of tenured associate or full professor and have been in that rank for no more than five years. Faculty scholars are nominated by their academic areas, reviewed by a committee in the College of Science, and approved by the provost. Faculty Scholars are appointed for a five-year term and receive an annual $10,000 discretionary allocation to support their research. The program was created in 1998. He will begin his five-year term on July 1, 2023.
"It is quite an honor for my research to be recognized by my world class peers here at Purdue. I am indebted to my graduate and undergraduate students whose hard work, creativity, and desire to make discoveries about our world has led to our success. This award is as much theirs as it is mine…but I will keep the money," says Michalski.
Michalski's research interests focus on stable isotope geochemistry, physical chemistry of isotope fractionations, paleoclimatology, isotopes in atmospheric chemistry, evolution of planetary atmospheres, global nitrogen, sulfur, and carbon cycling, as well as desert paleosols as paleoclimate proxies.  He has been with Purdue University since 2005.
About the Department of Earth, Atmospheric, and Planetary Sciences at Purdue University
The Department of Earth, Atmospheric, and Planetary Sciences (EAPS) combines four of Purdue's most interdisciplinary programs: Geology & Geophysics, Environmental Sciences, Atmospheric Sciences, and Planetary Sciences. EAPS conducts world-class research, educates undergraduate and graduate students, and provides our college, university, state and country with the information necessary to understand the world and universe around us. Our research is globally recognized, our students are highly valued by graduate schools, employers, and our alumni continue to make significant contributions in academia, industry, and federal and state government.
Contributors:
Writer: Cheryl Pierce, Communications Specialist
Photo provided by Professor Greg Michalski