Shepardson awarded the EEIA Howard Michaud Award
11-09-2022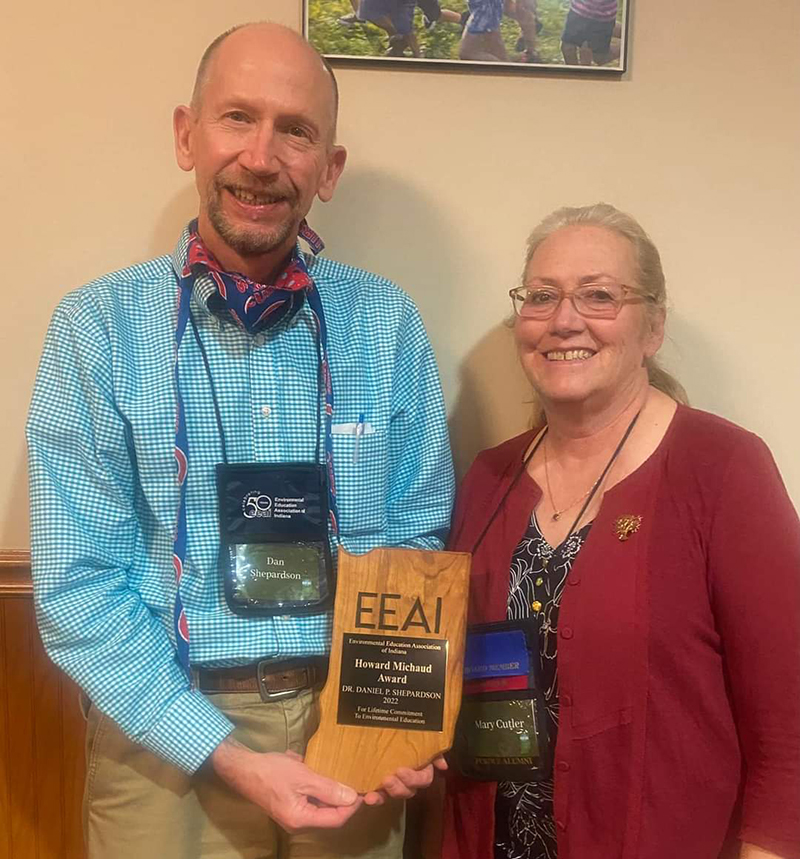 Dr. Dan Shepardson has been awarded the Environmental Education Association of Indiana (EEAI) Howard Michaul Award.  Shepardson is a Professor with the Purdue Department of Earth, Atmospheric, and Planetary Sciences (EAPS).
The Howard Michaud Award is given to an individual in recognition of their long-term devotion, dedication, and contributions to environmental education in the state of Indiana.  The award's namesake, Howard Michaud, began his career as a biology teacher in northeast Indiana, working summers as the first chief naturalist for the Indiana Division of State Parks. He then became a professor of conservation at Purdue University, where he stayed from 1946 to 1971. He was a founding father and officer of many conservation education organizations, including EEAI, and has been recognized in "Leaders of American Conservation" and "Who's Who In America". Michaud was also named the first recipient of the Theodore Roosevelt award for an outstanding career in education in 1993. Howard's contributions to conservation and environmental education have been an inspiration and model for all of those who follow. Shepardson was nominated for this award due to his lifetime commitment in the field of environmental education.
Shepardson was presented the award at the 2022 EEAI Annual Conference.  The award was presented to him by Mary Cutler, Director-At-Large of the Tippecanoe County Park and Recreation Department.
He was recognized for his research on students' conceptions about the environment and global warming and climate change, the development of climate change curricular materials and programs, and his work in teacher professional development in environmental science and climate change education.
Shepardson attributes his success to a team effort.  "Although I am being recognized," he says, "the success of 'my' accomplishments is a result made possible by the many outstanding professionals — informal educators, teachers, faculty and staff at Purdue, and graduate students — who were willing to collaborate with me on numerous funded projects and programs over the years. I could not accomplish these projects without the help, and collaboration, of others."
About the Department of Earth, Atmospheric, and Planetary Sciences at Purdue University
The Department of Earth, Atmospheric, and Planetary Sciences (EAPS) combines four of Purdue's most interdisciplinary programs: Geology & Geophysics, Environmental Sciences, Atmospheric Sciences, and Planetary Sciences. EAPS conducts world-class research, educates undergraduate and graduate students, and provides our college, university, state and country with the information necessary to understand the world and universe around us. Our research is globally recognized, our students are highly valued by graduate schools, employers, and our alumni continue to make significant contributions in academia, industry, and federal and state government.
Writer: Cheryl Pierce, Communications Specialist