Purdue EAPS welcomes new faculty member Yuan Wang
10-27-2022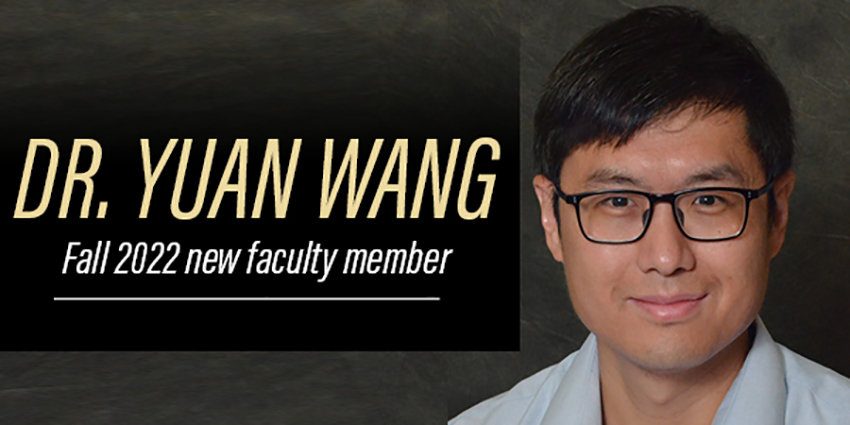 Driven to uncover human impacts on climate
The Department of Earth, Atmospheric, and Planetary Sciences (EAPS) welcomes Dr. Yuan Wang to the faculty as an Associate Professor beginning the Fall semester of 2022. He has background in both atmospheric sciences and computer sciences, so computer models are his major research tools. He will put those skills to use in his research and in training the next generation of Boilermakers about the effects of humans on weather systems and climate.
Prior to joining Purdue, he was a research scientist at the California Institute of Technology and holding an adjunct scientist position at NASA's Jet Propulsion Lab. He says he came to Purdue because of the university's outstanding academic reputation.
His research centers at the understanding of the human impacts on weather systems and climate. Specifically, he conducts research related to aerosol-cloud-precipitation interactions and their climatic implications, aerosol properties and haze formation, cloud microphysics and dynamics, and the assessment of the greenhouse gas/aerosol forcings on the atmosphere, ocean, and cryosphere. He develops and uses hierarchical/multiscale weather and climate models in combination with space-borne and in situ measurements to address the various scientific questions.
"Air pollution and climate change are two major crises faced by the whole society," says Wang. "I hope my research, teaching, and service can help develop mitigation and adaption strategies."
When not conducting research or teaching EAPS 53200 - Atmospheric Physics I, Wang enjoys traveling and playing basketball.  He says his first semester here has gone very well so far and has found his peer group to be very helpful.
Wang received his Ph.D. degree in Atmospheric Sciences from Texas A&M University in 2013. He has published more than 90 research papers in the top-tier journals of atmospheric, environmental and climate sciences, including the leading-author papers on Science, Nature Climate Change, Nature Geosciences, Nature Communications, and PNAS. The total citation on his papers is more than 7,000 with an H-index of 35 (Web of Science).
He has been awarded the AGU James R. Holton Junior Scientist Award in 2016, the International Association of Meteorology and Atmospheric Sciences (IAMAS) Early Career Scientist Medal in 2015, and AGU Future Horizons in Climate Science: Turco Lectureship in 2021. He also currently serves as an Editor of Atmospheric Chemistry and Physics, and an Associate Editor of Journal of Advances in Modeling the Earth System. He also serves in the AMS Committee on Atmospheric Chemistry.
About the Department of Earth, Atmospheric, and Planetary Sciences at Purdue University
The Department of Earth, Atmospheric, and Planetary Sciences (EAPS) combines four of Purdue's most interdisciplinary programs: Geology & Geophysics, Environmental Sciences, Atmospheric Sciences, and Planetary Sciences. EAPS conducts world-class research, educates undergraduate and graduate students, and provides our college, university, state and country with the information necessary to understand the world and universe around us. Our research is globally recognized, our students are highly valued by graduate schools, employers, and our alumni continue to make significant contributions in academia, industry, and federal and state government.