Ilana Bromberg awarded INSGC graduate fellowship
09-12-2022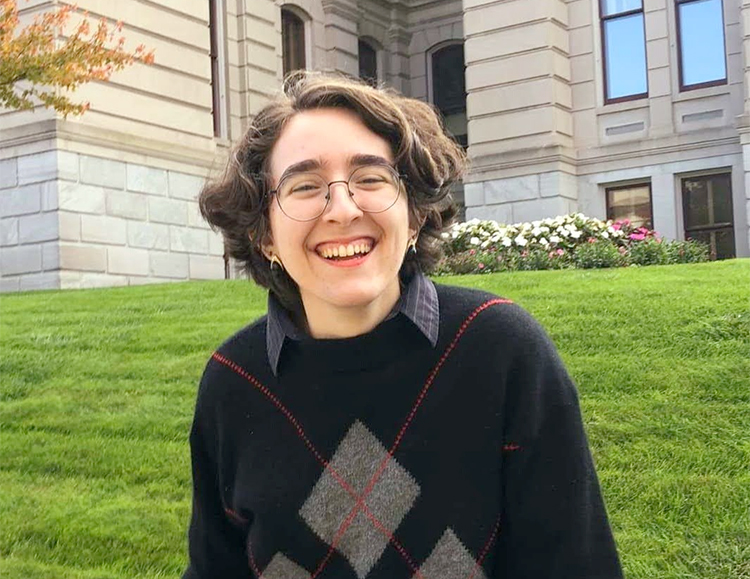 The Indiana Space Grant Consortium (INSGC) has awarded Ilana Bromberg an INSGC Graduate Fellowship.  The INSGC is one of the 52 Consortia that participate in the National Space Grant College and Fellowship Program.  In the state of Indiana, INSGC is a source of NASA-related information, awards and programs.
Bromberg has a duel interest with two departments at Purdue University's College of Science: the Department of Physics and Astronomy and the Department of Earth, Atmospheric, and Planetary Sciences (EAPS).  She is advised by Dr. Lucy Flesch, Senior Associate Dean for Faculty Affairs of the Purdue University College of Science and Professor of Geophysics with the Purdue EAPS.  Bromberg is originally from Long Island, New York and studied at Stony Brook University for her undergraduate degree where she majored in both physics and astronomy.
"I'm just about to start my second year as a PhD student; my main physics interests have always been in applications and interdisciplinary work rather than pure theory, but I didn't really discover geophysics until I was applying to graduate programs," says Bromberg. "My past experience was in high energy physics and plasma physics, which I do still like, but I realized that I was more interested in applications of what I was studying than the pure subject itself. I always really enjoyed earth science so the fact that I could take my physics background and utilize it towards studying tectonic plate movement has been super exciting."
She learned about the INSGC graduate fellowship from her fellow graduate students and her advisor helped with feedback on her application. 
"I found out that I got the award late in the process, so it's been a pleasant surprise.  This is the first time I've been selected for any grants or fellowships (and I've applied to quite a few) so it's definitely super exciting," says Bromberg. "I really want to use the funds towards travel for conferences, as I've never been to one before and am looking forward to networking with other scientists."
As for post graduate school, Bromberg is still unsure what the future holds, but one this is for sure: the sky is the limit.
"I would love a position at a national lab or other science-based government agency, but I am also open to the idea of going into industry, especially an industry focused on renewable energy or something similar," she says. "I'm still pretty early in the program though so a lot can change!"
About the Department of Earth, Atmospheric, and Planetary Sciences at Purdue University
The Department of Earth, Atmospheric, and Planetary Sciences (EAPS) combines four of Purdue's most interdisciplinary programs: Geology & Geophysics, Environmental Sciences, Atmospheric Sciences, and Planetary Sciences. EAPS conducts world-class research, educates undergraduate and graduate students, and provides our college, university, state and country with the information necessary to understand the world and universe around us. Our research is globally recognized, our students are highly valued by graduate schools, employers, and our alumni continue to make significant contributions in academia, industry, and federal and state government.
Writer: Cheryl Pierce
Photo provided by: Ilana Bromberg