EAPS alumnus is co-host and judge on "Richard Hammond's Crazy Contraptions," an overseas gameshow about Rube Goldberg Machines
08-12-2022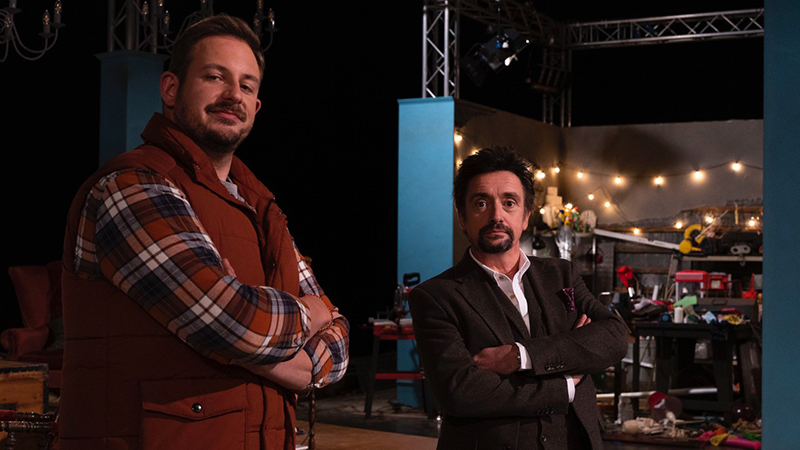 The cascading dominoes fall, causing a bowling ball to drop, which raises a flag that drops the red velvet sheet and reveals Zach Umperovitch, Purdue EAPS alumnus, who is officially the world's leading authority on Rube Goldberg Machines.  Rube Goldberg machines are unnecessarily complicated machines created to perform a specific absurdly simple task.  His expertise in chain reactions, which he honed meticulously as a student in the Rube Goldberg contests at Purdue University, has landed him an exciting co-host and judge position on "Richard Hammond's Crazy Contraptions," a European gameshow airing its first season starting this past spring. 
Richard Hammond, famous for hosting shows like "Top Gear" and "The Grand Tour," is arguably one of the most well-known hosts and presenters in the UK, or possibly worldwide.  He was secured as the co-host after months of deliberate preparations, over a decade in the making.  Zach describes the process, much like one of his intricate machines, as a stair-step progression to perfection.
"I've been involved from the initial conception, having created the idea roughly a decade ago," says Zach. "My production company (Optomen) happened upon my YouTube Channel and loved what they saw, creating that initial spark. I knew their call was different (having been approached numerous times before) as they started raving to me about, well me! I entrusted my show idea with them to do what they do best: pitching show ideas and gaining funding. Ten short months and countless phone calls later, we were Green-Lit by Channel 4 (the UK's largest network) in joint partnership with Discovery+! Originally, I was hired on as the Engineering Producer. However, I quickly became involved in casting, coaching the teams, set design, creating the challenges / picking the mystery objects and scientific principles, and deciding the show's overall format. Finally, with a month before filming would start, I received the call telling me who better to serve as the Judge but the person behind it all! Securing Richard Hammond as Co-Host was the unbelievable final step in this surreal experience."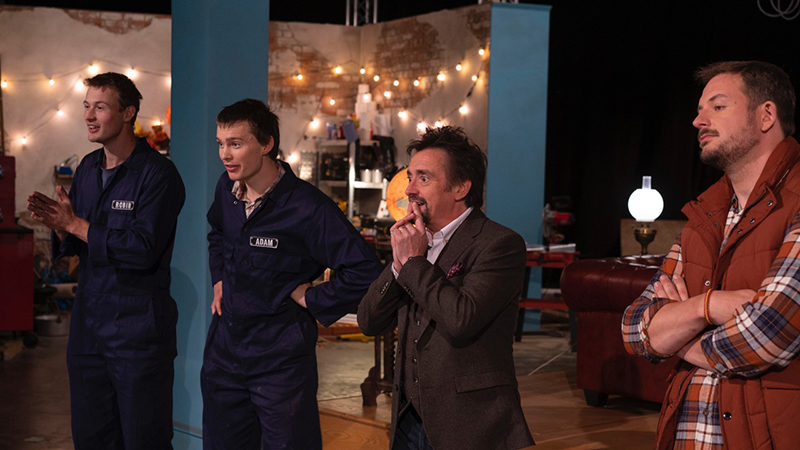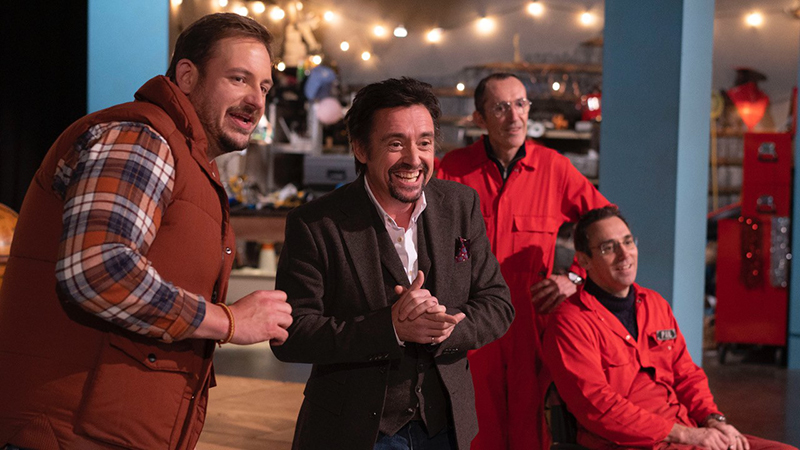 So how does one become the world's leading authority in Rube Goldberg Machines?  Practice.  As a student at Purdue University, Zach was the president of the Purdue Society of Professional Engineers Rube Goldberg Team. The Rube Goldberg Machine Contest originated at Purdue in the 1950s between rivaling engineering fraternities, and eventually rose to national fame in the 1980s when other universities were invited to compete.   This team, led by Zach, became famous for breaking several Guinness World Records, appearances on multiple television shows (including Jimmy Kimmel and "The History Channel's Modern Marvels"), with the team even featured as a DailyDouble "Jeopardy" question.
"My fondest Rube Goldberg memory at Purdue has to be standing on the Elliott main stage in 2012, watching our behemoth of a machine finally work perfectly for the first time ever after 9 months and 5,000 man-hours of work, securing a 2nd Guinness World Record in front of the entire audience. That…. Or the time a fire broke out in our workshop when I was trying to solder something. Both are pretty memorable," says Zach.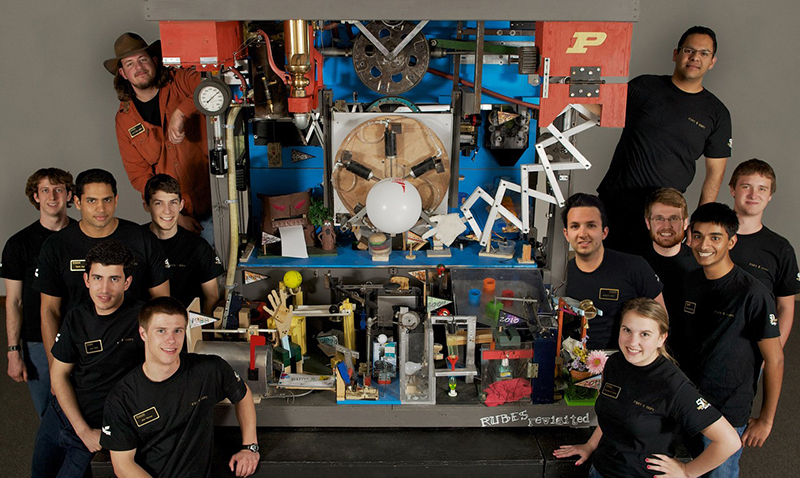 When asked about a Purdue-specific Rube Goldberg machine, Zach said that his alma mater machine would have to incorporate the Boilermaker Express, World's Largest Drum, and the Bell Tower in some grandiose fashion.  "I envision involvement from the full marching band, performing a 'Human Rube Goldberg Machine' display at Ross Ade, causing a football to be punted to 'kick off the machine,' and inevitably culminating with the Drum being struck or Bell Tower is rung," says Zach.  "I'm letting my mind wander now —  this is dangerous!"
"Beyond the sweat, accidental blood, and usual tears that get included during the trial-and-error phase of machine building, I always  include something personally significant in each build," he says. When asked for an example, "It's less fun if I directly share what each is, so try and spot them yourself! It could be as simple as my name hidden amongst the build, others it's a special, random, out-of-place object."
Working with the contestants and guiding their machine designs on the massive and intricate set of "Richard Hammond's Crazy Contraptions," Zach says he sees a surprisingly simple uniformity in the most successful builds: reliability.
"Reliability is the key to success. Leaving enough time to check for errors, finding out where Murphy's Law may still be lurking within the machine, and ensuring each piece of the machine works properly before moving onto the next stage," he says. "Easily what separates the winners versus the runners-up. A perfect example you'll see in our show is where a team frequently finished early but decided never to test their machines. Just wait and see what happened to them…"
Planning the show, much like a Rube Goldberg machine, involved several steps honed to perfection in order to craft an efficient game-plan for filming.   "Originally, I wrote a list of 87 challenge ideas, which our Exec Producer, Director, and I narrowed down and refined. From there, I paired our casted teams per episode based on equal build confidence, and chose a suitable challenge to match their creativity level. The Scientific Principle & Mystery Object selections were often tweaked days before shooting. The beautiful part of our design was that once everything was setup for the first episode, it was basically cleanup and reset with new props per episode which made filming each week incredibly smooth."
The cast and crew of the show is a tight-knit group that shares a devotion to all things mechanical.  Even though they finished filming the first season over six months ago, they have an extremely active group chat via WhatsApp where they keep in touch.
"It sounds cliche, but you develop that familial bound working that closely with people for nearly a year. Every single person on our crew, from our Executive Producer, down to our runners were as phenomenal as humanly possible. The crews devotion was immeasurable, given the shear electricity felt in the room when a team's machine had a flawless run. Richard and I quickly developed a true friendship, as he's even quirkier than I am! His natural love of Rube Goldberg Machine plus mechanical design caused us to hit it off from day one. On a week's break from filming, we took a holiday together to visit his favorite UK destination to do a bit of hiking.  I was able to teach him quite a bit of geology that excursion which he found fascinating!"
Zach's first love might be Rube Goldberg machines, but he's also always had a fondness for geology.  He was a teaching assistant while at Purdue in the department, then known as EAS (planetary science had not yet been added) and even founded the Purdue University Geological Society (PUGS) during his undergraduate years, serving as President through his graduate studies.  His advice to his younger self was that "to join the EAPS department much sooner. I spent nearly 3 years bouncing around the various engineering disciplines before falling in love with the Earth Science curriculum," he says.
So where can someone in the United States watch "Richard Hammond's Crazy Contraptions?" Currently it is streaming on ALL4 which anyone with an account can access the show. The show is set to release on Discovery+ August 7th, 2022 worldwide (under the new name "Contraption Masters"), where anyone with an Amazon Prime account can check it out for free! Viewers can also catch up with Zach on his YouTube, Instagram, and TikTok channels.  With permission from the production crew, he often posts behind-the-scenes footage, cookies, sets, and intel to help tide people over until a worldwide release. 
While not on the set, Zach is busy with other Rube Goldberg-adjacent projects, proving that if a person is passionate enough about something, they can carve a creative career from it.  Quite literally, "if you build it, they will come."
"At the moment, I am working with Rube Goldberg's granddaughter on writing and creating the official 'How-To-Build Rube Goldberg Machines'  book, featuring 24 brand new machines I've custom designed to allow anyone to build them at home! The goal is to teach the unique potential of their everyday objects just lying around them and transform into these fantastic machines. The book is geared towards 9+ year olds, offering nearly all ages the potential to learn to think outside the box," he says.
Beyond the book, people can find Zach's work in an incredible fire and ice-based machine for Hearthstone Blizzard. In addition to his own show, he serves as a Consulting Producer for the FOX TV show: Domino Masters airing in the U.S.  He also designed this mushroom-themed animated Rube Goldberg Machine featured at the introduction of Sonic the Hedgehog 2. And in Fall 2022, he will be debuting another fire-based machine designed for a pharmaceutical commercial that he describes as "the most artistically stunning machine I've ever built.
Where to follow Zach:
Youtube: Zach's Contraptions 
Instagram: zach_umperovitch
TikTok: Zach Umperovitch @ZachsContraptions
My Website: https://rubegoldbergmachineexpert.com/
Photo credits: Optomen Television for set photos, and the Purdue Exponent, for Purdue photos.
Written by: Cheryl Pierce, Communications Specialist
About the Department of Earth, Atmospheric, and Planetary Sciences at Purdue University
The Department of Earth, Atmospheric, and Planetary Sciences (EAPS) combines four of Purdue's most interdisciplinary programs: Geology & Geophysics, Environmental Sciences, Atmospheric Sciences, and Planetary Sciences. EAPS conducts world-class research in the Earth and Planetary sciences, educates undergraduate and graduate students, and provides our college, university, state and country with the information necessary to understand the world and universe around us. Our research is globally recognized, our students are highly valued by graduate schools, employers, and our alumni continue to make significant contributions in academia, industry, and federal and state government.