Leading 'instrumental' research on Mars: Purdue EAPS welcomes new faculty member Roger Wiens
06-17-2022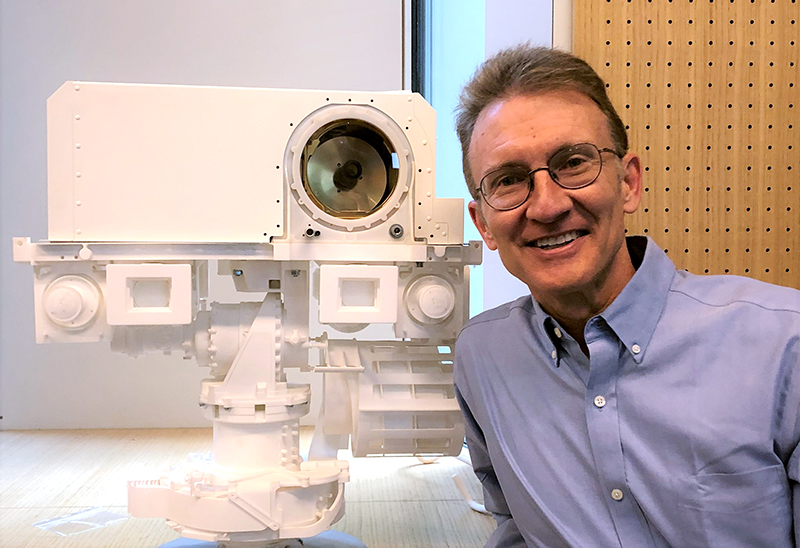 The Purdue University Department of Earth, Atmospheric, and Planetary Sciences (EAPS) welcomes Professor Roger Wiens to a growing list of faculty who passionately pursue planetary science.  Wiens brings with him an extensive list of accomplishments which he acquired while working for NASA at the Los Alamos National Laboratory.
"I have developed two instruments for Mars rovers, starting with ChemCam, which projects a laser beam onto the rocks and soils around the rover to determine their elemental composition," says Wiens. "After ChemCam landed on Mars in 2012 my team started developing SuperCam, which adds two mineral techniques. I run a large team in Europe and North America that uses SuperCam to explore the terrain around the rover. Some of my time is on operations - picking rock targets, checking the data that comes back, and keeping tabs on the health of the instrument - but I also organize teams for calibration and interpretation of the data, give talks, and write papers. I'm also interested in inventing new instruments for upcoming missions to Mars and other planets."
As an instrument leader for the Mars Perseverance rover and Curiosity rover, Wiens' team gets ample opportunities to control these robotic Martian explorers.  The remote instruments he helped build are used more often than some of the more specialized ones mounted on the arm or inside the rover.
"We get to operate almost every day, whether the rover is driving to a new location or doing intensive investigation of a rock outcrop," he says. "My role as instrument leader involves organizing the team, both for the operations and for the science investigations. I negotiate with other instrument leaders on the rover, as we share observation time and work together on discoveries that involve multiple instruments."
Wiens says that one of the exciting aspects of coming to Purdue is meeting and interacting with many experts in various subjects. He believes that cross-disciplinary studies, like Mars instrument development and exploration, have the greatest opportunity for breakthroughs in technology and science. 
When asked about the most rewarding aspects of his research, Wiens says, "there are those 'Aha!' moments when we come across a new rock or discovery on Mars. It is especially rewarding if I am on operations that day and am the one to spot the special rock and set it up for analysis. But I also love inspiring others by giving talks about NASA's exploration, and I like the community aspect of these big projects. The collective wisdom from a group of people is so much richer (and more fun!) than doing science on an individual basis."
EAPS students will benefit from Wiens' extensive first-hand knowledge of his favorite subjects: instrumentation and exploration. This fall, Wiens will teach a seminar course on Mars exploration and will also develop a course for the spring covering instrumentation for planetary science.
"Purdue has an exciting and growing Planetary Science major-almost the only one in the Midwest," says Wiens. "Most planetary science institutions are in the southwestern US, which by the way happens to look more like Mars. Having grown up in the Midwest, early in my career I dreamed of returning to the area and giving students here the opportunity become involved in space exploration."
Wiens, originally from Minnesota, obtained his bachelor's degree from Wheaton College and PhD from the University of Minnesota. He studied physics and minored in geology in graduate school.
"My PhD research was on a set of novel meteorites that originated on Mars, and I studied the rare gases trapped in them, which provided new insights into the Mars atmosphere," says Wiens. "It was the first time anyone had studied a sample of another planet's atmosphere in a terrestrial lab. I went to a postdoctoral position at Scripps Institution of Oceanography on the beach in San Diego, CA where I set up instrumentation and studied gases from the Earth's interior. At that point, Caltech hired me to develop a NASA mission to collect and return samples of solar wind. I have been working on NASA missions and instrumentation ever since, mostly at Los Alamos National Laboratory."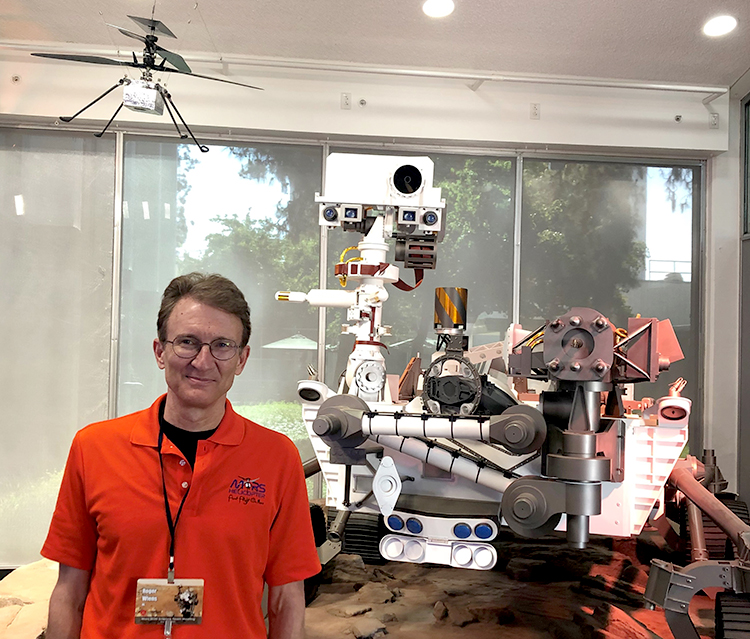 About the Department of Earth, Atmospheric, and Planetary Sciences at Purdue University
The Department of Earth, Atmospheric, and Planetary Sciences (EAPS) combines four of Purdue's most interdisciplinary programs: Geology & Geophysics, Environmental Sciences, Atmospheric Sciences, and Planetary Sciences. EAPS conducts worldclass research in the Earth and Planetary sciences, educates undergraduate and graduate students, and provides our college, university, state and country with the information necessary to understand the world and universe around us. Our research is globally recognized, our students are highly valued by graduate schools, employers, and our alumni continue to make significant contributions in academia, industry, and federal and state government.
 Writer: Cheryl Pierce
Photos provided by Prof. Roger Wiens.