Dr. Bin Wang awarded Distinguished Science Alumni by Purdue University
04-18-2022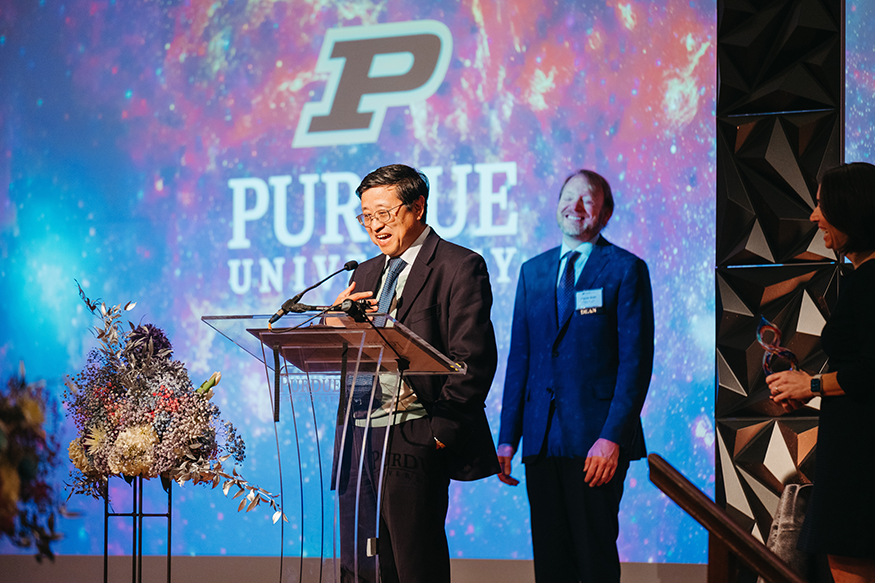 Dr Bin Wang speaks at the Annual Purdue University College of Science Awards after having been given the Distinguished Science Alumni Award.  Dean of Science Patrick Wolfe and Senior Associate Dean for Faculty Affairs Lucy Flesch, pictured to the right, presented the award.  Photo by kirgisscreative.com.
On April 8, 2022, The Purdue University College of Science Awarded Dr. Bin Wang the Distinguished Science Alumni Wang is an alumnus of Purdue Earth, Atmospheric, and Planetary Sciences (EAPS) and earned his  Ph.D. in 1993 in Earth Science.  Bin is currently the Director of R&D at TGS.
The Distinguished Science Alumni Award is given to someone who provides significant leadership within her or his chosen field. The honoree has noteworthy professional accomplishments that reflect favorably on her or his profession, College of Science, Purdue University and society. 
"In the ever-evolving world that we find ourselves in today, as a college, we stay committed to the persistent pursuit of the mathematical and scientific knowledge that forms the very foundation of innovation," said Dr. Patrick Wolfe, Frederick L. Hovde Dean of Science for Purdue University.  "This persistent pursuit fuels our students, faculty, and alumni taking giant leaps into new frontiers.  Our Distinguished Science Awardees are honored as shining examples of those giant leaps. Through their ideas, they move the world forward.  Through their accomplishments, they grow the college's reputation and reach. And through their continued engagement with the college, they motivate the next generations of Purdue Science students and alumni."
Bin Wang holds Bachelor's and Master's degrees in electrical engineering from Beijing University in China and a PhD in geophysics from Purdue University.  He also obtained an MBA from Southern Methodist University (SMU) in Dallas. Besides being a dedicated volunteer, he is a significant technical contributor and an excellent mentor.
Bin started his geophysical career with Mobil Oil in 1993. Along with his mentor, Keh Pann, Bin is one of the first geophysicists who worked on migration-based reflection tomography. This pioneer work was recognized by SEG as outstanding papers in 1994 and 1995. Bin and Keh were also among the first in the seismic industry to incorporate the now well-known matching-pursuit concept from the electrical-engineering discipline.
In 2007, Bin joined TGS as a research manager, and he is now director of research and development. At TGS, he has continued his work on subsalt imaging.  Many of his contributions to subsalt imaging have gained industry attention and have been adopted by other companies.  He led a team that developed interactive imaging for salt-scenario testing in 2008, winning special recognition after being presented at EAGE.
"My best memory of Purdue was the fun time spent at research lab with the fellow graduate students and friends including Carl Daudt, JohnMariano,Andrew Feustel, Yujun Du and Guozhu Zhao," says Bin.