River ecology internship prepares EAPS undergrad for geoscience success
08-24-2021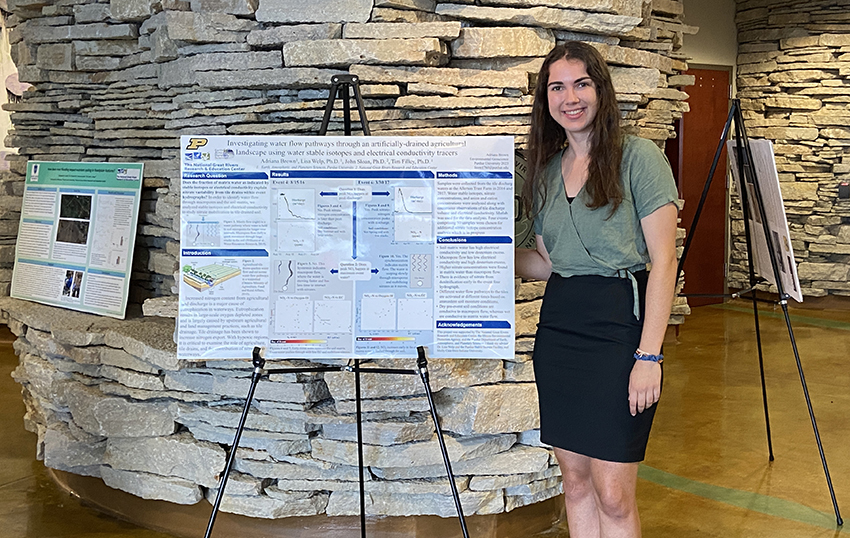 Adriana Brown, pictured above with her NGRREC poster, presented her findings at the annual Intern Symposium.
The National Great Rivers Research and Education Center (NGRREC) offers internships to undergraduates that give professional experience with projects spanning from ecological research, education, outreach, and policy.  Purdue University Department of Earth, Atmospheric, and Planetary Sciences (EAPS) undergraduate Adriana Brown was able to carry out an NGRREC internship this summer locally in the Purdue Stable Isotope Facility.
"As a student in environmental geoscience, this internship provided knowledge about how stable isotopes can be used to identify water sources and other information about biogeochemical processes, which is useful in my pursuit of a geoscience career to study the changing environment and climate," says Brown. "I also gained knowledge about the process of scientific research and how to process and analyze data."
The Stable Isotope Facility, ran by Dr. Lisa Welp, studies the exchange of both water and carbon between the land surface and atmosphere and the intersection of these cycles in the terrestrial biosphere.
"This summer I worked with Dr. Welp and the NGRREC to investigate water flow pathways in tile drained soil," says Brown. "We used electrical conductivity tracers to examine tile train discharge samples and study nitrate variability. The larger context of the project includes better understanding the causes of dead zones in waterways. This project was part of the Critical Interface Network, which is a NSF funded multi-institutional research group focused on studying how sediments, carbon, water, and nutrients move in the critical zone."
With this internship, Brown learned how to conduct water stable isotope analysis and nitrogen isotope analysis.  Another aspect of the internship was to analyze data on water stable isotopes, electrical conductivity, nitrate concentrations, discharge, and other factors to study the dynamics of tile drain response to different precipitation events.  At the end of the internship, she presented her findings at the annual Intern Symposium for the NGRREC.
The NGRREC offers a variety of internships throughout the year to undergraduate students.  To learn more about the various internships offered by the NGRREC, check here. 
 Writer: Cheryl Pierce