Dr. Elita Li joins the EAPS faculty for Fall 2021
08-12-2021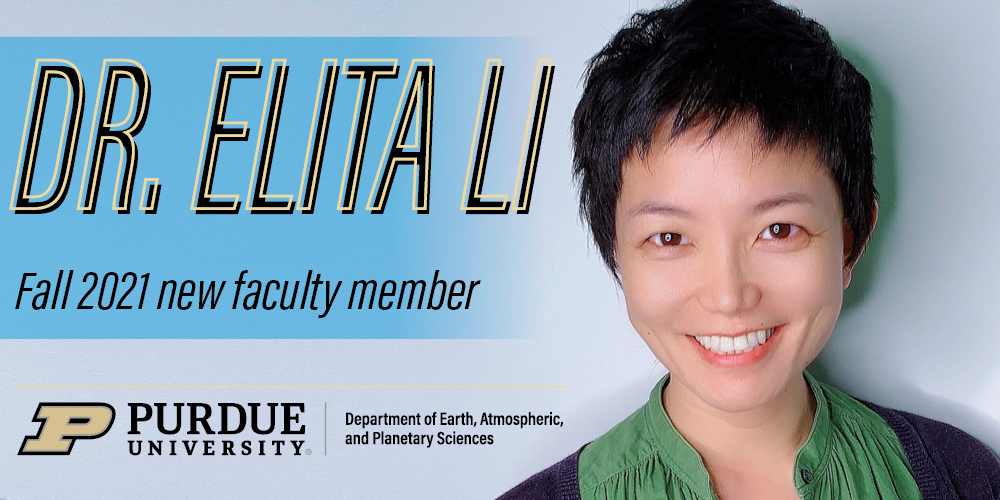 The department of Earth, Atmospheric, and Planetary Sciences at Purdue University welcomes Dr. Elita Li as a new faculty member for the Fall 2021 semester.  Li comes to the Purdue campus in West Lafayette from the National University of Singapore (NUS) where she was an assistant professor in the Department of Civil and Environmental Engineering.
At NUS, Li's research group works on geophysical applications in urban environments for smart and sustainable city developments. By integrating ambient noise imaging and distributed sensor networks, the research efforts are focused on the development of a noninvasive, high-resolution, and real-time listening system to solve pressing urban challenges in space, water, and society.
"The opportunity at Purdue is unique since it positions me right at the intersection between earth science and society, calling for integration between data-centric sciences and physics-centric domain expertise," says Li. "As my research zooms in on sustainability across the energy cycle, I aim to find most efficient solutions for energy exploration, energy utilization, and carbon mitigation through close interdisciplinary collaborations. I look forward to the challenges, opportunities, and innovations inspired by Purdue's vibrant research environment."
Li performed her postdoctoral research at Massachusetts Institute of Technology, holding a joint position in the Earth Resources Laboratory and the Department of Mathematics. She received her Ph.D. and M.S. degrees in Geophysics from Stanford University in 2014 and 2010, respectively. She received her bachelor's degree in Information and Computational Science from China University of Petroleom, Beijing in 2008. LI was the recipient of the J. Clarence Karcher Award from SEG in 2018.
Writer: Cheryl Pierce