Springs that discharge a large proportion of old groundwater are more resistant to the effects of the drought
06-11-2021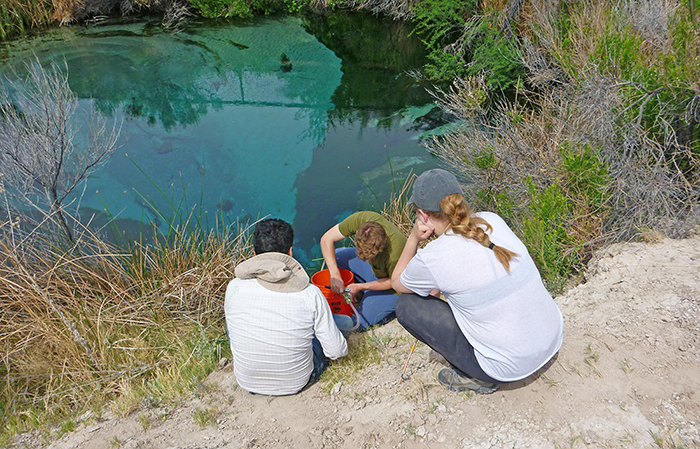 Natural springs are biodiversity hotspots for the environment and wildlife, especially in the water-stressed Southwest. They allow fish to thrive in an otherwise inhospitable desert environment. Their crenic vegetation (vegetation surrounding the spring) provides nesting habitat for some bird species, habitat for species of reptiles and amphibians, and may be important for small mammals such as voles. A question that is increasingly important to environmentalists is, "why do some springs thrive over time while others dry up?" 
For example, some springs have persisted in the Death Valley region of California and Nevada over long geologic time despite fluctuations in the climate while other springs have desiccated. When springs desiccate, they often leave behind paleodeposits that can be studied today to understand when and how they dried. Given the recent severe droughts in California, it is increasingly important to understand these groundwater features and develop plans to help them thrive.
Researchers at Purdue University's Department of Earth, Atmospheric, and Planetary Sciences (EAPS), including Dr. Zach Meyers, recent Ph.D. alumnus, and his advisor, Dr. Marty Frisbee, have studied data from the groundwater-dependent ecosystems of the Owens Valley, CA region including the eastern Sierra Nevada and White Mountains.  Their findings, recently published in Environmental Research Letters, show that springs which discharge a large amount of older groundwater are more likely to persist over time than those that discharge younger groundwater.  Because of this discovery, they have learned that older groundwater provides some buffering to the effects of droughts.  Other collaborators in the study are Dr. Laura Rademacher, Professor at the University of the Pacific, and Noah Stewart-Maddow, former M.S. alumnus in Dr. Frisbee's lab at Purdue and now employed at the Idaho Water Resources Research Institute.
Meyers' research developed out of a term project for Dr. Melba Crawford's remote sensing class at Purdue University. One of the goals of Zach's term project was to investigate how groundwater residence times correlate with remotely sensed data describing vegetation health, namely NDVI data. What started as a novel term project turned into a very interesting and thought-provoking chapter in Meyers' dissertation. 
According to Frisbee, "one of our hypotheses was: springs which discharge a large proportion of old groundwater (groundwater older than a few hundred years) are more resistant to the effects of climate change. This is a very tricky relationship to quantify for a number of reasons. However, Zach thought that crenic flora (vegetation that grows around springs) could be a great way to test the hypothesis on shorter time scales associated with severe droughts. In the southern Great Basin, springs are often surrounded by dense vegetation and the abundance of vegetation decreases dramatically moving away from the spring. So, Zach downloaded NDVI for several springs in the study area through the record 2011-2017 California drought and compared those metrics to groundwater residence times. He did, in fact, find relationships between groundwater residence time and NDVI. His research is one of the first to show, using field data, that springs that discharge a large proportion of old groundwater were more resistant to the effects of the drought, while the springs discharging a larger proportion of young groundwater showed increased effects of drying and desiccation."
The team was able to study the effects of groundwater by using data to test different hypotheses and conceptual models. According to Frisbee, there are several competing conceptual models on whether or not groundwater residence time is an important control on ecological resistance and resilience. This is important because it allows us to test multiple competing hypotheses and improve scientific understanding on how these desert spring systems work. This is critical for their future management.
This research is part of a much larger, NSF-funded project which aims to quantify the processes controlling the permanence or vulnerability of desert springs in the southern Great Basin of the U.S., a large study area that stretches from the Spring Mountains (located just west of Las Vegas, NV) to the crest of the eastern Sierra Nevada in CA and north to Bishop, CA.  According to Frisbee, this type of research is especially important given the severity and persistence of drought conditions in the western U.S.
"California is currently preparing for another severe drought as conditions worsen in the state. Some scientists fear that this is actually part of a larger, more persistent megadrought," says Frisbee. "Gov. Newsome has declared a drought emergency for most of California. Looking back, the 2011-2017 drought had an incredible impact on the hydrology of the state and region. Some effects have immediate consequences and others do not – their effect may not be felt until much later. For example, the drought and excessive heat killed trees, providing fuel for severe forest fires that followed the drought, and mud slides that followed the fires. However, the effects that we don't see immediately, also called legacy effects, may be just as severe. For example, decreases in recharge affect groundwater systems in a number of ways. They may reduce groundwater storage and change flowpath distributions that support springs, which can ultimately reduce flow rates from springs. These responses may be gradual, but they may have a big impact on spring persistence and spring biodiversity. The health of these springs also tells us something about the health of the aquifers which support them."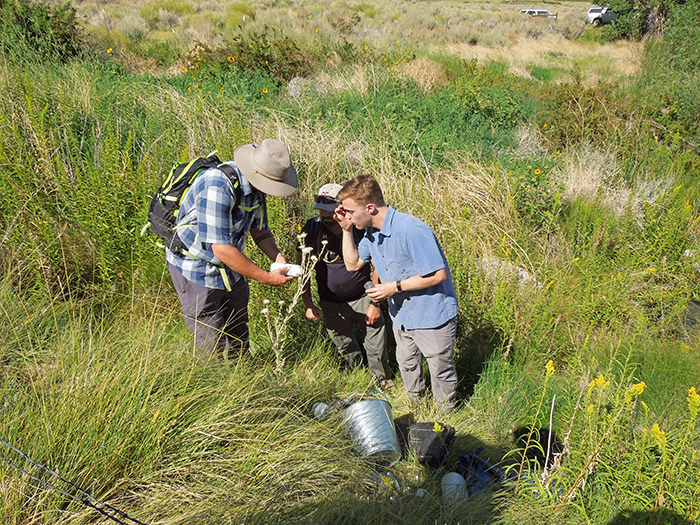 Written by: Cheryl Pierce
Contributor: Dr. Marty Frisbee.