EAPS student Sneha Nachimuthu earns a second SULI summer internship
03-30-2021
Writer(s): Cheryl Pierce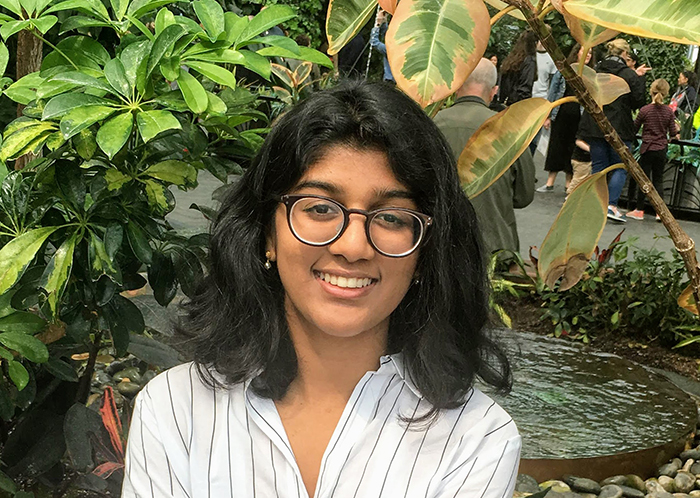 One of the best ways for students to gain valuable career knowledge in their prospective field is to take part in an internship.  But during the pandemic, internships became tricky waters to navigate.  For example, many in-person internships were outright canceled last year due to the rapidly spreading COVID-19 virus.  The companies that weren't canceling were forced to figure out if the internship could be executed remotely or if they could be carried out on site.
Earth, Atmospheric, and Planetary Sciences (EAPS) at Purdue University undergraduate student Sneha Nachimuthu had applied for and received an internship with Science Undergraduate Laboratory Internships (SULI) last summer. Argonne National Laboratory was quick to revamp the process to allow for remote internship capabilities. Sneha enjoyed the internship with SULI so much that she applied for and received another internship with them this summer.  During a typical year, SULI internships occur at locations across the country through National Laboratories. Sneha applied for the Argonne National Laboratory facility outside of Chicago, Illinois. Although SULI does offer some in-person opportunities this summer, Sneha will again be permitted to carry out her work remotely.
According to Sneha, "internships like these let me see if I could do this work as a full-time career, and help me shape my plans for the future. I am also interested in working for the government in the future so taking this internship specifically allows me to get an inside look at what that's like as well as allows me to meet people and build connections with those who went down that path."
Sneha found out about the SULI internships by attending the "First Look @ Argonne Program" in November of 2019.  During this program, they explained how to apply for Argonne's summer research opportunities.  Students can also go to the SULI online portal to  learn about the program or to the U.S. Department of Energy website.
Last year, Sneha worked on a team of twelve students on the Responsible Innovations for Bioplastics in the Environment Team.  All twelve students had differing backgrounds and areas of study.  Sneha is currently a junior majoring is Environmental Geoscience and minoring in Environmental Policy and Politics. Her interests within that sphere focus on water resources. 
"We were at the beginnings of a project that is eventually supposed to lead to a database to house information on plastics and provide a risk assessment for different types of plastics in different environments that could be used by plastics stakeholders, "says Sneha. "I specifically looked at plastics in freshwater environments making sure to look at both microplastics and macroplastics. During that time, I collected data from the literature discussed how to organize/extract the data with the team, met with scientists in related fields, and applied to talk at two conferences which I eventually presented at during this past fall semester."
This upcoming summer, Sneha will likely continue her research that she began last year with SULI.  
"I will probably get to do a more in-depth analysis of the ideas I had last summer," she explains. "Since last summer was more about coming up with ideas and concepts to start to shape the project, this coming summer will probably be more of getting into the nitty-gritty and using GIS programs or continuing to create a program to extract relevant information from the literature and store it in a database and or the beginnings of trying to build the conceptual model. Though, this all depends on how much work was done on the project during the school year."
What is one of the secrets to getting an internship not once but twice?  "Being able to clearly explain your enthusiasm for the intended internship, says Sneha, "supported by skills learned in the classroom or during research." Sneha took part in research for four semesters with EAPS Professor Marty Frisbee.  Undergraduate research projects can take place at any time during the year.  Students can find out about research opportunities from their professors, advisors, or through the Purdue Office of Undergraduate Research.
"The first year/semester-and-a-half I worked with two other undergraduate students.  We used a model called Tracer LPM to use measured tritium concentrations in waters taken from the Death Valley Region and Shades State Park to estimate the age of the waters or the time of last groundwater recharge," says Sneha.  "After that project, I started specifically looking at springs in Death Valley using data from multiple collection dates through 2016. A range of different tracers and isotopes were measured and general chemistry and other analyses were performed. Using this data, I have since worked on analyzing how these different variables have changed over time and have read some of the literature, discussed with Dr. Frisbee, and thought about how certain variables in these two groups of springs have changed over time and what that means for the spring system in the area.  Specifically, how the Furnace Creek springs are receiving water and if the water is coming from the Ash Meadow springs on the other side of the Funeral Mountains."
Professor Frisbee hopes to be able to soon publish about this research and Sneha will be the lead author or co-author on the publication. He says that Sneha indicated early on to her previous advisor, Alicia Mohundro, that she was interested in hydrology and made the introduction to Professor Frisbee.
"She knew early on that she wanted to pursue hydrology as a career and I'm excited to be a part of her academic journey," says Professor Frisbee. "Sneha has worked as an undergraduate researcher in my research group for four semesters. She is highly motivated and her current research will be submitted for publication this semester or over the summer. This research sheds more light on the possible hydrogeologic connection between springs in the Ash Meadows Wildlife Refuge and springs in Furnace Creek, Death Valley National Park. Sneha's acceptance of a second SULI Internship is quite an accomplishment at such an early stage in her career."
Sneha says she has found support within the EAPS department that has helped her reach her goals.
"People in the department are very excited about applying to internships and seeing students do well," she says. "There have been multiple sessions led by faculty and graduate students talking students through the process of applying for jobs and internships as well as for graduate school. The atmosphere for me has never felt competitive with other students, instead, it has allowed me to focus on the best that I can do and bettering myself in that way."
 After graduation, Sneha plans to pursue a Master's degree in hydrogeology, hydrology, or related field.  The experience she gained from research and internships will have helped her form a solid foundation for her next giant leap.