Graduating during a pandemic: spotlight on Robert Wayne Swisher
05-29-2020
Writer(s): Cheryl Pierce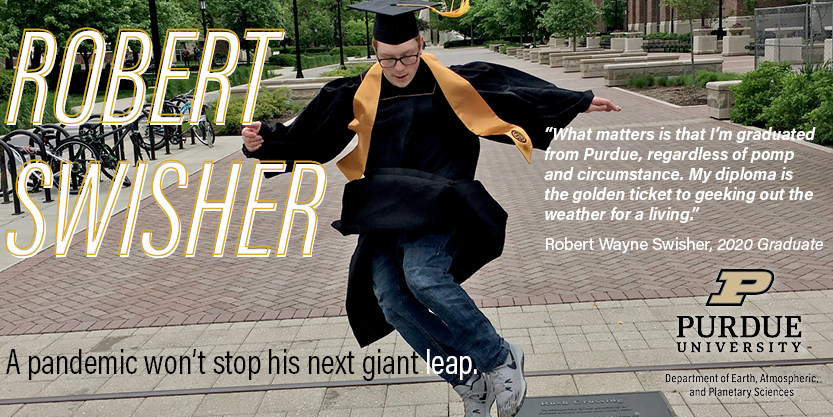 The graduating class of 2020 will now be known as the graduates of COVID-19.  Typically, graduates would be having face to face interviews with their future employers, mingling within a huge hall full of proud family members at Commencement, hanging out with the friends they've made during college, and taking their last classes lecture halls.  Instead, they are taking Zoom meetings for classes and having virtual commencements while adhering to the new norm of social distancing.
Robert Wayne Swisher is a 2020 graduate of the College of Science at Purdue University.  As with other Boilermakers, he adapted to the challenge ahead of him.  Instead of a packed commencement ceremony, he received the graduation box from the Purdue.  When asked if he felt robbed or a sense of loss because his last semester transitioned into a remote learning situation, he said, "I was taken by surprise that my final semester was being robbed of opportunities such as networking, career planning, and celebrating the end to four years after all the blood, sweat, and tears shed. In hindsight though, what matters is that I'm graduated from Purdue, regardless of pomp and circumstance. My name is on the diploma next to Bachelor of Science.  My diploma is the golden ticket to geeking out the weather for a living. A fiery passion like that could never be taken away by some non-living pathogen"
Swisher was born and raised in Lafayette, IN and went to Lafayette Jefferson High School.  He says his family "bleeds black and gold," so attending Purdue was a dream come true.  Not only did he know where he wanted to go to college, he knew from a very early age exactly what he'd like to study. 
"Growing up, I became ecstatic about thunderstorms, tornadoes, hurricanes, lightning, and anything Mother Nature can concoct in her earthly cauldron," says Swisher. "Living on the Midwestern plains of Indiana solidified my pursuit with powerful summer storms and brutal winters providing countless experiences. I remember booting up WeatherBug on my dad's computer just to scroll through weather photos in shear awe and just like that, at five years old, I knew exactly what I wanted to do."
He studied Atmospheric Science/Meteorology in the Department of Earth, Atmospheric, and Planetary Sciences.  He plans to get an operational meteorology position that will lead to a career at the National Weather Service or Storm Prediction Center.
During his time at Purdue, he was a member of the Purdue University Meteorological Association for all four years. They specialize in educational outreach programs for atmospheric science and providing opportunities for research, forecasting, and other fields for club members.  Even though COVID-19 changed his plans for his last semester, Swisher is grateful for the experiences he gained at Purdue University. 
"I'd like to take a moment and give my undying gratitude for Purdue accepting my admission and subjecting me to a four-year long roller coaster of experiences," he said. "The highlights of my undergraduate journey include a semester exchange to Australia, a spring break trip to Iceland, a Purdue-IU basketball game, understanding atmospheric thermodynamics/dynamics for once, and creating friendships along the way. I would never take this for granted."
As a graduating senior, Swisher would like to offer some advice to incoming freshmen, including his sister who will study Planetary Science.  "Do not be discouraged by the pandemic switching up your forthcoming college education and experiences," he says.  "Do what you have to do, whether it is studying or making friends adhering to social distancing. I could not imagine how my undergrad would have turned out if I was in your shoes. Please be safe and my wishful thinking tells me that this will all be over soon. There's nothing more memorable than your college days, so please make the best of it! Good luck!"
Graduating during a pandemic may indicate a slowed job market or, at the very least, a more difficult interviewing process with prospective employers.  Swisher has plans to fill this gap in space with other weather-related adventures. 
"I am thinking about starting a storm chasing photography/video service on Facebook or Twitter (probably host a website) so that I can directly express my passion for the weather," says Swisher. "Maybe some kind of brokerage where I can be a storm spotter and provide media to local news stations; it's foggy for me now. For now, I'm going to focus on improving my forecasting methods, dust off my Python coding, do a free meteorology online course, and review my atmospheric dynamics knowledge during this pandemic. You should never stop learning."