Graduate students awarded 2020 Zonta International Amelia Earhart Fellowships
06-05-2020
Writer(s): Cheryl Pierce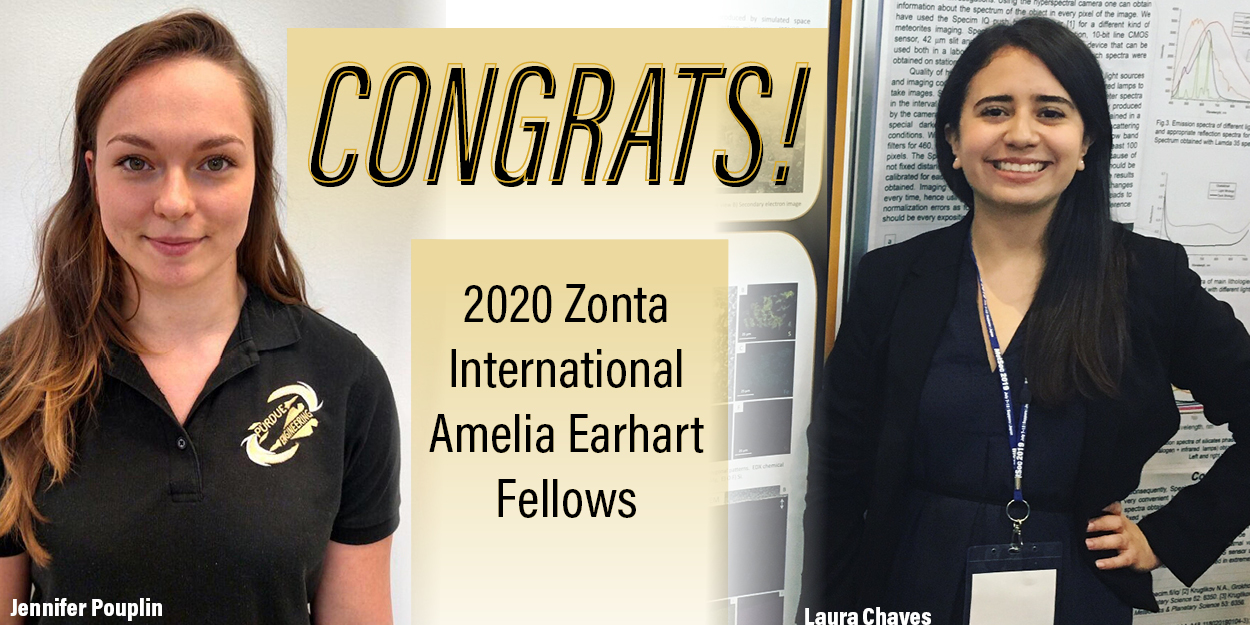 The Zonta International Foundation's mission is that women have access to all resources and are represented in decision-making positions on an equal basis with men.  So in 1938, Zonta established the Amelia Earhart Fellowship.  Each year, it awards up to 35 women around the world pursuing Ph.D./doctoral degrees in aerospace engineering and space sciences with the Amelia Earhart Fellowship. 
This year, two Purdue University graduate students associated with Department of Earth, Atmospheric, and Planetary were awarded this scholarship: Laura Chaves and Jennifer Pouplin.  Chaves is a Department of Earth, Atmospheric, and Planetary (EAPS) student within the Purdue University College of Science and Pouplin is a student from School of Aeronautics and Astronautics and working with an EAPS faculty advisor.  The 35 fellows awarded this year represent 14 countries.
Laura Chaves is a second-year Ph.D. student in planetary sciences studying space weathering that refers to the chemical and physical alterations of rocks on the surfaces of airless bodies that are driven by micrometeorite impacts and solar wind irradiation.
"I work with analog materials and returned samples from asteroid Itokawa using electron microscopy techniques under the supervision of Professor Michelle Thompson," says Chaves.  "I am from Bogota, Colombia where I received a BS in geology from the National University of Colombia. In my senior year, I had the opportunity to participate in an exchange program to work with Professor Briony Horgan at EAPS. During that research stay, I was able to apply my interest in mineralogy to planetary sciences and I did not only realize that it was the area in which I would like to work on but also that Purdue can provide me the tools do to it."
After she is graduated from the Ph.D. program, she would like to participate in a postdoctoral program in NASA or the Japan Aerospace Exploration Agency (JAXA) so that she can improve her skills with astromaterials. 
"I am glad to receive the Amelia Earhart Fellowship," she says because it "not only honors the legacy of such an inspiring woman but also promotes the participation of women in space sciences and the inclusion of people from all over the world.  This fellowship does not only represent an economic support to complete my Ph.D., but also it will help me to show that minorities can be involved in planetary sciences."
Jennifer Pouplin is a French Ph.D. candidate working with Professor David Minton on the formation of the Martian moons.   She was attracted to Purdue University due to its reputation with space explorations.
"What a better place to start a space career than the cradle of astronauts," asks Pouplin. "Purdue has modern coursework and a very caring and dedicated planetary science faculty."
She says that the Amelia Earhart Fellowship from Zonta International Foundation will help her professionally and through networking with her fellows.
Pouplin says, "this fellowship offers me the opportunity to connect with like-minded space inspired fellows while supporting me through my Ph.D. studies."
Graduate students of EAPS are offered a unique and diverse education and are greatly helped by fellowships like these from Zonta.  Students interested in learning more about the EAPS graduate program can find more information here.