ISGC fellowship awarded to EAPS graduate student who works with Apollo Mission lunar samples
10-07-2020
Writer(s): Cheryl Pierce
James McFadden, Purdue University graduate student, has earned an Indiana Space Grant Consortium (INSGC) Fellowship for the 2020-21 academic year.  The INSGC is part of the National Space Grant College and Fellowship Program that works to carry out education, research, and public outreach in STEM related to space, aeronautics, aviation, and Earth system science. 
Because much of McFadden's research is performed at facilities outside of Purdue University, he says this award will contribute greatly to expenses related to utilizing those facilities.  The funding will also help him develop his professional career by allowing him to attend conferences around the world. 
"I chose Purdue University as there wasn't another institution that was offering a project where I could work with actual lunar samples, a real dream come true. I was also very much interested in working samples in general as my undergraduate research experience was wholly computer based. As a geologist, nothing beats getting up close and personal with the rocks," says McFadden.
McFadden's research is focused on studying the properties and distribution of space weathered lunar regolith throughout a core sample returned from the Apollo 17 mission in order to understand space weathering on the moon.  This information will be used as a proxy to close knowledge gaps about other surfaces processes, such as regolith mixing and overturn.
"I will do this using a multitude of electron microscopy techniques to analyze the finest of lunar regolith," says McFadden. "I am working within a consortium of other planetary scientists all working under NASA's Apollo Next Generation Sample Analysis (ANGSA) program. This core obtains lunar regolith up to approximately 60cm beneath the lunar surface and hasn't been opened until late 2019. ANGSA team members will be the first to study it."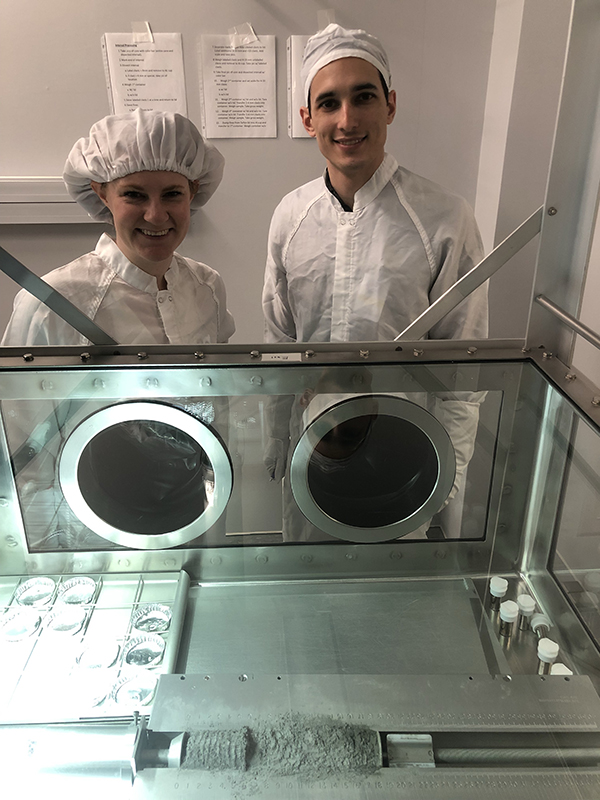 According to McFadden, working with his Advisor, Dr. Michelle Thompson is a great opportunity.  Her lab is evaluating the previously sealed Apollo Mission core samples. 
"Having a good relationship with my PhD adviser is key for me. It is incredibly important that I receive support and guidance throughout my PhD experience. Michelle doesn't just offer that in immense proportions to myself, but to all the members of her research group. She is also a fantastically gifted electron microscopist and is a prominent female figure in planetary science. It is a great privilege to work alongside her as we uncover the mysteries of the Moon together," says McFadden.
This sentiment is shared with Thompson who says, "James came to Purdue with unique experience in understanding space weathering processes on the Moon, having already published a first-author paper on the subject. He has really made this project his own and capitalized on a once-in-a-lifetime opportunity to be part of the analysis of never before studied lunar samples. James has great ideas for expanding and developing this project for his PhD and I am so glad he decided to come to Purdue for his graduate studies."
McFadden's career is off to a great start.  He has received an AA in General Sciences at Santa Monica College then transferred to the University of California, Santa Cruz where he earned his BS in Earth Science with a Planetary focus. After this, he was a high school teacher but still worked with Dr. Ian Garrick-Bethell at UCSC using global spectral data acquired from SELENE (aka Kaguya; a JXA satellite), Clementine, and Lunar Prospector satellite data to relate space weathering spectral effects to iron abundances on the lunar surface.
"I started this project during my senior year at UCSC," says McFadden, "and volunteered my time outside of my high school teaching position for 2 additional years before I applied to Purdue. The work with Ian yielded my first paper, which I am the lead author, and a presentation at the Lunar and Planetary Science Conference, 2019." 
When making his choice of graduate school, it was important for McFadden to find a tightknit community like the one he had from the Earth Science department at UCSC. 
"Purdue EAPS is very similar, and I love it, "says McFadden.  "The close relationships between the faculty and my fellow grad students makes this department feel like a family. There isn't a corner of our building where I can't find a familiar face or support. The expanse of knowledge and skillsets that our department can lead to collaborations with a variety of researchers and fields. The active research that many of the faculty are involved provides a unique opportunity to build connections that can take me, and my grad student colleagues very far into our careers. As for my grad student colleagues themselves, their support and likeminded ambition makes working in EAPS an inspiring and fulfilling experience."
After graduate school, the sky is the limit for McFadden.  He is especially interested in the ARTEMIS program which plans to land the next man and first woman on the moon by 2024. This program will open doors to new lunar samples.  The sample handling and analytical skills he is gaining from his current research will prepare him for continued work with planetary materials.
"The announcement of the Artemis program has perfect timing as I will soon be an expert on lunar geology," says McFadden. "With this new expertise, I would be open to becoming an Artemis astronaut and, if not that, then having a heavy involvement with any research that comes out of this historic mission.  After graduation, I really want to continue working with planetary materials and research. This can mean that I go down an academic track and pursue a post doctorate; or work for a specialized research institution. However, I am paying close attention to the progress of the ARTEMIS program and hope to become involved in the future."
McFadden's goal has remained consistent.  He wants to play a part in helping humankind establinsh a permanent presence on the moon, ultimately creating new avenues of study of and access to the rest of our solar system. This INSGC fellowship brings him one small step closer to his future giant leaps.