College of Science Outreach awarded grant for Geo STEM
08-19-2020
Writer(s): Cheryl Pierce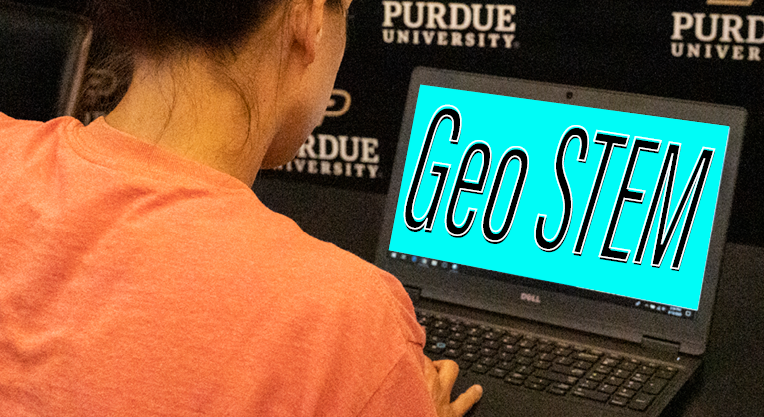 The College of Science Outreach program has been awarded a grant from the Halliburton Foundation for the newly created Geo STEM program.  Geo STEM stands for Girls Engaging in Online Science Technology Engineering and Mathematics.  Because this program is virtual, it will be open to the entire United States. 
This program will help students learn programming in a STEM context and allow students to submit coding projects to a virtual symposium. Geo STEM will also help teachers learn both coding for Arduinos (open-source coding) and STEM project mentorship skills.  It will also help provide Arduino supplies to teachers and students across the nation. 
Outreach coordinators Sarah Nern, Department of Chemistry, and Steven Smith, Department of Earth, Atmospheric, and Planetary Sciences, will lead this project for the College of Science.  They work with educational systems from kindergarten through twelfth grade to help foster a love of science in the next generation.
"The idea behind the Geo STEM program came from hearing so many scientists tell Sarah and I that one thing students can do is to learn some coding," says Smith. "These were scientist from many different fields of research. We wanted to give kids who may not have access to coding a chance to start learning it before they get to the college level. We decided to begin the program with the teachers, to help them learn how to teach coding and STEM pedagogical instruction. With COVID-19 shutting down much of the face to face instruction, we felt this would be a great opportunity to help teachers and students learn."
Given the pandemic, school systems have been burdened with the added stress of remote learning.  Geo STEM will be able to help provide coding lessons even if students need to be remote learners.
"Purdue University College of Science K-12 Outreach is working hard to provide STEM opportunities for all, especially with the challenges that many K-12 teachers and students are facing at the beginning of this new academic year," says Nern. "Thanks to the support of the Halliburton Foundation, we will be able to offer distance learning modules for teachers related to coding with Arduinos and provide student resources that will highlight career awareness in various STEM and geoscience-related fields."
Dr. Lisa Welp, professor of the Department of Earth, Atmospheric, and Planetary Sciences will serve as an experienced mentor for the program.  She has been a mentor for programs like EAPS Women In Science Program (WISP) and her insight, experience, collaboration, and network will help ensure the success of this project.    
"As a mom of a fifth grade boy and a third grade girl, I've painfully noticed how many more STEM-learning opportunities through toys and play my son has had than my daughter," says Welp. "Gender stereotypes regarding STEM run deep. We have to be conscientious about presenting these learning opportunities to girls as well."
According to the Halliburton Foundation, "each year we receive many outstanding proposals from many educational institutions. The Trustees of Halliburton Foundation and its EAB selected proposals that best met with our eligibility criteria, aligned most closely with our strategic business objectives, and demonstrated the highest merit for creating long-term mutual benefits in a significant and measurable way."
The program is expected to begin in the Fall of 2020 and will involve mentors from Purdue University for classes and individual students.  For more information about Geo STEM, please contact Sarah Nern (snern@purdue.edu) or Steven Smith (mrsmith@purdue.edu).