Dr. Tanamachi Featured in Science Book for Young Readers
03-19-2019
Writer(s): Logan Judy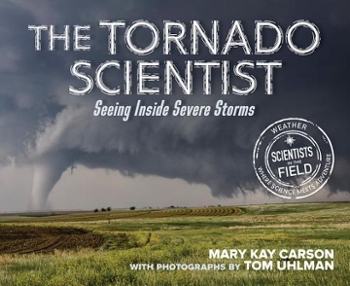 An EAPS assistant professor of atmospheric science is the subject of a recent publication; but I'm not talking about a journal article.  I'm talking about a science book for elementary school children in grades five through seven, one that features role models in the sciences.
The book, titled The Tornado Scientist: Seeing Inside Severe Storms features one Dr. Robin Tanamachi, and follows her path to becoming a scientist, from her childhood interest to her current research, and includes scientific facts aimed at engaging young readers.  Dr. Tanamachi says this combination is exactly what interested her when she was approached about serving as the subject.
"I knew it wasn't just going to be 'What is a tornado?'" she said.  "I was more interested in targeting that higher age range, particularly because there are studies that show right around 6th grade, a lot of girls are losing interest in STEM.  I thought stepping in and providing myself as a role model at that point was very important."
The book, written by Mary Kay Carson with photos by Tom Uhlman, is part of a larger series that aims to interest that same age group in several of the sciences, including astronomy, aeronautical engineering, and biology.  Carson said that Dr. Tanamachi's work, combined with her enthusiasm for the project, made her an excellent choice for the book.
"Dr. Tanamachi is someone who values science communication to the public," Carson said.  "It takes time, effort, and patience to coordinate with photographers, explain radar principles to a biology major like myself, review manuscripts, and answer endless emails. Dr. Tanamachi understands that the next generation of scientists are being inspired by who they see as scientists in the media. That includes books."
This spring, the pair will accompany Dr. Tanamachi on a weeklong field research excursion as part of an undergraduate course at Purdue, documenting activities with a new, updated radar and student interactions on a live blog in support of the book. This activity is supported by a grant from the National Science Foundation.
 "They came out for one day of VORTEX-Southeast, and that was a gray, rainy day that wasn't very exciting," Dr. Tanamachi said.   "We hope we can give them a better show this time."
Having the class field trip professionally documented also allows Dr. Tanamachi, her co-instructor Dr. Daniel Dawson, and their students to concentrate on data collection and training students.
"We like to tell people about what we're doing in real time, usually over Twitter because we can post quickly, and it has minimal impact on our field activities," she said.  "Having Mrs. Carson and Mr. Uhlman along means we can focus more on our science and our teaching. They can provide our followers with a more detailed descriptions and better images of our activities than we can."
The book is published by HMH Books for Young Readers.