Maize Production Practices May Be Unprepared for Future Heat Stress, EAPS-led Study Finds
05-14-2019
Writer(s): Logan Judy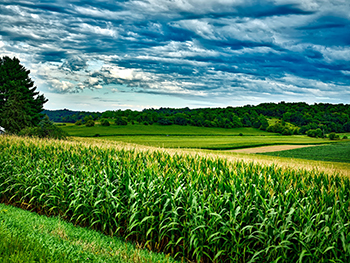 In preparation for the challenges of future climate change, farmers have begun several adaptation strategies to protect future food security.  When it comes to maize production, however, some of these strategies may be focusing on the wrong variables, according to a recent EAPS-led study.
The paper, published in the journal Global Change Biology, integrated data and crop models and found that maize yield reduction by heat stress is underestimated, suggesting that future adaptations strategies should be amended. 
The analysis looked at maize production here in Indiana, as well as Illinois and Iowa, three states that make up 40% of the country's maize production.  The United States as a country is the world's highest maize producer.  The authors used a model called the crop model ensemble mean (MEM), and also utilized observation evidence, including satellite observations, survey, and field data.  They found that overall, the models underestimated the impact of heat stress when compared to the observed data. 
"Crop models are good resources for predicting crop responses to climatic variation, but do not always account for climate extremes," said EAPS Professor and University Faculty Scholar Dr. Qianlai Zhuang, a co-author of the paper. 
In some cases, he says, current adaptations strategies, being based on outdated information, may actually exacerbate the negative impact.
"Some common management practices for maize currently seek to improve yield through agricultural intensification, things like applying more fertilizer or using a higher planting density," said Dr. Peng Zhu, a former EAPS graduate student and the paper's lead author.  "These practices actually enhance crop water demand, which makes crop growth more vulnerable due to the interaction between heat stress and water stress."
In place of these practices, the authors recommend using more heat resistant varieties of maize, shifting the planting date to an earlier time period, and using locally suited maturity group varieties, which will reduce heat stress exposure later in the season. 
This research is supported by the National Science Foundation (NSF) and the National Aeronautics and Space Administration (NASA).  The Rosen High Performance Computing Center at Purdue contributed computing support.