EAPS Student Awarded Indiana Space Grant for Carbonaceous Chondrites Research
07-30-2019
Writer(s): Logan Judy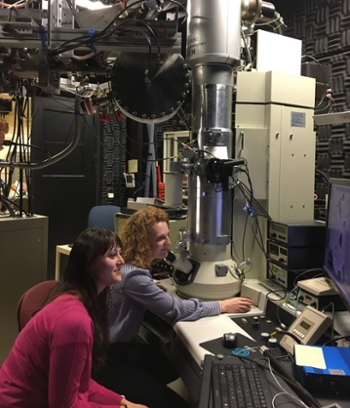 EAPS graduate student Dara Laczniak has an ambitious research project.  She believes clues to the origin of life on Earth and evolution of the Solar System may lie within a  specific type of space rock.
These rocks, to be more specific, are called carbonaceous chondrites – a type of primitive meteorite with water and organic carbon content.  Laczniak is part of the planetary materials group, advised by Dr. Michelle Thompson, and is especially interested in how space weathering effects the properties of these carbon-rich meteorites and their parent asteroids.  The implications, she says, could be important for understanding the intersection of space and life.
"We think these meteorites on Earth come from a certain type of asteroid that is also carbon-rich," she said.  "It's exciting because, since they are carbon-rich, they could give us clues to both the evolution of our solar system and the formation of life on Earth."
For Laczniak, a second-year graduate student, this is just the latest in a long string of planetary research projects in her academic career.  She was not immediately interested in planetary science, but learned a love for it after taking a class from martian petrologist Dr. Arya Udry at the University of Nevada, Las Vegas. 
"She brought thin sections of Mars meteorites into our petrology class one day, for us to look at under a microscope.  Struck by the stained-glass appearance of the meteorite in cross-polarized light, I realized I was looking at a rock fragment formed millions of years ago, on a planet hundreds of millions of miles away. I wondered what series of events led to the meteorite landing on Earth's surface. Because of that day, I decided to do independent research on meteorites with Dr. Udry. After that, I did some internships in planetary geology and just fell in love with it," Laczniak said.
After graduating with her bachelor's of science in geology from the University of Nevada, Las Vegas, Laczniak went on to two internships before starting graduate school.  The first was at Louisiana State University through NASA's Planetary Geology & Geophysics Undergraduate Research Program (now called the Summer Undergraduate Program for Planetary Research), and the second was at Jet Propulsion Laboratory (often abbreviated as JPL). These experiences solidified her love for the field, and ultimately led her to Purdue.
Her current research will continue to grow in importance as current space exploration missions such as NASA's OSIRIS-REx and JAXA's (Japan Aerospace Exploration Agency's) Hayabusa2 return samples from carbon-rich asteroids. Laczniak's research is directly applicable to these missions and other such missions in the future, as they select sample site locations and seek to understand carbonaceous bodies more fully.  This is perhaps part of the reason that Laczniak recently received the Indiana Space Grant, a National Science Foundation-supported program for planetary science students and faculty.
"We're developing a strategy for how to analyze samples that will eventually come back from these missions," she said.  "We're asking questions like, 'What methods and instruments should we use? How can these methods be used on carbon-rich meteorites that we already have? What can we expect to see in future returned samples?   
Laczniak anticipates graduating with her PhD in spring 2023.