Local High School Students Mentored by Science K-12 Outreach Recognized for Research
08-14-2019
Writer(s): Logan Judy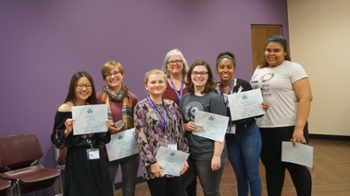 Students from Jefferson High School in Lafayette, Ind., recently attended the GLOBE (Global Learning and Observations to Benefit the Environment) Midwest Regional Student Research Symposium.  Participating students presented original research, the result of mentoring provided in part by College of Science K-12 Outreach.
Last summer, K-12 outreach coordinators from EAPS and the Department of Chemistry brought high school teachers to campus to help them teach students how to conduct original research.  During the Fall 2018 semester, students also traveled to Purdue's campus to participate in the AP Fridays program, learning the techniques and protocols necessary to explore research questions, preparing them for a statewide event.
"The teachers that came last summer helped us develop the first Indiana Virtual Science Symposium hosted here at Purdue," Chemistry K-12 Outreach Coordinator Sarah Nern said.  "We had a framework here where the students could request help.  The students that participated in the Indiana Virtual Science Symposium received feedback, and then were able to revise their projects and submit them to the Midwest regional science symposium hosted by GLOBE."
As part of the Indiana Virtual Science Symposium, the students were able to receive help and input from the College of Science outreach staff, as well as some graduate student volunteers.  They were then able to submit their work to The GLOBE Midwest Regional Student Research Symposium.  The GLOBE Program is an international science and education program focused on educating teachers and students in data collection and the scientific process.  Regional symposia provide opportunities for students to present their research to not just other students, but professional scientists, as well.  At the event, one of the student groups from Jefferson High School was recognized for Community Impact and Engagement, as well as a Peer Choice Poster, for their project, "Effect of Road Salt on Local Water Quality."  Travel to this symposium was supported by the Halliburton Foundation.
"This isn't like a science fair," said EAPS K-12 Outreach Coordinator Steven Smith.  "NASA scientists, people from the GLOBE program, and different university representatives from throughout the Midwest were there to help.  That was really cool for the students, because you get to interact with all of these different people."
In addition to showing and discussing their research, students also were able to participate in other activities.  The symposium featured guest speakers, information about NSF grant participation, and demonstration of air quality testing using kites.  Now, the outreach team is planning for another year of similar but improved training and mentorship.  They are doing this with increased support, thanks to an anonymous alumni donation.
Incorporating research projects into high school course work can be challenging, but educators are eager and energized to actuate the idea.  Seventeen teachers were recently on campus for this training, more than double the number of last year's pilot program, and the coordinators look forward to building a program that will continue to be successful.
"Last summer, we got to find out what obstacles teachers have," Smith said.  "Now we're able to share that information with a broader audience, so hopefully this continues to grow, and we have a large program on our hands with lots of students interested and excited."