Dr. Freed Receives Outstanding Faculty Fellow Award
04-22-2019
Writer(s): Logan Judy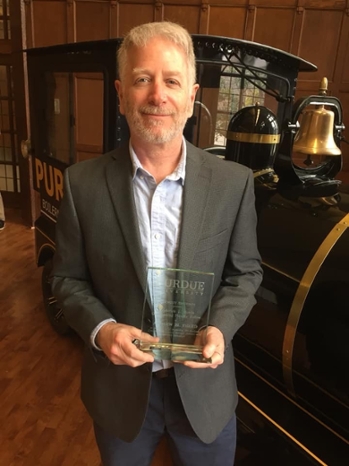 EAPS Professor Dr. Andy Freed has received the Frederick L. Hovde Outstanding Faculty Fellow Award in recognition of his service in developing relationships with students.
The Faculty Fellows Program aims to break down barriers that may exist between students and faculty or staff by nurturing a more egalitarian relationship out of the classroom.  After successfully applying, a faculty fellow (who can be a staff member as well as faculty) is matched with a set of students from a residence hall.  The award was presented at the Favorite Faculty Awards, in which the pool of potential awardees are nominated by the students themselves.  Dr. Freed has previously been a nominee for favorite faculty member in academics, and for that reason has previously been present for the event.  This is where he initially heard about the faculty fellows program, and decided to apply. 
"I didn't know what to expect," he said of his first experience with the program.  "I was kind of nervous because hanging out with students in their residence hall is a very different experience.  But it has been incredibly rewarding just developing the personal relationships with the students in a very non-academic environment.  It has enriched my life and entrenched me more into the pulse of the university."
Faculty fellows develop a friendly and open environment through events and other activities.  Dr. Freed and his students enjoy weekly dinners together at one of the residence hall dining courts, occasionally going elsewhere for a change of pace.  They have also participated in fun activities such as pumpkin carving, tie dying, corn mazes, cookie baking.  He says engaging the students in this way helps remove some of the formality that sometimes exists between faculty and students, creating a richer, fuller university experience.
"The objective of the program is essentially to break down the barriers between faculty and students," Dr. Freed said.  "The students get to know me and I get to know them on a more personal level without the hierarchy of the classroom.  It helps take away some of their fear or intimidation about asking questions, and it helps me relate much better to them and be a better educator.  It's not one big event, but a lot of little events that allow you to develop a relationship the way you would with a friend."
The award comes after Dr. Freed's second year of involvement with the program.  More information on the Faculty Fellow Program can be found on the University Residences website, at https://www.housing.purdue.edu/ResidentialLife/FacultyFellows/index.html.