College of Science, EAPS Present Distinguished Science Alumna and Philanthropy Awards
04-15-2019
Writer(s): Logan Judy
At the College of Science's annual Distinguished Science Awards, the College and EAPS presented awards to recognize alumni accomplishments and philanthropy in support of the Department.
The Distinguished Science Awards are the highest honors that the College of Science can give to alumni.  New in 2019, departments in the College of Science can offer other awards in addition to those for alumni accomplishments.  At this year's event, the Distinguished Science Alumni award was given to Dr. Suzanne Zurn-Birkhimer (M.S. '99, PhD '03), and Dr. Gerald and Sharon Krockover were presented with the Philanthropy Award.
"Our alumni and faculty continue to do great work even when they're no longer on our campus every day," said EAPS Department Head Dr. Daniel Cziczo.  "The professional accomplishments of Dr. Zurn-Birkhimer and the generosity of Dr. and Mrs. Krockover are excellent examples of that, and we were delighted to have the opportunity to recognize their accomplishments."
Distinguished Science Alumna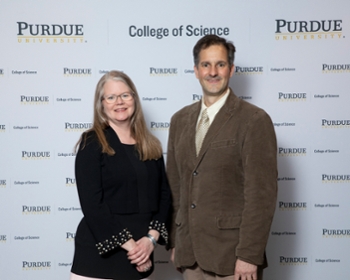 After receiving a B.S. degree in Mathematics from the University of Minnesota – Twin Cities, Dr. Suzanne Zurn-Birkhimer achieved her M.S. and Ph.D. degrees in Atmospheric Science from EAPS at Purdue.  Since that time, she has served in a variety of roles, including Associate Professor of Mathematics at Saint Joseph's College and EAPS Assistant Department Head.  She is currently the Associate Director of Purdue's Women in Engineering Program.  Dr. Zurn-Birkhimer is also a recipient of the EAPS Outstanding Alumni Award, and has served on the department's Alumni Advisory Board.
Philanthropy Award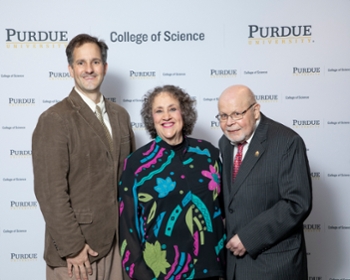 Dr. Gerald Krockover is a Professor Emeritus in the EAPS Department, who served in a faculty role at the University from 1970 until his retirement in 2011.  He and Sharon have continued to be involved in the department since then, providing considerable support for EAPS undergraduate and graduate students in the form of endowments, as well as establishing The Gerald H. & Sharon D. Krockover Rising Star Professorship in EAPS Earth/Space Science Education.  Additionally, they have been very generous with their time, serving as Faculty Mentors for the last 43 years.