Dr. Cushman Inducted into Purdue Research Foundation Innovators Hall of Fame
04-03-2019
Writer(s): Logan Judy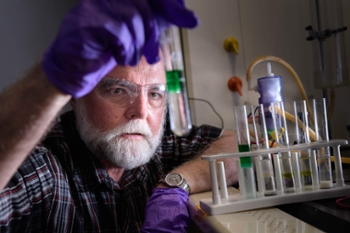 EAPS Distinguished Professor Dr. John H. Cushman is receiving an honor granted to only 25 Purdue researchers each year – induction into the Purdue Research Foundation's Innovators Hall of Fame.
Being inducted into the Innovators Hall of Fame requires more than cutting-edge research.  The Foundation seeks individuals who apply excellent research in areas outside of academia, such as filing patents, developing a technology to help global society, or founding a company to commercialize an innovation, among similar qualifications.  In 2017, Dr. Cushman co-founded Ifbattery, LLC, of which he is President.  This new "refillable" battery provides energy for electric and hybrid vehicles by producing two sources of energy.
"We have power and specific energy arising from both hydrogen and direct electric," Dr. Cushman said, "and with n cells in series, the power and specific energy increase non-linearly with the number of cells.  Power goes up as n1.84 as opposed to n for all other batteries."
The fact that the battery produces both hydrogen and electricity is important.  Most hydrogen-powered vehicles use a 5,000 or 10,000 PSI (pounds per square inch) tank, which can be dangerous to operate.  A system that utilized both is much safer, especially because the Ifbattery technology generates hydrogen as needed, safely storing it at much lower PSI levels.  In addition to being safer, this battery also produces energy at a higher rate than those currently in use.
"All other redox batteries, including those that are lithium based, are diffusion limited," Dr. Cushman said.  "By that I mean the rate at which electrons can be fired through the load is dictated by the rate the electrolyte ions can redistribute to maintain electric neutrality—that is, they must redistribute on an electro-chemical gradient which is on a diffusion time scale.  Our redistribution of ions is dictated by our electrolyte convective velocity which is much more rapid than the diffusion velocity."
Not only does the battery produce a great deal more energy than traditional technology, but it's much more convenient.  Rather than requiring the time-consuming process of recharging the battery at a charging station, the Ifbattery requires old electrolytes to be removed and replaced about every 300 miles – a fluid-based process that can be as fast as a traditional vehicle stopping to fill up on gasoline.  This would also allow the existing infrastructure for gasoline vehicles to be adapted for the use of more environmentally friendly vehicles without adding charging stations – gas stations could simply provide electrolyte fluid.  The used electrolytes could then be taken to a solar farm, wind turbine installation, or hydroelectric plant for recharging, creating a full cycle with very little waste.
Dr. Cushman and his collaborators are currently testing Ifbattery with forklifts.  As the process continues, they will eventually move on to cars and other vehicles.