Dr. Chavas Recognized by College of Science for Undergraduate Teaching
04-04-2019
Writer(s): Logan Judy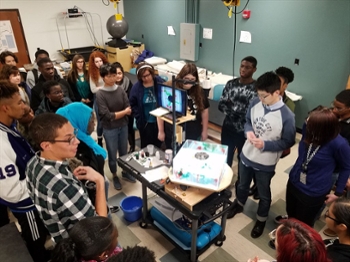 EAPS Assistant Professor Dr. Daniel Chavas has been named the recipient of the College of Science's Faculty Award for Outstanding Contributions to Undergraduate Teaching by an Assistant Professor.  The award, which was created in 1996, aims to recognize an assistant professor who has combined outstanding teaching with research excellence. 
Dr. Chavas was chosen for the award in part due to his investment in developing new classes and improving existing ones. One example of this is a new EAPS class entitled, "Extreme Weather and Climate: Science and Risk," which he said aims to bring together two fields that seldom meet in the classroom – atmospheric science and risk analysis.
"There is a burgeoning field of improved decision-making and risk management across a whole range of economic sectors," Dr. Chavas said.  "For anyone making these kinds of decisions, it becomes apparent that weather and climate affects everyone's bottom line.  That's even the case at a hardware store, where your sales of items like salt or wood are dependent on buying patterns, which can be influenced by an incoming storm."
The development of the class was also influenced by looking at the job market, and considering what needs students may fill after graduation.  Many employers are seeking skills across atmospheric science, probability, and statistics.  With these skills, graduates could help a broad array of companies, municipalities, and other organizations mitigate risk and make better decisions.
Other interactions Dr. Chavas has had with students include refining the undergraduate course "Introduction to Science of the Atmosphere" (EAPS 225) and bringing undergraduate students into his research program.  This includes one student who published his work in a peer-reviewed journal and another in the Purdue Journal of Undergraduate Research.  A common theme throughout these experiences has been Dr. Chavas's excitement for his subject and his students.
"Students are very responsive when you are engaged and excited to be there.  They can see that you think the content you are teaching is really interesting and exciting, and that you've put a lot of effort into the class," he said.  "For me as an instructor, if you demonstrate that you really enjoy what you're doing and try to find ways to make complicated concepts tangible to people who've never seen it before, that's very gratifying."
One example of finding new ways to teach complicated concepts was the purchase of a geofluid dynamics table, made possible through an instructional education grant.  This table, sometimes called "weather in a tank," comprises a spinning tank of water equipped with a camera.  Using dye, the rotating table allows you to create and visualize miniature cyclones and anticyclones in the tank that follow the same laws of physics as the weather systems on our rotating Earth that we experience regularly here at Purdue.
Dr. Chavas arrived on campus in 2016 as an assistant professor in the EAPS Department.  His research areas include natural hazard physics, tropical cyclones, weather and climate variability, climate change, risk analysis, and societal impacts.