EAPS Radar Images Now Viewable by Public
10-15-2018
Writer(s): Logan Judy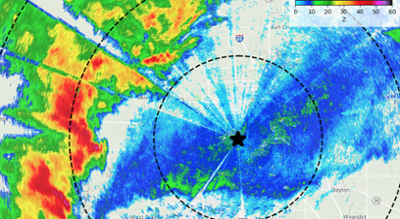 A team of atmospheric scientists in EAPS is making images from its new radar available to the public. 
Earlier this year, a low-power X-band radar was installed on the roof of Wang Hall, providing a more detailed and local view of winds and precipitation in the lower atmosphere.  The Purdue campus is about 60 miles from the nearest National Weather Service radar, and due to the curvature of the earth, that radar's lowest beam is more than one kilometer above our heads.  This new radar provides a tool for targeting that observation gap.
Now, the radar images are accessible via a website.  At http://weather.eaps.purdue.edu/xtrra (or http://tinyurl.com/xtrra), anyone can see the real-time images.  Dr. Robin Tanamachi, the primary investigator of the project, said it was always intended to serve the public.
"We want this radar not just to serve as a research tool, but also a public information resource," she said.  "In the past, whenever I mentioned to members of the public that we were going to install a radar at Purdue, the first question almost always asked was, 'Where can I see the data?' Having this public-facing web page gives anyone in the world the ability to see the weather conditions over Purdue with one click. The Google Maps underlay allows people to zoom in to their location to see what type of weather might be affecting them."
After the installation of the radar in June, a team began working on the necessary steps to create the website.  This team included Dr. Tanamachi, as well as Dr. Mike Baldwin, Dr. Dan Dawson, and graduate student Stephen Harrell.  The radar images are generated using an open-source Python software package called Py-ART (http://arm-doe.github.io/pyart/). The original design upon which the website was based was contributed by The University of Alabama in Huntsville's Department of Atmospheric Science.
EAPS atmospheric scientists continue to explore innovative ways to use the data generated by the radar.  In addition to the real-time radar data, the team is looking for other ways to make additional products from the radar data, particularly related to severe weather alerts.
"My students and I are developing code to automatically sift through the data looking for hazardous, low-altitude weather conditions, such as high winds and hail, that might impact Purdue activities," Dr. Tanamachi said.  "We hope to develop an automated system that will alert interested parties when hazardous conditions threaten campus."
While the most current radar image is accessible via the website, archived data files will be available for a fee. The fees will be used to offset maintenance costs for the radar, which will allow the real-time information to continue to be reliably available.