EAPS Radar Captures Tornado on First Day of Operation
08-17-2018
Writer(s): Logan Judy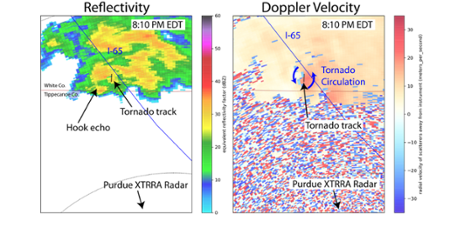 The new X-band Teaching and Research Radar (XTRRA) captured a short-lived tornado on its first day of full operation.  The tornado was a weak and short-lived EF-0 tornado – the lowest rating on the Enhanced Fujita scale – and was recorded around 8:10 p.m. EDT on August 15, 2018.  While faculty had used the radar to gather some testing data the previous week, this was the first day it was used for surveillance-style scanning. The tornado was confirmed by the National Weather Service office in Fort Wayne, Indiana the next day.
 "This tornado was a brief, weak tornado, in an area that is poorly covered by the National Weather Service radars owing to the high beam heights," said Dr. Tanamachi, the principal investigator on the project.  "This problem was a primary motivator for my proposal to install the XTRRA in the first place, so it is exciting to see that the radar is serving the gap-filling purpose from day one."
The radar, part of a collaboration between several areas of campus including EAPS, is a low-power radar that allows atmospheric scientists to cover gaps in the lower atmosphere that are missed by the more widely spaced, higher power National Weather Service radars.  In addition to providing observations atmospheric scientists can use for more accurate forecasts, it will also provide opportunities for real-life data to be used in atmospheric science classes for hands-on instruction, at both the undergraduate and graduate levels.  Dr. Daniel Dawson, a co-principal investigator on the project, said this is another reason the radar will be an important resource.
"Another huge motivation for acquiring this radar was that it will provide high quality data to our faculty and students for numerous research endeavors, including severe weather, precipitation physics and radar engineering and signal processing studies," he said. "The radar will be incorporated into the curriculum providing an excellent opportunity to introduce students to weather radar in a hands-on approach. "
The XTRRA will remain in a testing mode for several more weeks. More information about the radar can be found by viewing this past article.  You can also watch a video of the radar's installation on top of Seng Liang Wang Hall.