Dr. Matthew Huber Receives AGU Ascent Award
08-08-2018
Writer(s): Logan Judy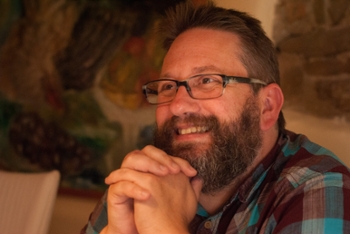 EAPS Professor Dr. Matthew Huber says he considers himself an AGU (American Geophysical Union) scientist in many ways.  The organization encourages and empowers interdisciplinary research, an approach that Dr. Huber is passionate about.  For this reason, it's especially fitting that the AGU selected Dr. Huber for its Ascent Award. 
The AGU Ascent Award is given to exceptional mid-career scientists in the atmospheric and climate sciences who demonstrate excellence in research and leadership.  Dr. Ernie Agee, who submitted the nomination, said Dr. Huber's interdisciplinary research was likely key in his selection.
"He is a multi-disciplined individual, who fully understands both the atmospheric sciences and the Earth sciences, including related fields," Dr. Agee said.  "Simply put, he is brilliant and lives his science every day."
Dr. Huber has built a successful research program at Purdue University, studying climate change with a deep time focus, bridging paleoclimate reconstructions and modern climate analysis.  This big picture perspective has sometimes produced surprising results.  For example, there was a period of time when many thought El Nino-Southern Oscillation (ENSO) activity would cease with a warming climate.  Dr. Huber's work, however, showed that ENSO activity was present during some of the warmest climates in Earth's history. 
"A lot of people are locked into thinking about small changes from the world today," Dr. Huber said, "but when you start riding your 'climate bike' over rough terrain in places people haven't gone before, sometimes you find new things.  It can mean that progress is slow because it's not a well-traveled track, but it's worth it."
Dr. Huber expects his big picture approach to continue to bring new and exciting discoveries.  While the core questions about global temperature will remain central to his research, he looks forward to the new opportunities for interdisciplinary collaborations.  That, he says, is some of the most exciting work yet to be done.  His current and recent collaborations include groups such as the Global Food Security Institute and Discovery Park.
"One of the most rewarding things for me has been having collaborative networks of colleagues, pursuing science as a community enterprise," he said.  "None of this would work without the kind of dialogue and support that they provide."