Public Outreach Key Part of EAPS Graduate Student's Research
10-17-2018
Writer(s): Logan Judy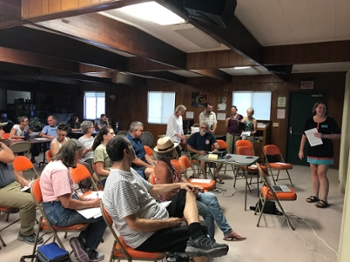 As scientists continue to grow concerned about the impact of climate change on water resources, many have turned their attention to large cities in the southwestern United States.  But what about the small, rural communities?  That's where EAPS Graduate Student Carolyn Gleason is focusing.
"It's a numbers game," she said, explaining why these communities are sometimes overlooked.  "A lot of these small towns will only have about 200 people; some only have 50.  Some of these communities are very remote and their water needs are often marginalized compared to the large cities."
Gleason, who is pursuing a master's degree in hydrology, studies the hydrogeological processes that generate springs the desert of southwestern Nevada and southern California.  She's especially interested in the Panamint Mountains located near Death Valley, and has incorporated public outreach into her work.  The presence and permanence of springs in these dry places, she says, are of particular interest to community members.  The springs in the Panamint Mountains also have cultural significance to local Native American communities and historical significance to the exploration of the Death Valley region.
What water resources these communities do have are frequently less than ideal.  In some areas of the Southwest, communities may depend on sources of groundwater that are high in pollutants such as arsenic.  Even if the communities know about the challenges with their water supply, they may not have solutions. 
"Some of these rural communities don't rely on springs as sources of potable directly, but the springs can provide valuable information about their groundwater sources," Gleason said.  "This makes information about the springs very important for water managers, business owners, and other community members."
In cooperation with the Death Valley National Park and the Inyo-Mono Regional Water Management Program, Gleason traveled to Tecopa, CA to hold an educational public outreach event.  Members of the community attended research presentations, saw poster presentations, and were able to ask questions about springs in the Panamint Mountains.  Gleason found that attendees were attentive and engaged, and local officials were excited that the information from her research was provided to local residents.
"There were a lot of pointed questions about water quality," she said.  "Some groundwater wells in Tecopa have elevated arsenic and fluoride concentrations that are above state and federal limits, and it makes some of the water undrinkable.  They have to get drinking water from a completely different source or truck water in from Pahrump, NV or Las Vegas, NV located at least 40 miles from Tecopa."
The event was such a success that it has sparked interest in other rural communities in the area.  Gleason has been invited by Bishop, CA to do a similar presentation, and there is interest in the Owens Valley area as well.  She hopes to do more public outreach next year, along with EAPS graduate student Zach Meyers, whose research is focused on springs across the Southern Great Basin including Owens Valley, Death Valley, Ash Meadows National Wildlife Refuge, and the Spring Mountains.
This public outreach project was funded in part by the Hydrologists Helping Others (H2O) grant as well as a research grant from the National Science Foundation awarded to Gleason's advisor, Dr. Marty Frisbee.  Gleason plans to defend her Master of Science degree in November 2018.