Doppler-on-Wheels to Bring Education, Outreach to EAPS
02-27-2018
Writer(s): Logan Judy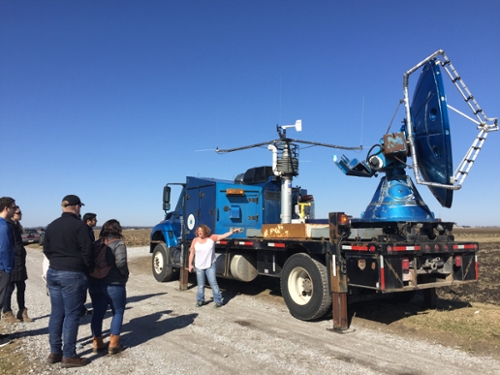 A Doppler-on-Wheels is coming to campus, and it is bringing an EAPS alumna with it.
An expert in severe storms research, Dr. Robin Tanamachi understands the importance of connecting students with real world instruments.  One of the instruments that is necessary for instruction in atmospheric science is a Doppler-on-Wheels (DOW) mobile radar.  Getting instruments in the hands of students can be difficult, but Dr. Tanamachi had an idea: An educational deployment from the National Science Foundation. 
"I thought it would be good for students to have a live demonstration by an actual Doppler-on-wheels radar," she said.  "Many of them have heard of it, so this deployment is meant to connect them to the instrument and see concepts we've learned in class, in real life."
The Doppler on Wheels (DOW) is a mobile radar that is part of a National Science Foundation program to provide instruments to educational institutions for limited periods of time.  Combining instruction in EAPS classes with public outreach activities, Dr. Robin Tanamachi and EAPS K-12 Outreach Coordinator Steve Smith worked to bring the DOW to EAPS for classroom demonstration, as well as outreach initiatives.  Part of the outreach efforts will include an event on March 10 at the Imagination Station, titled "Disasters Happen: Are You Ready?" The event will be open to the public.
"Outreach events like this are important because they show the authenticity of science," Smith said.  "Kids actually get to see what real science is.  In the classroom, they might talk about radar, but students never get to see something like a big radar truck.  In a movie, you might see someone driving through a field at 100 miles an hour with a radar in a pick-up, but that's not real.  By having a community day like this, we will hopefully be able to correct misconceptions and excite people."
Assisting Dr. Tanamachi and Smith in their quest to excite people about science will be EAPS alumna Dr. Karen Kosiba (PhD, '09).  Dr. Kosiba is now with the Center for Severe Weather Research, which provides cost-free training on the instrument.  In addition to training EAPS personnel on the instrument, which they'll be able to use for education and outreach, Dr. Kosiba will also meet current students and give a seminar in the department on severe weather research related to the DOW.
"She's also a good role model for women in STEM, so I thought it was important for her as an alumna to show students what's possible with a degree in EAPS," Dr. Tanamachi said.