EAPS Undergrad Student to Attend NCAR Undergraduate Leadership Workshop
06-06-2017
Writer(s): Logan Judy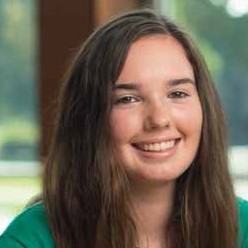 An EAPS undergraduate student has been selected for a professional development opportunity with the National Center for Atmospheric Research (NCAR).
Megan Varcie, a junior studying Atmospheric Science, has been selected for NCAR's Undergraduate Leadership Workshop (ULW).  The NCAR ULW is a five-day immersion experience in Colorado that allows students to explore careers in atmospheric science and develop leadership potential.  Varcie said this experience fits perfectly into her career goals. 
"My ultimate career goal is to enhance the understanding of the relationship between weather and society," she said. "Although my current plan is to develop a career at the National Weather Service, the Undergraduate Leadership Workshop will allow me to explore other career paths that relate to my interests. I will be networking with a variety of professionals throughout the week, and will gain valuable insight into different graduate school and career opportunities that incorporate both weather and society."
Varcie's time at EAPS has not been that of a typical undergraduate student.  Now entering her junior year, she has already conducted original research, and works in a volunteer position with the National Weather Service.  In fact, she says it was research that caused her to discover her passion for the science, and then to seek out more leadership opportunities.
"Almost everyone has a story about why they love the weather," Varcie said.  "After beginning a research project that delved into the weather and society relationship, I truly found my passion within the atmospheric science field."
In addition to the opportunity to explore different career options in atmospheric science, the workshop will also have networking opportunities with industry professionals.  Among these is NCAR Director and EAPS alumnus Dr. Jim Hurrell, who is one of the first developers of groundbreaking atmospheric computer models.
The workshop will take place July 9 – 15.