Dr. Doug Schmitt Selected for Stephen and Karen Brand Endowed Chair of Unconventional Energy
06-19-2017
Writer(s): Logan Judy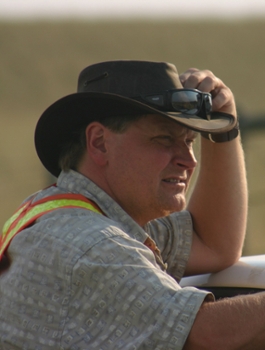 Dr. Doug Schmitt will be joining the EAPS department in spring 2018 as the Stephen and Karen Brand Endowed Chair of Unconventional Energy, which was made possible by a generous gift from Stephen R. Brand, an EAPS alumnus, and his wife, Karen. 
"From an energy perspective, exploration of unconventional resources in oil and gas is where the future is headed," Stephen Brand said in a 2013 news release. "We hope this chair will help Purdue capitalize on its strengths in geology and engineering to build and expand knowledge in this emerging area to help solve the energy problem and offer students the opportunity to learn in-demand skills that will set them apart from other graduates."
Currently Professor of Geophysics and Physics at the University of Alberta, and Canada Research Chair in Rock Physics, Dr. Schmitt is a leading researcher in energy resources.  Dr. Ken Ridgway, Professor of EAPS and Search Committee Chair, said the wide scope of Dr. Schmitt's experience was key to him being a good fit for the professorship.
"Dr. Schmitt has been at the forefront of research on exploration of the oil sands in Canada," Dr. Ridgway said.  "He is involved not only with the rock physics aspects but the environmental responsibility issues as well.  Energy in the one of the centerpieces of many of the economic and environmental issues that the world is facing.  Dr. Schmitt will be our leader in that area from the nanometer to sedimentary-basin scale."
Dr. Schmitt's research includes more than 27 years of experience in rock physics, and he has served as Director for the Institute for Geophysical Research at the University of Alberta.  He has also been involved in deep drilling projects on every continent except South America, advised more than 50 graduate students, and published more than 100 scholarly journal articles.  EAPS Professor and Head Dr. Indrajeet Chaubey said these credentials show why Dr. Schmitt is a perfect choice.
"EAPS is very excited to have attracted a world-class researcher of Dr. Schmitt's caliber.  His expertise in energy exploration will help propel the department to a new level of innovation in the field of unconventional energy," said Dr. Chaubey.