EAPS Graduate Student Awarded NASA Fellowship
06-21-2017
Writer(s): Logan Judy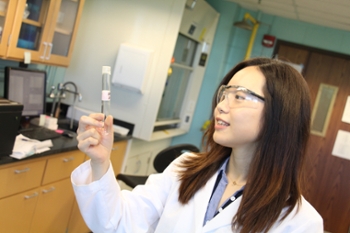 Youmi Oh, an EAPS graduate student studying environmental geosciences, has been awarded the NASA Earth and Space Science Fellowship (NESSF).  The competitive NESSF Fellowship Award provides funding for student travel, research supplies, and a stipend.
Oh's primary research aims to understand how trees respond to drought and climate change.  She has been working with Dr. Lisa Welp – her co-advisor and EAPS Assistant Professor – to explore seasonal changes in the Morgan Monroe State Forest in Indiana. 
"I have been very interested in modeling atmosphere and biosphere interactions," she said.  "Understanding how forest tree species respond to such environmental stress has important consequences for global carbon balance and climate change feedbacks."
For the NESSF Fellowship, Oh will be working with Dr. Qianlai Zhuang, her co-advisor and EAPS Distinguished Professor, to investigate the importance of a novel methane-oxidizing bacteria in the pan-Arctic methane budget.  This was the subject of a paper she was lead author of in Geophysical Research Letters, and has been a subject of her interest for some time.
"The NASA proposal I wrote with Dr. Qianlai Zhuang is based on the project I worked for my M.S. degree at Princeton," she said.  "This project is important because the methane-oxidizing bacteria may be a key to explain inter-annual variability of atmospheric methane concentrations, and the discrepancy between methane models and observations."
The NESSF Fellowship will provide funding for Oh's research for up to three years.