EAPS Honors Outstanding Alumnus
10-06-2017
Writer(s): Logan Judy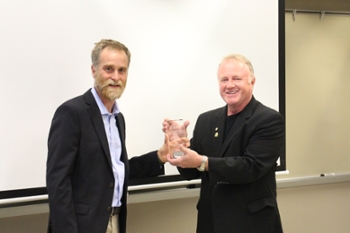 The Department of Earth, Atmospheric, and Planetary Sciences (EAPS) has honored one of its alumni for his outstanding achievements.
The department presents the Outstanding Alumni Award annually to alumni who have been successful in their career paths and made impactful contributions in their chosen fields.  This year's recipient is David Leary.
Leary received his bachelor's degree in Geology and Geophysics from EAPS in 1978, and then went on to obtain his master's degree and MBA at the University of Texas in Austin.  After graduation, he spent more than 30 years with Exxon and ExxonMobil, establishing a successful career in basin and play analysis before retiring earlier this year.  His work included participating in technical studies and discussions in 25 foreign countries, where he was often the "technical face" of ExxonMobil to governments, industry and academia.  More recently, Leary helped ExxonMobil globalize the shale gas revolution, leading to acreage capture and exploration initiatives in Poland, Ukraine, Colombia and China, among others.  He has also contributed his expertise as editor to the oil and gas section of the English edition of Acta Geologica Sinica.
Additionally, Leary has continued to be contribute to the success of the department.  He and his wife Janet Leary established a scholarship for undergraduate field-related work in the department, and he serves as Chairman of the EAPS Alumni Advisory Board.
The award was formally presented at a ceremony on Oct. 6.