EAPS Graduate Student Awarded National Science Foundation Fellowship
03-30-2017
Writer(s): Logan Judy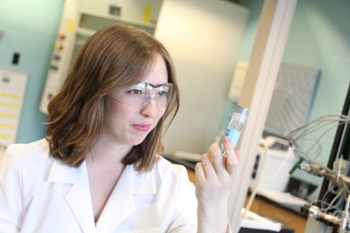 First-year EAPS graduate student Alexandra Meyer has been awarded a fellowship from the National Science Foundation (NSF) for her outstanding academic achievements. The highly competitive NSF Graduate Research Fellowship Program requires an independent research proposal and provides funding for a stipend and research supplies.
For Meyer, the key to success was finding a way to make science relevant and helpful for the public.
"I wanted to make sure I could explain my proposal and why it's important to a general audience," she said.  "I always try to explain my ideas to my younger brother and sister."
Meyer studies the use of isotopes to track the exchange of water from Earth's surface to the atmosphere through processes such as evaporation and transpiration.  This has included compiling satellite data to estimate dew formation in Lake Superior.
"This information will be used to quantify the importance of lake evaporation and condensation on regional humidity and precipitation to provide a more accurate estimate of fluxes for use in water budget models," she said.  "This in turn can lead to more accurate predictions of future water levels in the Great Lakes, which would have a positive effect on shipping, recreation, and consumptive water use."
Meyer is advised by Dr. Lisa Welp, who is an Assistant Professor in the Department of Earth, Atmospheric, and Planetary Sciences, and is a PhD student in Dr. Welp's Stable Isotope Ecology and Hydrology lab.