Multiple EAPS Graduate Students Receive IN Space Grant Consortium Fellowship
07-20-2017
Writer(s): Logan Judy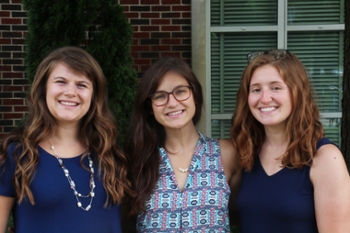 Three EAPS graduate students have been selected for the Indiana Space Grant Consortium graduate fellowship.
The National Space Grant College and Fellowship Program includes more than 850 affiliates in consortia in all 50 states, the District of Columbia, and Puerto Rico. These consortia fund scholarships and fellowships for students pursuing careers in STEM, as well as faculty development and public outreach efforts.  The Indiana Space Grant Consortium (INSGC) chose EAPS graduate students Sheridan Ackiss, Marie McBride, and Jordyn Miller were as 2017 graduate fellowship recipients.  The INSGC Fellowship provides funding for research expenses and student stipends.
In addition to being a fellowship recipient of the INSGC for the past three years, McBride has also been involved with INSGC outreach events.  In 2016, she spoke during an outreach event at the Indianapolis Symphony Orchestra.
"The symphony was playing songs from the film 2001: A Space Odyssey," she said, "and partnered with the Indiana Space Grant Consortium to provide space related expos to be viewed before the concert and during intermission. I was able to bring pictures taken by the Curiosity Rover on Mars and talk about them with the symphony attendees. It was one of my favorite outreach activities because it blended the arts and sciences. The event brought Mars rover science to a new group of people."
McBride, who has completed three internships at NASA, studies explosive volcanic deposits on the Moon using orbital spectroscopic detections of glass.  Similarly, Ackiss was chosen as a recipient thanks in part to her involvement in NASA and other space research.  She completed an internship at the NASA Goddard Space Flight Center, as well as working at the Johns Hopkins University Applied Physics Laboratory.  Her current research focuses on subglacial volcanoes on Earth and Mars, and her project for this fellowship will focus on geomorphologically mapping the Sisyphi Montes region of Mars.
"The map would help to determine the formation environment of the region and would address key questions about the relationship between water and volcanism during ancient Mars," Ackiss said.
While McBride and Ackiss are receiving the grant in connection with planetary research, the INSGC is not limited to work on other planets.  Miller's research on water resource management also drew the attention of the organization.  Her research focuses on the impact of glacial meltwater on mountain groundwater systems.
"I think sometimes it's forgotten that NASA is very involved in Earth Science, too," Miller said. "My research fits perfectly into the NASA Earth Science Division Goal of having better assessment and management of water quantity to more accurately predict how the global water cycle evolves with the changing climate."
McBride and Ackiss are advised by Dr. Briony Horgan, and Miller is advised by Dr. Marty Frisbee.