EAPS Graduate Students Recognized for Excellence in Teaching
04-28-2017
Writer(s): Logan Judy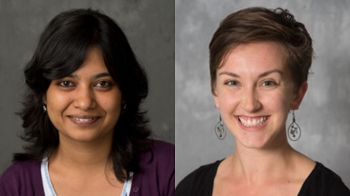 Two EAPS graduate students have been recognized for excellence in graduate teaching.
The Celebration of Graduate Teaching Excellence, presented by the Purdue University Center for Instructional Excellence (CIE), recognized the most dedicated graduate instructors across campus.  In their annual ceremony, Sampa Das and Cassidy Jay were recognized.
Sampa Das received the Teaching Academy Graduate Award, which honors graduate students with teaching responsibilities for their dedication to undergraduate students and outstanding teaching contributions.  Das is a PhD student studying Atmospheric Science.
Cassidy Jay received the Graduate Teacher Certificate.  The certificate, awarded by the CIE, provides a framework for the development, coordination, evaluation, and recognition of efforts to enhance students' teaching capabilities.  Jay is a PhD student studying Geology.