EAPS to Host GLOBE Student Research Symposium
05-11-2017
Writer(s): Logan Judy, Steven Smith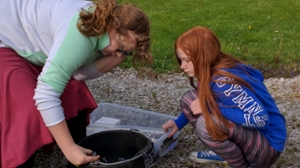 EAPS is hosting one of six National Science Foundation-funded symposia to celebrate citizen science.
The Global Learning and Observations to Benefit the Environment (GLOBE) Program is an international science and education program providing everyday citizens and students with the opportunity to participate in scientific data collection.  The United States Regional Student Research Symposia, made possible through a grant from the National Science Foundation, convene annually to share results of GLOBE field investigations, and host student science competitions for grades 5-8 and 9-12. 
This year, the Midwest symposia is being hosted by EAPS on Purdue University's campus.  EAPS K-12 Outreach Coordinator, Steven Smith, is a GLOBE partner as well as the Midwest representative for the GLOBE U.S. Partner Forum. Smith explains that through GLOBE, students learn the practices of science through hands-on investigations in their own communities, sparking their curiosity and interest in science. This often leads to inquiries that help solve real-world problems and further understanding of our global environment.
"Today more than ever it is important to help students become problem-solvers," Smith said. "That's what we're doing here.  Students will not only have the opportunity to learn about real scientific research happening right here at Purdue, they will get to explain and discuss the science projects they have done in their own community. It is our hope that they leave the day both informed and excited."
The event will take place on May 19 and 20, and includes activities such as geocaching, poster presentations, and "Lightning Talks" by scientists.  Drs. Michael Baldwin, Dean Ballotti, Timothy Filley, and Lisa Welp of EAPS will be participating in the talks, as well as judging students.