EAPS to Host Outreach Event "AP Fridays at Purdue"
08-31-2017
Writer(s): Logan Judy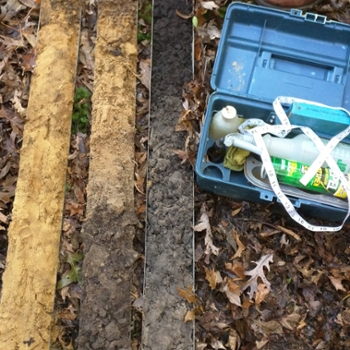 Many high school students enter college without laboratory experience in environmental science.  EAPS Outreach has a new program that aims to change that.
Taught in conjunction with Chemistry Outreach, "AP Fridays at Purdue" is an ongoing series of events providing advance placement (AP) high school students with the opportunity to do experiments in Purdue laboratories.  The series rotates chemistry and environmental science topics, with the latter including chemical weathering, micrometeorology, and water quality, among others.  Only in its first semester, the program is already popular with teachers and faculty alike, according to EAPS K-12 Outreach Coordinator Steven Smith.
"We released the schedule about three weeks ago, and we've been getting bombarded with teachers wanting to sign their classes up," Smith said, "and I've already had a number of faculty contacting me, wanting to be involved.  The faculty are onboard and excited about the opportunity to interact with college-bound students."
These topics will be taught across nine sessions throughout the semester, the first of which will be soil analysis.  Students will perform tests that include soil sieving, characterization, and NPK (nitrogen, phosphorus, potassium) testing.  Smith said these are experiments that most students will not have the opportunity to do outside of this program.
"We'll be bringing students in so they can be doing hands-on science labs for their AP classes right here in our department," Smith said.  "Students will be learning how scientists actually study soils, and doing a variety of tests which students typically do not have access to.  They might read something about it, but most of the time teachers aren't equipped to be able to teach these labs well."
Two schools participate in each session, with sessions capped at 40 students.  The program will run through at least the end of this semester, and may continue into subsequent semesters, as well.