EAPS Graduate Student Inducted into Purdue University Teaching Academy
05-31-2017
Writer(s): Logan Judy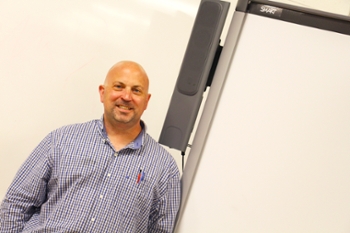 An EAPS graduate student is being recognized for his commitment to high-quality teaching.
Christopher Roemmele, a PhD student studying Geoscience Education, has been selected to become a new Associate of the Purdue University Teaching Academy.  The Teaching Academy inducts faculty members and graduate teaching assistants who have shown an outstanding commitment to high-quality teaching and/or engagement programs.  Roemmele's commitment to teaching started before he came to EAPS.  He spent 15 years as a science teacher in New Jersey schools, an experience that still influences his current work.  His decision to pursue a PhD was born out of a passion to continue contributing to high-quality education.
"I often say I am a teacher," he said.  "First, last, always."
Associate members of the Teaching Academy are nominated based upon evidence of excellence in teaching.  That excellence has been evidenced in multiple areas of Roemmele's study and involvement.  In addition to his work as a graduate student, he is heavily involved in EAPS outreach programs, and is Program Coordinator for GK-12 – an outreach program at Purdue that grew out of an initiative originally funded by the National Science Foundation.  His work in GK-12 in particular involved changing the program's execution.
"I wanted to move away from a traditional, lecture-intensive approach," Roemmele said.  "As the new coordinator, I saw an opportunity to increase the impact of the time spent in workshops, discuss topical issues related to the classroom, and practice teaching themselves."
Dr. Jon Harbor, Roemmele's advisor and faculty lead for GK-12, said this approach has greatly benefited the program.
"Christopher's flipped classroom approach has transformed the level of engagement that the participants have with the material, and allowed for much more effective use of active-learning approaches during the face-to-face work," he said.  "This is an exceptionally effective approach and models what we want the graduate students to do in their own teaching."
Roemmele's induction will be formally recognized at a ceremony in September, at which point he expects to have graduated with his PhD.  Upon graduation, he will begin a faculty position at the West Chester University of Pennsylvania, teaching Science Methods for Educators and Introductory Geology. 
"I am very excited and thrilled to be inducted," Roemmele said.  "2017 has been a terrific year, and being named an Associate really inspires me to move forward to my new job with vim and vigor, and put my energy into teaching and working with students."